Continued public infrastructure investment is crucially important as part of a successful youth employment strategy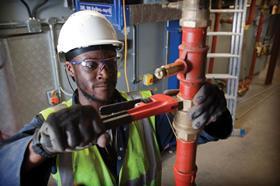 It's welcome news that the number of 16 to 24-year-olds who are unemployed in Scotland has reportedly fallen over the past year. The Scottish Government's focus on supporting youth employment through its commitment to fund 25,000 modern apprenticeships per year is commendable. But there needs to be a greater recognition of the unrivalled opportunities for high quality skills development potentially available through the construction industry's well-established, tried and trusted apprenticeship framework.
The challenges currently facing the building sector are well documented. Construction employers can only continue to offer employment opportunities for young people if they can be confident of a reliable pipeline of new work to keep apprentices gainfully employed. That is why continued public infrastructure investment is so crucially important as a cornerstone of a successful youth employment strategy.
The latest figures suggest we're on the right track in tackling youth unemployment. But the Scottish Government must now sharpen its focus on supporting the construction industry to help deliver the thousands of excellent apprenticeship opportunities the industry potentially has to offer.
Michael Levack, executive director, Scottish Building Federation