With a growing population, we must look to refurbish our existing building stock to suit our future needs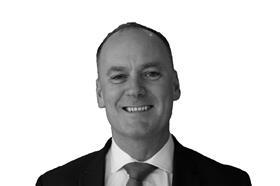 The prospect of Brexit may dampen some growth projections, but population influx remains a big issue for UK cities. The UN reports that 90% of UK population will be urban dwelling by 2050, and the industry is rushing to accommodate it.
Grainger CEO Helen Gordon expects demand for 7.2m properties in the private rented sector (PRS) by 2025, of which we currently have only 4.5m in place. Meanwhile the market for office space is growing in key cities across the country. For both sectors, we're not only looking at greater volume, but also a more diverse array of new and distinctive spaces made to suit different occupant needs.
How will we get that space? Refurbishing and repurposing of existing assets holds significant potential for shaping a better built environment, as endlessly sprawling cities and extensive demolition works prove both costly and non-sustainable approaches.
As the UK Green Building Council notes, 80% of the buildings in use in 2050 have already been built. The question is: how can owners and construction companies create valuable 'new' assets by leveraging the embodied carbon and value within existing buildings?
Owners could begin by identifying which assets have the most "value-add" opportunity, as opposed to basic refurbishment. This includes appraising all building elements – from M&E services, to cladding, to structure – as an example, clever engineering can take structural load "savings" from previous heavy facades and conservative floor loadings and allocate these to providing additional floors. Likewise, considered M&E design and fire engineering can massively improve the net to gross ratio and achieve better returns. While architects and engineers will be instrumental here, the development or project manager should be proactive to identify these opportunities, leading and challenging the team earlier on in the project lifecycle to instigate this work.
With high-potential options identified, the next challenge is ensuring the repurposed building doesn't just provide more space but performs to as high a standard as a new development. Project managers can facilitate this by working directly with owner and tenant to refine the design and fit-out to occupants' needs. As a result, waste can be reduced with maximum efficiency achieved in the fit-out.
A healthy building isn't subject to style or usage trends, and well-being investments will tend to pay back with tenant quality and lease lengths. Managing buildings' ongoing impact on their inhabitants begins with design decisions which involve wellbeing expertise, to help translate design ambition to performance in use. One solution to do so might be fitting sensors which measure: thermal comfort, lighting, air quality and more. These can help owners monitor building performance as a measurement of energy consumption, inhabitant wellbeing and the purpose of the space (whether office, residential, retail etc.) to optimise an overall user experience.
A long-term view also opens considerations of climate change adaptation. Existing and future assets will be exposed to more extreme weather impacts and climate risks than in the past, so resilience to flooding, heat stress and severe weather events will become more important. Using up-to-date climate data will help consultants profile asset fitness for these future risks, recommending enhancements as part of the wider refurbishment project to improve longevity and reduce obsolescence.
The steps to refurbish existing building stock are nuanced, governed somewhat by legislation and specific site and sector requirements. However, realising the opportunities to make these projects pay back in the long term begins with a holistic strategy for the building's entire lifecycle, paired with a diverse set of specialists who act with long term value and performance in mind.
Dan Henn is project consultancy partner at TFT