Admired, feared and respected in equal measure, the industry has lost one of its greats, writes Joey Gardiner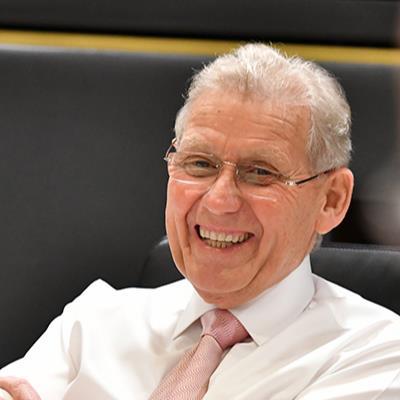 Until his untimely death last Friday, there was little question that Tony Pidgley, chairman and founder of Berkeley Group, was the biggest figure in UK housing.
The last remaining "owner-driver" of a listed UK housebuilder, Pidgley – known by most in the industry simply as Pidge – stood head and shoulders above the rest of the industry in the depth of admiration, affection and respect with which he was held.
Somehow Pidgley managed to be always ahead of the game, while at the same time feeling like a man from an entirely different era. The antithesis of the corporate suit, Pidgley was all Cockney charm and chutzpah, bringing rivals and partners alike on-side with his home-spun charisma.
As a housing journalist, it was a given that he was the one person everyone in the sector wanted to listen to – having been widely seen as correctly anticipating two big housing crashes, making moves in advance that simply made his firm stronger.
And he was always happy to talk, too. But if he was generous with his time, one suspected he knew the impact of his words on others, and was likely telling you what he wanted people to think he was thinking – not necessarily what he actually was.
The story of his upbringing as a one-time Barnardo's boy who spent part of his childhood living in a disused railway carriage is often told. This persona was key to his success – obscuring the sharpest mind in the industry, allied with the strongest work ethic.
And if Pidgley had high standards personally, he was also, by many accounts, unforgiving if those around him didn't show the same commitment. Some of the tributes have used the word "ruthless", and it's probably fair to say there were parts of the industry – not least in his own firm – where he was feared and respected in near equal measure.
However, he was smart enough to retain his respect for those able to stand up to him – bringing back into the fold those who proved themselves worthy of his respect.
What will make his legacy so interesting, however, is that he was – in the end – much more than a bold developer with incredible drive, a gift for persuasion and a knack for anticipating the market. In his latter years, he morphed Berkeley from being simply a hyper-successful but red-in-tooth-and-claw property developer, to one with a real commitment to design quality and placemaking.
Financially speaking, Berkeley's closest rival to the kind of success it has displayed year after year has been Persimmon. However, the legacy it is now leaving with the schemes is building out could not be more different.
Developments like Kidbrooke in south-east London are not only beyond what most of Berkeley's rivals can contemplate in scale but are beyond the rest of the industry in terms of its commitment to placemaking and the sophistication in which it considered this. As ever, this wasn't entirely altruistic. He saw the possibility of creating a "regeneration dividend" that only a housebuilder of scale of Berkeley could deliver – but he was genuinely committed to delivering places that worked well.
The industry is a diminished one without him. RIP.