For James Dick, the shimmering University of Aberdeen library sits like a jewel in the city's crown, while the Talisman Energy headquarters draws all the wrong kind of attention
Some cities need to build high. Others aspire to design quality to express their civic pride. A few, like Aberdeen, are more fortunate. They benefit from their setting to give them presence. Aberdeen is a low-rise city; with the single exception of a handful of brutalist multi-storey blocks, the city centre skyline sits four storeys above street level.
So it's vital that everything that rises above that height has been carefully considered. This is what makes my blunder, the seven-storey Talisman Energy headquarters, a landmark for the wrong reasons. It sticks out, whether you approach the city from the south by road or from the east by air.
The office block has little cognisance of its immediate and distant surroundings. It is three buildings in one, with a lower tier having the ubiquitous, token granite "wallpaper" required by planning in Aberdeen. This base makes a poor attempt to reflect the neighbouring buildings in scale/height and materiality. Above this, there is a three-storey filling of curtain walling and a "roof feature" like the outer crust of a sandwich. It makes a statement without knowing what it wants to say.
My wonder, the new University of Aberdeen library, is a radical and refreshing jewel on the Aberdeen skyline, which makes a very subtle statement.
Albeit very visible on the skyline, the architectural form and its impact from distant and immediate environs has been successfully considered. The white and glass facade respects its granite neighbours without competing. The library is a beacon for the university within what will be a public space and park, and it will be a destination not just for academics, but for the people of Aberdeen. Hopefully it will raise the city's design agenda.
WONDER
Schmidt hammer lassen architects won a 2005 competition to replace the University of Aberdeen's library building. The 15,500m2 of floor-space will house more than a quarter of a million books, maps and manuscripts, as well as 1,200 reader spaces. The glass facades have been designed to "shimmer in the day and glow by night". The building will open in time for the new term.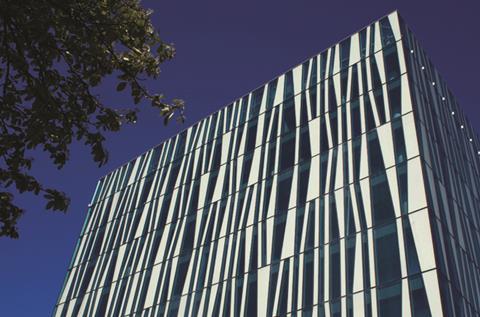 BLUNDER
The Talisman Energy headquarters was designed by Jenkins & Marr and built by Robertson Construction in 2001. The 120,000ft2 office block rises to seven storeys and includes landscaped grounds.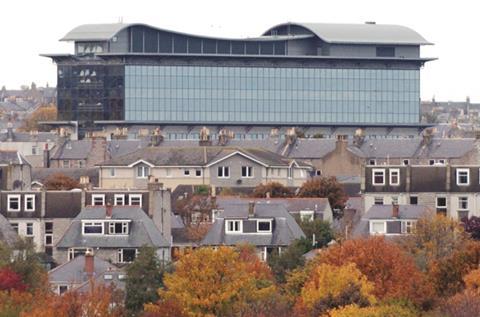 James Dick is a partner at Sheppard Robson