The owner of Trunk Low Energy Building is filled with nostalgic wonder every time he glimpses the Emley Moor transmitting station, but cringes at The Blade, Reading's attempt at becoming a city
My wonder is the Emley Moor transmitting station in West Yorkshire. The station's mast dominates the landscape, an unassuming, semi-rural pocket between Huddersfield, Wakefield and Barnsley.
At 330m tall, it stands there in all its obelisk glory, presiding over the lives of millions. It is pure HG Wells. Somehow the sight of this vast, incongruous object in the middle of nowhere anchors you - with the other local icons of earlier generations, Victoria Tower and Black Dick's Temple, each on similarly elevated positions and triangulated as if part of some grand scheme.
For 18 years of my life the mast was just there. Not taken for granted; just part of the fabric of life. Later, when I revisited these parts, the sight of it indicated return and would open the recesses of my mind most associated with belonging and nostalgia. I know it affects thousands this way, so it is a wonder in the true sense of the word.
My blunder is its diametric opposite. The Blade in Reading represents the most pointless kind of misguided civic pride and Emperor's New Clothes provincialism.
Apparently designed in conjunction with the local authority, the 128m office building was intended to be an icon - the word that litters all
its promotional material - to demonstrate that Reading was fit to stand alongside go-getting megalopoli elsewhere.
Unfortunately the developer and council were hoodwinked by half-baked designs and dreams of city status - something the recent round of wards inevitably failed to bestow on this commuter town.
Reading is in many respects quite desolate, but has a heart of gold and a rich heritage. It deserves better than this.
Mike Jacob is owner of Trunk Low Energy Building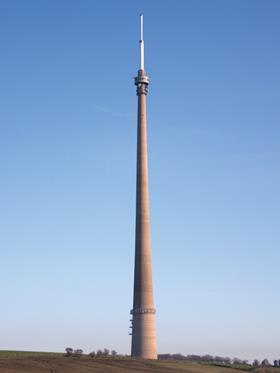 WONDER
The Emley Moor transmitting station in Kirklees, West Yorkshire, was built between 1969 and 1971, and has been used since the earliest days of TV transmission.
The station's most visible feature is its 330m-high concrete tower, which is a grade II-listed building and the tallest freestanding structure in the UK. It is owned by Arqiva, the telecommunication company.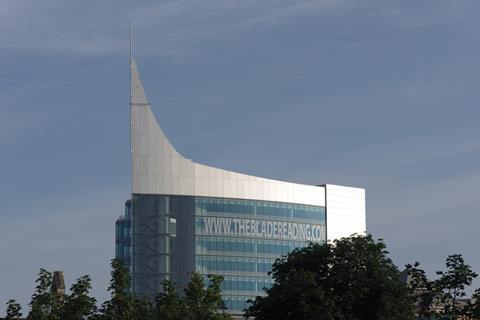 BLUNDER
At 128m high, the Blade is the tallest building in Reading. The £32m office development was designed by Ramboll for PMB Holdings and Aviva Investors, who worked with the local authority. The first tenant to occupy the 14-storey structure was Kaplan Financial.