For Rod Taylor the sense of space in Rome's Pantheon is awe-inspiring, but the empty seats in the second halves of Wembley matches leave the stadium bereft of any atmosphere
A building or interior must not only be judged on its aesthetics, craftsmanship, relationship with its surroundings or effectiveness in its given use; a building can evoke feelings beyond many others and my wonder and blunder are chosen for those very reasons.
When in Rome there is much to be admired architecturally and historically but nothing else quite captured my full attention as much as the Pantheon. A reconstruction of Marcus Agrippa's original Pantheon that burned down in 80AD, the current building dates from 125 AD and is the most complete ancient building in Rome. The famous Portico is everything you would expect, but as you pass through it to enter the rotunda, which is below what is the world's largest unreinforced coffered concrete dome, the sense of space and harmony is all consuming. Just standing watching the shifting shaft of daylight through the oculus allows you to block the tourist chatter; its wonder is the sense of tranquillity and peace that it promotes, compared with the chaos and noise outside in Piazza Della Rotonda.
My blunder evokes quite the opposite feelings. The new Wembley Stadium is one of the most expensive stadiums ever built, at a cost of £798m. It is a cold, soulless place with little atmosphere that kills any excitement that our teams and fans might be able to create. Aside from all of the issues with the build process and the legal battles, serious fans must be affronted by the huge number of empty corporate seats, made necessary by the choice of funding strategy. Second halves are blighted by the empty block of red that appears in the centre of the stands when corporate entertainers and entertained do not reappear. Maybe the next England manager will pump up
the volume.
WONDER
The Pantheon is an ancient temple in Rome that was later converted into the church of Santa Maria ad Martyres. It is circular with a porch of granite columns. Rain falls through a central oculus, which is the main source of light for the building. The dimensions of the interior height and diameter of the dome are equal.
BLUNDER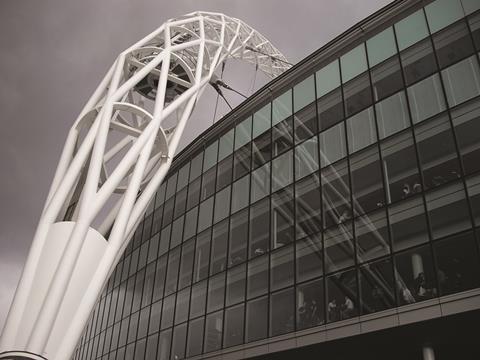 Wembley Stadium is England's national stadium and the second largest in Europe, with a 90,000 capacity. Designed by Foster + Partners and Populous, it opened in 2007 in time to host the FA Cup final. However, the stadium hit the headlines for being late and over budget and resulted in expensive litigation.
Rod Taylor is operations director at Dovehouse Interiors