Clarity around the timing and nature of regulatory change is needed this year, writes Nigel Morrey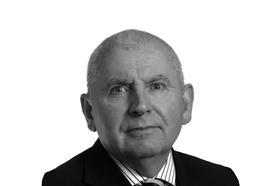 Government has now endorsed the recommendations of Dame Judith Hackitt's review of fire safety regulations following the publication of its implementation plan. It's an important step towards creating a stronger regulatory framework around building safety and providing peace of mind for clients and end users. However, uncertainty remains around exactly what format these changes will take and, in particular, when they will be introduced, with no official timetable attached to the government's response.
Hackitt's report identified an industry-wide lack of evidence of performance, compliance and recording of information. A drastic shake-up of culture and regulations is needed to address this, requiring close involvement from a range of stakeholders which the government is now getting in train. This is the right approach but the scale of this shift and level of engagement needed will take time to progress. In the interim, we need to see behavioural change across the industry to ensure that best practice principles are being adopted now ahead of official legislation.
There are undoubtedly clients, supply chain partners and industry bodies who, driven by the memory of Grenfell, are proactively going beyond current regulatory requirements and considering product specification carefully. Conversely, there are also parts of our industry who are sadly waiting for regulatory change before adapting their approach.
The FIS (Finishes and Interiors Sector), which represents manufacturers, distributers and contractors in the fit-out sector including drylining contractors, is not one of them. It is driving supply chain behavioural change with a concept called Product, Process, People (PPP).
The premise is a straightforward one: installers must use accredited and tested building products and systems; document the process to provide clear and robust evidence for third parties in the future; and they need to install systems in a competent and safe manner.
While this three-step concept is principally for drylining contractors, it is equally applicable to many parts of the supply chain operating in the post-Hackitt industry. Indeed, it chimes with the principles of the government's commitment to establishing an early adopters programme to explore new approaches to building safety and spearhead cultural change. Those looking for guidance should take note.
Take products first. It is now critical that system and product specification is underpinned, at minimum, by independent test evidence and third-party accreditation of building materials. Checking test data and accreditation is perceived by some as adding time and costs to projects. In fact, it can help to save both time and money in the long run by avoiding the use of inappropriate systems and installations and the price of rectifying this later.
Third-party product accreditation can help to mitigate risks, but construction professionals should know that not all accreditation systems are the same. Different systems can assess products to different criteria and might not always account for the latest product and application research, so contractors should ensure that whatever rating system they choose meets the requirements of a building's lifecycle.
Aligned to this is a need for robust processes. Hackitt's 'golden thread' of design intent and fire safety detail extends beyond building completion, once the quantity surveyors and contractors have departed. In the near future, there is likely to be three-yearly checks of buildings to ensure continued fire safety compliance.
In this new environment, it is imperative that installers and subcontractors keep digital records of the specification, test evidence, purchase orders and delivery notes. They will need to keep dated site images of the installation that can be checked against specific junction details kept in the same file, especially elements that will be covered up in the final build.
Any fire protection or drylining system is, of course, only as good as the people who installed it. Clients and contractors must appoint accredited installers and subcontractors using records from their CSCS skilled worker cards to evidence competency and assessing their relevant qualifications and training.
Clarity around the timing and nature of regulatory change is needed this year. Until then and after, adopting the product, process and people principle will help our industry take a step in the right direction, both ensuring that projects are done right first time and providing accountability long after they are handed over. It gives the client or facilities manager the information they need to manage an asset going forward. It also shows a commitment to due diligence on the part of the appointed installer, evidencing the duty of care which every supplier must fulfil.
Nigel Morrey is technical director at Etex Building Performance UK