This week, while British Land's workers get to feel fabulous on a special sofa, the poor old design team have Heathrow sandwiches inflicted on them – and in a sign of the times, Bellway points out the bleeding obvious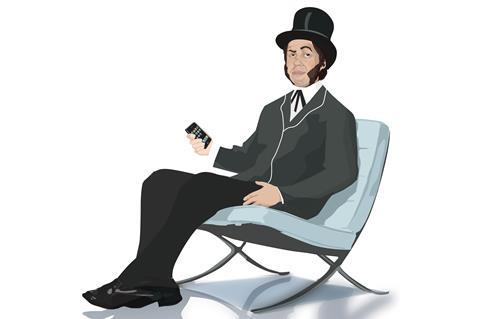 Sofa so good
One of my team was recently invited to have a nose around British Land's Storey Club space at its Paddington Central scheme in London. It's basically the developer's workspace business and can be used by anyone working on the site, with meeting rooms to hire from £95. There's a sofa there that Storey Club head Steve Munroe calls the Fabulous Sofa. Why, asked my curious scribe. "Because you feel fabulous on it," Munroe replied. My hack had a go and he can couch for that …
The look of love
Stace held a bash last week to celebrate its 60th year in business, with more than 300 people turning up to the Oxo Tower on London's South Bank to attend. The company, perhaps wisely, eschewed a 50th anniversary event, figuring that holding one in the teeth of a recession might not have been so clever. The Oxo Tower is a great place to hold shindigs like this, I'm told. "It has outside terraces with views across the Thames so everyone can admire all the buildings they've worked on," says my source, gazing at his navel.
On target for sometime in the future
If you're looking at the sorry state of Crossrail's missed deadlines and bust budgets from the point of view of someone planning its sequel, at least you have a good guide of what not to do next time. At an infrastructure event hosted by Aecom last week, Crossrail 2 boss Michèle Dix said: "People say this as a joke but, maybe sort of like not really a joke, maybe you shouldn't say exactly when you're going to open because there's less chance of failure." The advice seems to be "keep your target vague and everyone will stay off your back". As a battle plan it's undeniably simple and effective. It also explains why Mark Wild's six-month opening "window" for the beleaguered Crossrail mark 1 goes well into 2021.
Man in a hurry
Staying with Crossrail, backbench Tory MP Sir David Evennett wants to know from transport secretary Chris Grayling, who in a very un-Grayling-like way has managed to avoid putting his foot in it during the recent political shenanigans, when the line might be extended all the way to Ebbsfleet in Kent. The MP for Bexleyheath and Crayford thinks it would be a rather good idea. First things first, Sir David. Let's get the bit that was supposed to be open by now, erm, open.
On the breadline
Any reader who has ever consumed a sub-par sandwich at Heathrow should spare a thought for members of its Integrated Design Team who face the same uninspiring fare week in, week out. "Heathrow has the worst sandwiches," laments Grimshaw's Jolyon Brewis. When they're not at Heathrow, many of the team relocate to one another's offices. One of the advantages of working in a group with seven other firms, jokes Arup's Richard de Cani, is being able "to taste each other's refreshments, who has got the best food". Good to see competition is still alive and well in the construction industry.
Whose shout is it?
One of my team found himself battling the background hubbub as he spoke to a contractor over the phone one afternoon last week. "It sounds like you're in a pub," my hack said. "Ascot," came the breezy reply. Isn't that the same thing?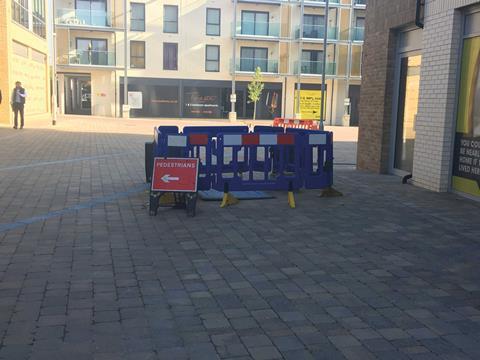 Walk this way
Construction sometimes gets a bad rap when it comes to being considerate to the public, but one of my hacks was tickled by this show of it. At a Bellway project in Chelmsford, Essex, a sign kindly warned pedestrians to avoid a very small fenced-off area in a very wide walkway. So well done for the show of consideration. Even if it was a bit unnecessary …
Send any juicy industry gossip to Mr Joseph Aloysius Hansom, who founded Building in 1843, at hansom@building.co.uk