Andrew Marr gets the BCO giggling with pseudo-sympathy for the Mays, MP Vicky Ford adopts low humour in her bill to ban low letterboxes, and conductor Simon Rattle goes overboard on the architectural trash talk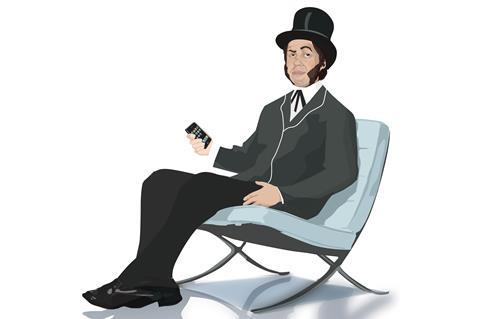 Fungal confection
Taking a stroll on the south bank of the Thames the other day, I noticed that most iconic of brutalist structures, Fitzroy Robinson & Partners' Sampson House, is finally being torn down. I looked up the paperwork for the PLP multi-tower scheme that will replace it and discovered the design of Sampson House "was born out of the extensive and sophisticated computer equipment that would process the cheques" for Lloyds Bank, and that while there was a need for large open-plan spaces "there was lesser need for natural light". Lloyds workers were a bit like mushrooms, perhaps. Kept in the dark and fed …
Travelling hopefully
The London Assembly's budget and performance committee has painted a rather bleak picture of Transport for London's future in its response to mayor Sadiq Khan's draft budget. The committee said it was dubious about TfL's ability to get back into the black after posting an operating deficit of £1bn last year. "We remain sceptical," the report said. And no wonder. After all, TfL is behind the late-running, budget-busting Crossrail scheme.
Sick beats
If readers think some architects can be a little flowery with their language, they have yet to come across Sir Simon Rattle – music director at the London Symphony Orchestra – talking about concert halls. Of the Diller Scofidio + Renfro designs for a proposed venue at the Barbican, which were unveiled this week, Rattle said: "It's like some kind of magnificent virus, which hopefully is incurable." I literally have no idea what that means.
Post haste
Brexit casts a long shadow over other legislative pursuits. Government waited six months before announcing its response to the Hackitt review, which was that it planned to consult on pretty much every recommendation. The Aldous bill, which would reform retention practices, looks like being delayed again. But Tory MP Vicky Ford, in a 10 minute rule bill, has an even more pressing issue: "To require letterboxes in new buildings to be positioned above a certain height." In a sign not even Ford is taking this seriously, she told other MPs last week: "When it comes to front doors, a lot of people are very fond of their knockers."
Marr-di gras
To the British Council for Office Awards annual dinner at the Grosvenor House on London's Park Lane last Tuesday. The gig was compered by broadcaster and former BBC political editor Andrew Marr, who had hotfooted it over from Westminster after witnessing the prime minister's Brexit plan go up in smoke earlier that evening. He noted that Theresa May will not want to resign because she loves being PM despite it having been "in many respects an absolutely miserable experience", which he likened to "gargling the hemlock day after day", while Marr took pity on her husband Philip, who "by his endlessly depressed expression" clearly isn't revelling in the moment. Politics is a funny thing when it's not so serious.
You do the math
One of my hacks had lunch with Brian Waters, former president of the Association of Consultant Architects, the other day. She was surprised when he said he'd had a driving lesson that morning since it's fair to say he is no longer 17. It turns out he wasn't being let loose on a beaten-up Ford Fiesta in a cul de sac – but was at the controls of four shire horses and a rather large carriage in one of the Royal Parks. Attaching four horses and a carriage together is a rather tricky business, he added, but all part of the fun. "I love geometry so I'm rather good at it," he said.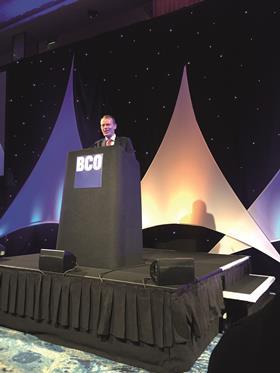 Table talk
After-dinner speaking is a fine art, but it would be a bit much to expect those on the circuit to clone themselves in order to be in two places at once. So it was no great surprise when the British Council for Offices' president announced at its annual dinner – which coincided with the parliamentary Brexit vote – that the BBC's political editor, Laura Kuenssberg, was otherwise engaged. Her stand-in, journalist Andrew Marr, stepped in at the last minute to rather rapturous applause. For the avoidance of doubt, he opened with a warning: "I am not Laura Kuenssberg." And this picture is the proof we need.
Send any juicy industry gossip to hansom@building.co.uk