Strange creatures stalk the diary page this week, including a giraffe on a desert island, a disorganised German organisation and a construction professional who made all the girls swoon
Sigh … Simon's so hunky!
I hear that Simon Storer, the communications director of the Construction Products Association, had a string of scandalous and very public love affairs back in the seventies. Luckily for him they didn't appear in the News of the World, but rather the girls' magazine Jackie: I can reveal that he was "the boy" in all those photostory sagas. I'm not sure how many of Jackie's faithful readers have made the leap to Building, but if you ever thought he looked a little familiar - or that he could break your heart in a carefully crafted speech bubble - now you know why.
Gulf of perception
Chris O'Donnell, boss of Nakheel, clearly believes no publicity is bad publicity. Some might be embarrassed to be faced with a roomful of tetchy Middle Eastern consultants, many of whom are still chasing their money for work they did after Dubai's meltdown last year. But O'Donnell's looking on the bright side. "We will have a strong brand," he said with a nervous grin, "as everybody does know the name Nakheel." That's okay then. Strangely, delegates at this year's ACE Gulf conference seemed far more interested in their missing money than Nakheel's branding when they lined up to badger O'Donnell after his speech.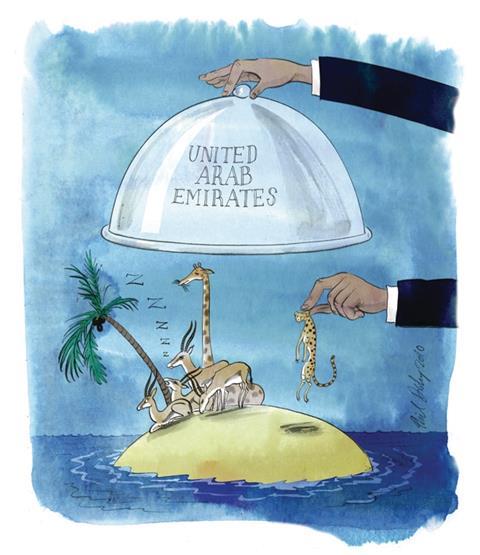 Survival of the fittest
In an attempt to dispel the carbon-spewing, biodiversity-mangling vision many people have of the UAE, Abu Dhabi is trying to preserve its fauna and flora on eight "desert islands" just off the coast. Problem is, the gazelles felt a little too secure, to the extent that they became, in the developer's words, "lazy". The solution, naturally, was to ship in cheetahs and hyenas. It worked a little too well: six not-quite-match-fit gazelles became dinner a day after the predators arrived. And the bioengineering doesn't stop there. The developer boasted, "We brought in some giraffes as well, which aren't particularly native, but they're there." Who said the UAE seems artificial?
Send any juicy industry gossip to hansom@ubm.com
Bike vs bus
The introduction of London mayor Boris Johnson's bike hire scheme means short journeys once made by bus or tube can now be cycled. If you've got a docking station near your office this is often much more convenient. But which is quicker? We had the chance to find out when Simon Rawlinson and Graham Kean returned to EC Harris' King's Cross office after a meeting at Building's Southbank HQ. In true Top Gear style they raced each other up the Farringdon Road, with Graham on the Number 63 bus and Simon on the bike. Despite a technical issue with his TfL key fob, it was Simon who was first through the consultant's revolving glass doors. We expect to see many more industry MAMILs (middle-aged men in Lycra) travelling this way soon.
The Treasury tries hash
Good to see the Treasury engaging with social media types by tweeting about the Comprehensive Spending Review, but it has been displaying newbie tendencies, like a middle-aged dad trying to impress his children's friends. Members of the Twitterati complained it was using an over-long hashtag - that it should replace #spendingreview with #csr10, thus freeing up more of the maximum 140 characters. And we thought the coalition was trying to do away with big government.
Innsbruck calling
As you would expect of our Teutonic counterparts, the German Passivhaus standard is an uncompromising approach to low-energy buildings. But eyebrows at the Passivhaus Institut in Innsbruck were no doubt raised last week when, at the inaugural UK Passivhaus conference, technical prowess proved in short supply. A one-hour slot set aside for a video link-up with Professor Wolfgang Feist, founder of the standard and low-energy über-god, was reduced to two minutes, thanks to a dodgy Skype connection. Still, after an enforced tea break a second attempt proved more fruitful - even if there were no moving images.