This week, Foster + Partners' copy writers get a bit carried away, someone has an idea for a long weekend, Liam Fox has an odd sense of what makes Britain great, and we share deep thoughts about the nature of time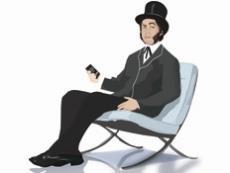 The doctor's tonic
As "snap election" news dominated the headlines, key elements of the government's post-Brexit trade strategy were trailed by Liam Fox but slipped somewhat under the radar. Fortunately my hacks spotted an official announcement from the international trade secretary – timed to coincide with St George's Day – promoting strawberries and cream, cheddar cheese and gin as "quintessential" British commodities ripe with global business potential. Perhaps the Conservative Party's election manifesto will also include copious references to the nation's design and construction prowess. Meantime, "mother's ruin" it is; Dr Fox's orders.
As time goes by
Following last week's revelation that there is somebody out there whose job title is Job Captain, comes news from a digital outreach executive. I'm as baffled by that job title as I was by last week's. But let's see what this person has to say. It's news that by 2018 there will be 1.3 million industrial robots working in factories around the world. The blurb adds: "That's less than two years away!" Well, I never …
Dutch courage
Last week, I was told, millions of Dutch people worldwide celebrated their monarch's birthday clad in the national colours – which, judging by my visit to the Dutch House at Alexandra Palace for the 2012 Olympics, seems to consist of nothing but orange. I was invited to the Dutch Centre in the City to join in the revelry where I could have heard the wonderfully named 1980s band Toontje Lager rip through their best known song – well, to the Dutch anyway – called Ik heb stiekem met je gedanst. This roughly translates as "I've been dancing with you secretly". May I suggest it be the soundtrack for Jeremy Corbyn and Brexit?
Teaming up
To Huddersfield and the opening of the university's Oastler Building. Designed by AHR Architects, it will house the university's law school and part of the school of music, humanities and media. But I must admit I was rather interested in the fact that it was opened by Prince Andrew. I wonder if anyone was brave enough to ask whether these recent rumours romantically linking him with pint-sized pop siren Kylie Minogue were true. Even better, if he was asked, that he had then replied: "I should be so lucky."
Good Friday
One of my hacks popped down to an event Heathrow Airport was hosting about its expansion plans last week and heard Matt Oakley, a former Treasury economist, now head of WPI Economics, tell the audience that if the construction industry was 20% more productive, then everyone in it could take the Friday off. What better incentive to get efficient than that?
Garden enthusiasts
By ruling out his support for the Garden Bridge, Sadiq Khan last week effectively put the mockers on the project. This was noted by the Evening Standard, which had frequently written in support of the bridge and went so far as to suggest last week that the project might in fact yet see the light of day. This enthusiasm has nothing to do, of course, with the newspaper's new editor, former chancellor George Osborne, who has long been a Garden Bridge enthusiast. Or the fact that the newspaper's owner, Evgeny Lebedev, is a governor of the scheme. Nothing at all.
Floral tribute
According to architect Foster + Partners, the new Apple store (pictured) it just designed for the UAE's Dubai Mall has "reinvented the traditional introverted idea of mall-based retail". I'm all for innovation but some of the development's press blurb was more than a bit flowery. Its solar panels move like "a falcon spreading its wings", apparently, while their opening and closing "is analogous to a delicate ballet recital – but on a monumental scale". The release goes on in a similarly colourful vein: "In some ways it is a very spiritual experience, with the sun streaming through them and creating the most delicate and beautiful patterns of light and shade – a seamless blend of technology and culture." Groovy.
Send any juicy industry gossip to hansom@ubm.com