Tolkien fans support a venture to create a real-life Hobbit holiday home, team Mace prove their construction skills know no bounds as they enter the Red Bull soapbox race, and Chelsea top the house price Premier League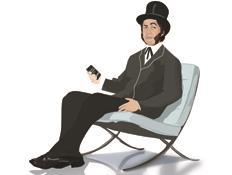 Old haunts
Part of being in the construction game is keeping a resolutely unsentimental attitude to the construction efforts of former times, which are so quickly (and so often) flattened to make the latest canvas for the industry's creative efforts. But forgive us a brief sigh of relief at the news developer The Malins Group is not planning tear down Building's former offices in Covent Garden, designed by former editor Henry Heathcote Statham, as part of its bid to build luxury residences on the site. The five-storey Edwardian building, situated on Catherine Street and put up in 1905, is described by the developer as "architecturally striking", and will instead be retained, converted and renamed The Tavistock. Statham himself is these days best remembered for his vitriol toward London's Tower Bridge, which he described as representing "the vice of tawdriness and pretentiousness". I wonder what he would make of the apartments that will now occupy his former building? Prices start at a mere £3.5m.
Tall story
It's becoming increasingly clear how little love is between the Greater London Authority (GLA) and newspaper columnist and former National Trust chairman Sir Simon Jenkins. Last year, I reported how mayor Boris Johnson joked about building a new super-tall tower in London and naming it after him - the joke being how much Jenkins would hate it. As if to prove the point, Sir Edward Lister, Bo Jo's chief of the staff and deputy mayor of London for planning and policy, was this week forced to write a letter to the Evening Standard defending the GLA's planning policy after a recent Jenkins column maligning tall buildings in the capital. Lister's intervention followed a slyer dig earlier this month by the GLA's executive director of housing David Lunts toward the columnist. Answering a serious question at the Housing Forum's annual conference about foreign investors leaving new-build homes empty, Lunts noted it was a regular subject of Jenkins' ire. "Poor old Simon down in Kensington, worrying about the fact he has fewer and fewer neighbours," said Lunts, drily. "Maybe there's another reason for that than buy-to-leave."
Landlord of the rings
Aspiring hobbits are being offered the chance to invest in Suffolk's very own hobbit hole. West Stow Pods is crowdfunding on website Kickstarter to raise £50,000 to build the first authentic and habitable hobbit hole in the UK at its West Stow site. The firm plans to build the partially submerged holiday accommodation - Poddit hole - as close in style as possible to the yellow-doored hobbit home featured in the Lord of the Rings trilogy. If owner Ed Lengyel and her husband Jan raise the required amount, building on the sustainable development will begin in September. Contractor Hartwyn Natural Building will be under the supervision of Tolkien Society member Alan Baxter to ensure authenticity.
You only sing when you're moving
As the football transfer market heats up, online estate agent eMoov has created a Premier League property table ahead of the new season, looking at house prices near each team's stadium. Champions Chelsea top the table, with the average house in London's SW6 costing £1.1m. North London's Arsenal net second place with an average price of £576,000. Manchester United fare less well, coming in 10th with an average price of £194,000. And the table is not good reading for Liverpool and Everton fans. The duo are joint bottom of the table with an average house price of £73,000 in Merseyside's L4 postcode area.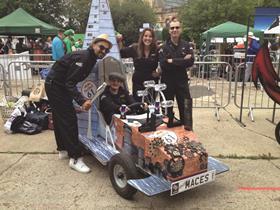 Sloping off
Mace may be winning many of the construction jobs at the moment, but its Wacky Maces team only managed to finish in 17th place at Red Bull's venerable soapbox race. After months of preparation, Wacky Maces took on the Alexandra Palace hill - making it down in 44 seconds in their homemade soapbox vehicle, albeit taking out a camera crew as they crossed the line. The team did, however, manage to come third for creativity with their soapbox showcasing a history of London's buildings from the 19th century through to the Shard.

Send any juicy industry gossip to hansom@ubm.com