It's been a confusing week with a Twitter campaign being hijacked by teenagers, a secretive networking club publishing the names of its own members and listening to Kirstie Allsopp's deep thoughts
RT @Justin we love you# ;-)
You may have noticed that last week we launched Building Memories, a look back at our archived copies of The Builder, kicking off with a special on the 1948 Olympics. Let's just hope it didn't catch your attention for all the wrong reasons. In my experience, nostalgia is usually characterised by warm, fuzzy feelings about days gone by. Not warm, fuzzy feelings about pop sensation Justin Beiber. But when our building memories hashtag was hijacked on Twitter by a Beiber appreciation group - content swiftly went from construction history to modern teen crushes. Declarations of love, lust and OMG like, so much angst, for the chap behind such vocal delights as Baby, Baby, Baby rather overshadowed our historical musings. So we're being the bigger person and have let the Beiber-ites keep our original hashtag … but if you'd rather follow us the new hashtag is #BLDGmemories.
On top Down Under
Ever wondered what happened to Murray Coleman, the tough talking former Bovis Lend Lease chief executive who returned to Australia three years ago? Well, as well as being subsumed into the Lend Lease hierarchy, it appears that the man who once told Building "We don't hug trees and do kumbaya" has been making inroads into the Australian establishment. Coleman has received an "Australia medal" as part of the Australia Day Honours List, and has also received a professorial appointment from the University of New South Wales. A glowing email circulated from the Australian Institute of Building states that "this chap has done the Australian building profession proud." Apparently without even resorting to a tambourine.
Glory days
In the midst of their struggles to be paid can staff at RMJM take any comfort from the firm's illustrious past? That past was in evidence at last week's launch of plans to redevelop London's former Commonwealth Institute as the new Design Museum. Developer Sir Stuart Lipton described RMJM's late fifties design as a "vision of excellence in architecture" and marvelled at how the team had managed to produce such an "outstanding" piece of design for only around a third of the cost of a typical civic building of the period. Others at the event claimed that the building in Kensington was as cutting-edge in the post-war period as a Zaha Hadid building is in 2012. What a shame that the renowned Scottish firm is in such difficulties today.
Join the club
Have you heard of London's Chemistry Club? If that's a yes, I would suggest you are either unusually well-connected or are a Guardian reader. The newspaper has recently detailed how senior executives from firms including BP have been paying up to £1,800 a head to meet ministers and government officials at events organised by the networking firm. The invite-only events, which cover subjects including energy and climate change, have been criticised by transparency campaigners on the grounds that they represent a form of "cash-for-access". However the Cabinet Office allows civil servants to attend and the Club publishes a list of attendees including Atkins chief executive Uwe Krueger, Arup's Ian Gardner and Bechtel's Richard Beake …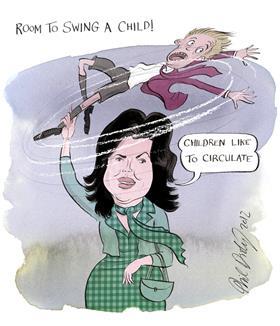 Just kidding, Kirstie
Hansom enjoyed strolling out from Building's HQ in Blackfriars last week to Waterloo to see Prince Charles no less. The Prince was there to relaunch his built environment charity, now known as the Prince's Foundation for Building Communities, which is engaged in a "place-making" project in the area. But many were confused by the participation of TV presenter and foundation "ambassador" Kirstie Allsopp. She explained to the assembled hacks that she was "passionate" about the work of the foundation but lost a few of them when describing the family-friendly design of the Prince's House - the low-carbon home built by the foundation in Watford. "Children like to circulate," Allsopp said, gesticulating in reference to the generous rooms. Do you mean run about, Kirstie?