It's all glitz and glamour for construction this week, as it takes a whirl on Strictly, scores celebrity autographs at an awards event, and - stop press! - creates its very own Christmas single
Twinkle toes
Business secretary Vince Cable has a lot on his plate at the moment - thousands of students baying for his blood, for one - but I hear he shared a lighter moment with Gleeds boss Richard Steer over dinner last week.
When Steer mentioned to Dr Cable that he was once asked to take part in Building's version of Strictly Come Dancing, the secretary of state revealed he had just finished recording the BBC Christmas special of that very show. Cable was coy as to the result, only saying his two dances had gone "very well". But it was nearly not to be. Labour, Cable said, lodged an official complaint alleging BBC bias just before the recording, to which the Beeb retorted that Lord Mandelson was invited to the dance-off but refused. Surely there's someone else with nimble feet in the Labour ranks?
Our learned friend
Design for Homes, the social enterprise that campaigns on housing issues, has just celebrated a decade in business with a board reshuffle. The most intriguing appointment is their new chairman, Alex Carlile QC - the man who successfully defended Princess Diana's butler, Paul Burrell. However, many in construction may recognise him better as the chairman of the Competition Appeals Tribunal, where he has been working his way through the appeals from a string of contractors against the Office of Fair Trading's fines for cover pricing. Let's hope he can extend the same listening ear to contractors as he is likely to offer the housebuilders working with Design for Homes.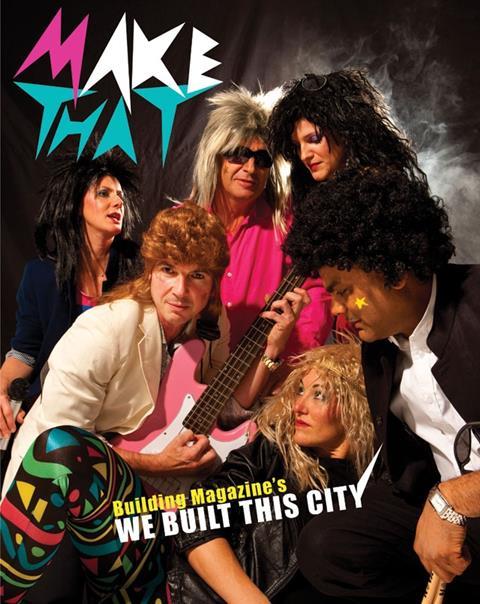 Brace yourselves …
COMING SOON: Building magazine and some friends are launching construction's very own Christmas single for charity - and it's up to you to help us raise as much money as possible for Maggie's Centres and Over the Wall.
If you need an incentive to buy the track, picture Jonathan Goring, Mark Whitby, Hanif Kara, Sadie Morgan, Linda Morey Smith and Building's Emily Wright dressed as eighties pop stars, singing and dancing in their own music video version of We Built This City.
As well as recording a cover version of the track, which you will be able to download soon, we will launch a music video complete with afros, mullets and some very tight trousers.
Don't forget to check www.building.co.uk soon for details on how to get your hands on this piece of recording gold.
One way to rebrand
Now it seems we finally know the reason why Styles & Wood boss Ivan McKeever was so reluctant to talk about the beleaguered fit-out firm's rebranding as "S&W" - he was stepping
down. McKeever, who could not find time to say a single word about the firm's "transformation of corporate identity" is to be replaced at the helm by former Bovis man Tony Lenehan at the beginning of 2011 and will "pursue personal business interests" from here on. Perhaps the rebranding has changed the face of the company in more ways than one.
A single-dip recovery
The construction industry has received a welcome fillip from an unlikely source. Apparently the British public's mania for the Mediterranean staple hummus is to create 40 construction jobs in Ebbw Vale, Wales. Hummus producer Zorba Delicacies has seen demand rocket despite the downturn, and appointed contractor Chalcroft to expand its production facility. So, could taramasalata have stopped Rok going under? Or tapenade rescued Connaught? We'll never know.
A dad named 'Sue'
At an industry awards ceremony, the urge to make a jibe at the expense of the audience usually proves too much for the celebrity guest presenter. But Julia Bradbury, the Countryfile presenter who dished out the gongs at last week's Sustainability Awards, managed to avoid the temptation, and one architect was so starstruck by her performance that she even asked Bradbury for her autograph - though the signature was actually for her dad. So she said.
Send any juicy industry gossip to hansom@ubm.com