This week involved an enjoyable combination of sights and sipping. A swimming pool will offer uplookers an eyeful, the view from my HQ has an unexpectedly named watering hole and the Ally Pally seeks booze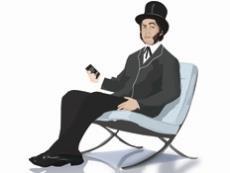 Too good a view?
Developer Ballymore will soon receive an expensive package from the US – a £2.5m, 25m-long transparent glass swimming pool to be suspended 10 storeys up between two London apartment blocks. The pool, at the Irish client's Embassy Gardens, a luxury residential scheme under construction opposite the soon-to-be US Embassy in Nine Elms, has already grabbed headlines for its voyeuristic position 35m above the streets below, affording passers-by a view of any residents taking a dip. The pool has been designed by Arup Associates and costed by QS Bruceshaw. It's set to be shipped over from Colorado in the US – where a manufacturer was found capable of meeting the unusual demands of the job – in the next few weeks.
Roll out the barrels
It's not only Willmott Dixon's revamp of Alexandra Palace that's new. I see the north London venue is also looking for a new beer supplier for the next five years. It has advertised the £1m-a-year deal on the OJEU – set to be a thing of the past in the UK thanks to Brexit – with the winning supplier expected to deliver an annual supply of 2,200 barrels. The denizens of Muswell Hill certainly know how to have a good time. Even my old drinking buddies Richard Harris, Peter O'Toole and Oliver Reed might have struggled with that.
A hairy question
Twinkly-eyed Irish charmer James Nesbitt has admitted that hair transplants have given him better roles. The 52-year-old, who made his entrance at last year's Building Awards with a note-perfect rendition of Frank Sinatra's Come Fly With Me, said the procedures have given him confidence and a new lease of life. "Career-wise it had an impact; in terms of the range of leading roles I've had since then, it's probably helped," he said. Is it too much of a push to suggest that "Building Awards host 2016" was top of the list when he was totting up the leading roles he's had since he fixed his barnet?
Don't cause a rumpus
One of my hacks met up with an industry contact here at 240 Blackfriars in London. They journeyed up to the top floor, level 19, to survey the building work that's going on around the area. My hack tells me his guest's eye caught the Mondrian Hotel at Sea Containers. "It can be tricky getting expenses through there," he observed. Why was that? "They have a bar called the Rumpus Room. It's an unfortunate sounding name."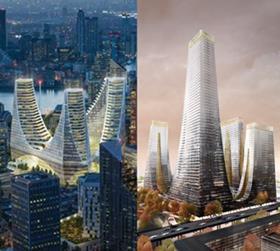 Great towers think alike
Memories were jogged earlier this month when Spanish star architect Santiago Calatrava unveiled his plans for a £1bn development designed on Greenwich Peninsula in south-east London (far left). Called Peninsula Place, the scheme features three towers rising to 30 storeys in height, as well as an 80ft-high winter garden and 500ft-long glass galleria. Now let's go back a year to London practice Tonkin Liu, which was toasting its competition-winning proposal for a new trade centre in Zhengzhou, China. The Cradle Towers of Zhengzhou, they're called. There is definitely a certain similarity …
Send any juicy industry gossip to hansom@ubm.com