This week, a construction site is stopped in its tracks by a shoal of fish, we expose the harsh realities of hotdesking, and gain an insight into the formative (target-driven) years of Davis Langdon's Bob Pell
Mum's mantra
For Davis Langdon's new boss Bob Pell, mother clearly knows best. As a young man the driven former Aecom director was asked almost every day by his Mum "What have you achieved today Robert?" So ingrained is this question that, even now at the age of 60, it is his screensaver, moving tickertape style across the screen. This is something he inadvertently revealed to an entire boardroom in India when, due to a stomach upset, he had to sit down mid-presentation as he felt faint. It was only when fellow Aecom colleague Jason Prior leant over and said: "Bob. I think they have seen enough of your screensaver," that he realised "What have you achieved today Robert?" was being projected onto the wall for all to see.
My fellow workers
On the face of it former Labour MP Mick Clapham, who became chairman of the construction industry's 1.7m-strong CSCS skills card scheme last month, may not appear to have much relevant experience. Apart from some past dealings with construction firms as head of the House of Common's all-party health and safety committee, Clapham hasn't had a lot to do with the sector. But, he told one of my reporters, he did once have a holiday job on a construction site to help pay for his degree, an experience he remembers as "very hard work". Presumably this can only help endear him to CSCS members.
Hey, big spenders
London has always been favoured by wealthy oligarchs and sheiks wanting to do a bit of whistlestop shopping. But now it appears overseas visitors are coming to the capital for a different kind of shopping spree - property. A recent post on the London Architecture group of social networking site LinkedIn read: "We have an overseas buyer in London this week, who urgently wants to purchase development opportunities from £3m up to £50m. Can anyone help us?" How the other half live!
Not easily beaten
If you're stuck for tickets to the Olympic opening ceremony, you could take a leaf out of the book of one CH2M Hill employee. Avnish Raichura has signed up to be a drummer in the opening ceremony. The only potential hitch is that he doesn't know how to play the drums. Hansom is informed he now spends every spare evening learning everything from his drag rolls to his paradiddles. The downside of the plan is that his colleagues are complaining he can no longer come out for drinks. It's not easy being in the Olympics.
Bum deal
A number of my hacks recently attended drinks with a consultant, where the conversation turned to hotdesking. Apparently it's all the rage among consultants. Great if the person you sit next to you is unwashed - you can move - but less so if, like me, you're a fan of hording mementos and pictures of your favourite buildings. My consultant friends have a name for people like me: a "nester". Well, I say they are cuckoos. My hacks were told this firm's hotdesking regime forbids them from consuming anything other than water at whichever desk they end up at. Yes, not even a cup of tea! Barbaric.
Fish fries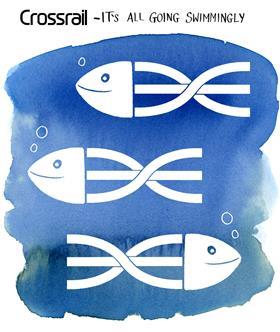 Fish at your construction site is an obstruction most contractors never have to deal with. But it was a serious issue for Canary Wharf Contractors when it set about building the Crossrail station under Canary Wharf docks. Having sectioned off a part of the dock, the firm was essentially left with a big concrete aquarium. Mindful of its need to be considerate in the removal of the fish, it called in the experts - who promptly electrocuted them, scooped them off the aquarium's surface and released them (once they had regained consciousness) into the rest of the dock. But fear not, fish fans, I've been assured none have been permanently harmed in the construction of Crossrail.