The high-end London resi trail stretches from Blackfriars to Greenwich, the rich have a new space to stash their loot, Russia takes an interest in Trump's wall, and a construction supergroup rocks again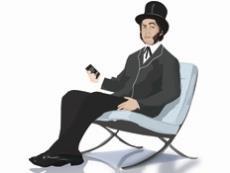 Hard sell to the City
I see a sign advertising that show apartments are available to view at the One Blackfriars tower is being slowly unveiled three-quarters of the way up the 50-storey building, which is being built by Multiplex. The sign is going up on the building's eastern flank – which just so happens to have uninterrupted views into the City and beyond. And of course the City will be lucky enough to have an uninterrupted view of the banner, too. It got me thinking: I wonder if people in Russia and China will be able to see it as well?
Budget blaster
I received an invitation to pop along and see London mayor Sadiq Khan launch a "major £1bn project at the heart of Greenwich Peninsula in London" yesterday. The architect on the scheme is Spanish-born architect Santiago Calatrava. Given that a number of his schemes have blown their budgets by considerable margins – the World Trade Center Transportation Hub in New York came in at more $1bn above budget – isn't £1bn a little conservative?
Great Wall of Russia
Our story that President Trump's plan to build a border wall between the US and Mexico might end up costing $31bn has attracted interest from the most unlikely quarters. Word reaches me that Radio Sputnik World Service – the Kremlin-funded radio channel which replaced Voice of Russia three years ago – wanted to interview someone from Gleeds who costed the building programme. Given that Trump has said Mexico will pay for it and Mexico has said it won't, perhaps this might be all part of a long-term plan that sees Russia offering to pay and so bring its influence right up to US borders. Given some of his more recent decisions, I wouldn't put it past Trump to accept such an offer – providing it was made, of course …
The safest of safes?
Now the Hatton Garden jewellery raiders are behind bars, perhaps that is the reason why a company called Amazon Property – not related to the internet people as far as I can make out – feels now is the time to tell the world about London's answer to Fort Knox. Billed as the place for the super-rich to safeguard possessions, the £30m underground steel and concrete complex is somewhere in the West End. The vaults, described as "virtually bomb-proof" are up to 40ft below ground and encased in 1m thick concrete. In the PR blurb, the firm's director Chris Lanitis explains that clients will "occasionally bring friends or family" along.
I did think for one moment that he was going to add: "To put in there."
Louder than war
Good news for fans of construction rock 'n' roll – industry "super band" Exile, fronted by charity band stalwarts Bill Price of WSP and Chris Liddle of HLM, will be playing a gig on Wednesday 8 February in aid of defence charity Help for Heroes. The evening of rock and blues music will help raise money for a proposed memorial garden in Poole dedicated to armed forces members and their families. Tickets are priced at £15 and can be obtained from Martina Dvorani at WSP: 0207 314 4446. Guest appearances are also promised – you have been warned.
A cutting edge idea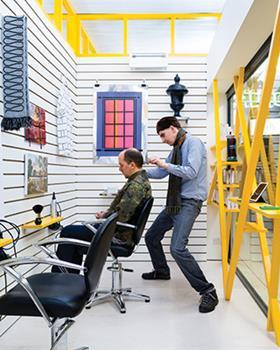 Architect Sam Jacob, perhaps best known for curating the British pavilion at the 2014 Venice Biennale (a bow tie-twirlers Mipim) as well as being one of the designers behind artist Grayson Perry's A House for Essex, has teamed up with another artist to revamp a south London hairdressers. It's fair to say this isn't the place to get a blue rinse. Rather, it's a fashionable space in Peckham where you can get your hair cut and, instead of gazing at your reflection in a mirror or dozing off, one can look at a piece of art instead. I might have a look next time I get my highlights done.
Send any juicy industry gossip to hansom@ubm.com