A theme park in Abu Dhabi dedicated to caped crusaders leaves Paramount London blushing, Cemex keeps a watchful eye on the local wildlife, while we say goodbye to a protector of Britain's historic buildings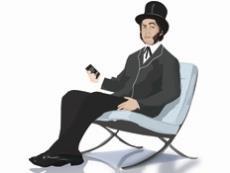 So long, Clem
I was delighted to receive an invitation to the leaving bash for Clementine Cecil, outgoing director of Save Britain's Heritage. Other guests included author Simon Jenkins and royal doctor Sir Marcus Setchell, who delivered Prince George. Admittedly, the small but fierce campaigning outfit - that's Save, not Clem - has been a thorn in the side of a few of my colleagues over the years as it has managed to stop some major projects, notably the redevelopment of Smithfield Market. But, being of a certain vintage myself, I'm prepared to concede that their achievements are often laudable. And in any case old enmities were washed away in a fug of vodka toasts, a nod to Cecil's new job as executive director of Russian cultural body Pushkin House.
Park life
It's a "WHAM" and a "POW" by Abu Dhabi's self-proclaimed "destination maker" Miral and Warner Bros to the long-awaited London Paramount development. The two are already building in the UAE capital to bring Batman and co to amusement park lovers, and leaving the Kent-based theme park, now delayed until 2021, for dust. Located on Yas Island - next to Ferrari World Abu Dhabi - construction for the first phase of the £1bn Warner Bros World Abu Dhabi is already underway, and is set to open in 2018. And that's not all folks as the likes of Bugs Bunny and Scooby Doo will feature alongside DC comic superheroes, as the island targets 30 million visitors in the next couple of years.
Bird brained
Not everyone would view the construction industry as a champion for protecting our feathered friends, but it is a mantle that one global materials giant aspires to. In a sustainability statement titled "Time to build hotels" earlier this month, Cemex detailed its ongoing work to provide accommodation for the sand martins at its sites, as well as nesting boxes for barn owls and kestrels. According to the firm, it created and managed 139ha of priority habitat last year, exceeding its target by almost 40%. My hacks tell me they have stayed in hotels that compare unfavourably to piles of sand or boxes nailed to trees, but have never breakfasted on worms and small mammals.
Sustainable awards
I doff my stovepipe hat to the winners of this year's Queen's Award for Enterprise. In picking up its gong for sustainable development, Wates - so I'm told - became the first construction company ever to win the award twice. The accolade reflects the firm sustainability work, its procurement strategies and social-inclusion strategies. British Land also received a sustainable-development award for its focus on green building, transparent reporting and its community and supply chain engagement. Winners of the awards, which are overseen by the Department for Business Innovation and Skills, are required to demonstrate how their practices have helped their businesses improve performance over a sustained period in addition to benefiting the environment and society.
Fast rise to the top
A trip to the Cheesegrater for Hansom and up to level 43 of the skyscraper - the last remaining floor to be let. It's also the highest that will be given over to office space and as such is set to command an asking price of £90 for each square foot of its 7,000ft2. The lifts are so fast it takes just a few seconds to get there, and that's after they were slowed down when people complained their stomachs were arriving a bit after they did. Do what Hansom did and hang on to the hand rail.

You're not sitting anymore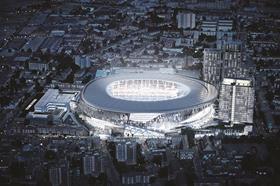 After years of delay and agonising over the redevelopment of their White Hart Lane football ground, Tottenham Hotspur are so keen to get the job done that elements of the £400m programme are being brought forward. According
to some reports, the club is considering dismantling part of its North Stand ahead of the "final whistle" of next season to ensure that main construction partner Mace and its allies have the best chance of allowing football to resume from summer 2018. As Chas & Dave, those giants of popular song and project management, once had it: "Tottenham, Tottenham, no one can stop them."
Send any juicy industry gossip to hansom@ubm.com