The Conservative housing minister at the Lib Dem party conference, a strangely familiar 'iconic' development in Dubai and a super-luxe London apartment with its own secret tunnel
Sandal monger
My chums at Building dispatched a journo to Liverpool this week to gauge how the Lib Dems are enjoying their tenure in government. Not many companies made the trip, however, leaving their interests to be represented by lobby groups. But the real measure of whether the progressive party has changed is the prevalence of casual footware. Over the week just two delegates were spotted in the classic Lib Dem-at-play sock-and-sandal combo.
Leave it, Grant
One unexpected visitor to the conference was Grant Shapps, the Tory housing minister. The Conservatives are only marginally less popular than Nick Clegg among the Lib Dem rank and file, so it was a risky move. Earlier in the week, Lib Dem councillor Richard Kemp, who had been due to join Shapps on the panel of a Shelter fringe event on homelessness, blogged about how much he was looking forward to a scrap with the Welwyn and Hatfield MP. But in the event Shapps managed to evade a showdown.
Used his charm, I suppose. But then he seized the opportunity to urge an 11-year-old delegate to vote Conservative. And just about escaped with his life …
Ready for my close-up
You may recall the Channel 4 series Undercover Boss - and the episode that starred Stephen Martin, chief executive of Scunthorpe-based Clugston Group. Martin spent a week working on site, but did it really make a big difference? One Clugston employee says the experience was positive and occasionally the phone will ring based on the firm's new-found TV fame. A lesson for others struggling in the recession? Well, perhaps not - I gather one of the star performers unearthed by Martin on site has recently been let go. Reality and TV do not always sit comfortably together. One hopes the Willmott Dixon staff who will be filmed as they build Kevin McCloud's Triangle housing scheme in Swindon take note.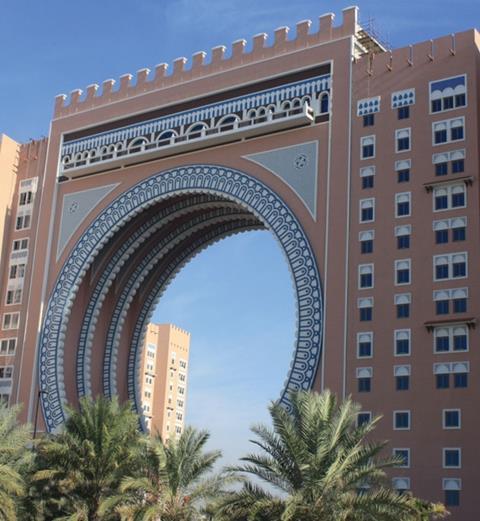 Arch rivalled
To Dubai, where property prices continue to oscillate between rock bottom and off a cliff face. Undeterred, one developer has just launched 156 apartments. But how on earth does it plan to sell them? Well, these are no ordinary flats, apparently, as they are part of the Ibn Battuta Gate mixed-use development, which features, wait for it, an immense pink arch, some 60m tall and described by the developer as "iconic" - not to be confused with the immense pink arch of the Atlantis Hotel on the Palm Jumeirah, mind. The complex also has a car park operated by robots, which pick up your car and place it on a giant shelving system, which doesn't sound scary at all. No doubt the flats will sell like hot cakes.
Mr Sleepy's story
As so many graduates languish without jobs, we can only applaud the consultant John Rowan & Partners, which has taken on four interns in the past year and given some of them permanent positions after their placements. It's all happened under the Pledge, an industry-wide scheme John Rowan launched in January (thepledge.org.uk), which offers graduates a route off the sofa and into the workplace. The scheme hasn't been entirely successful, however. One young man, clearly rather too used to the student lifestyle, was so prone
to late arrival and nodding off at his desk that he earned the nickname "Mr Sleepy".
A cautionary tale for prospective interns - he was not offered a job.
Supervillain seeks London lair
News reaches me of an intriguing feature at One Hyde Park, the ultra-luxurious Candy brothers development featuring an apartment with a reported price tag of £140m. As well as a panic room, SAS-trained bodyguards and 24-hour room service, the apartment's owner will enjoy a secret underground tunnel that leads to the Mandarin Oriental hotel next door and into the Heston Blumenthal restaurant within. Popping out for a Chinese may never be the same again.