It's a week of drama again for construction, full of joyous celebrations, a race to get a document ready, a wandering fox and both a reality TV star and our esteemed chancellor working up a sweat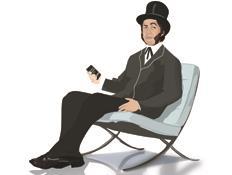 Hamlets at the museum
I hear charity Land Aid's fundraising bash at the Natural History Museum last week was quite a do. One of my reporters tells of a glamorous evening of champagne and entertainment from Rory Bremner, topped off with a chance encounter with Kevin Brush of contractor Fairhurst Ward Abbotts - the Queen's very own official builder and decorator. My colleague also couldn't help noticing that Canary Wharf Group was using the event to entertain its local planning custodians, with the group's table hosting Tower Hamlets mayor Lutfur Rahman and five of his colleagues.
Play on
Both PwC's summer party and Ryder Architecture's 60th anniversary exhibition launch were well attended last week. But the band at the PwC event, Miss Hoodoo and the Delta Boys, could be forgiven for thinking otherwise - for all their jazz, blues and soul renditions, they were unable to lure many guests away from the roof terrace on one of the year's sunniest evenings. At Ryder, the entertainment was an impromptu competition to find references to the Queen in captions accompanying displays of Ryder's schemes. As you can imagine, with such a pull to keep visitors entertained, no one was out sunning themselves that day.
Much ado at Westminster
I'm sure you'll be pleased to hear, as I was, that work on the construction industrial strategy, led by the Department for Business, Innovation and Skills, continues apace. In fact, so frantic is the work to get it ready for publication in July, that apparently one person working on it was in the very act of printing off the latest draft when a newer version dropped into their inbox. By all accounts it is a demanding task just trying to keep up. At least nobody can claim there has been a lack of urgency about the whole process.
Where art thou, Romeo?
When will luxury hotel group Shangri-La finally open its first UK hotel, in London's Shard skyscraper? As Building revealed last week, delays to the £40m fit-out have pushed back the big day by at least six months. The official word is that it will open in the fourth quarter of this year. So how to keep impatient would-be customers entertained? Step in Romeo the cuddly toy fox. Shangri-La has chosen Romeo as its mascot after builders found an actual fox cub at the top of the Shard during construction works. Shangri-La is flying Romeo around the world and snapping him at some of its 80 hotels for a Facebook photo competition. The fox has visited four so far - luckily, there's plenty of time for him to see them all …
My Kingdom for a yoga studio
When I founded this magazine in 1843 engineers such as Isambard Kingdom Brunel were among the UK's top celebrities. Now we have Billi Mucklow. Fresh out of three series of the popular TV show The Only Way is Essex, the national press carried the news last month that Mucklow was quitting to focus on running a newly-built Bikram yoga studio. We have received correspondence from one of the firms involved in the project, engineering consultancy Crofton. Associate director Ian Marriott says: "Unfortunately I didn't manage to get a part on the show. But I did ensure that there is the necessary plant equipment." Dear old Isambard could have done no more.
When you're in a hole …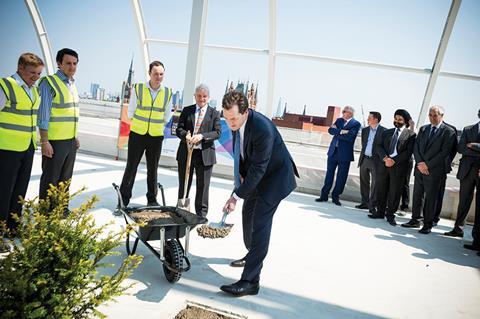 Has George Osborne finally got the message that construction needs shovel-ready projects? Our chancellor was seen toting a shovel at a London construction site last week - sadly it was at the topping out ceremony of the almost-complete Francis Crick Institute, rather than the start of a public building project. Osborne is seen here splatting the last bit of cement on to the roof of the £500m medical research institute. But a more roguish publication might wilfully misconstrue the image as one depicting Osborne "digging a hole". I suspect this won't be the last we see of this photograph.
Send any juicy industry gossip to hansom@ubm.com