Assuming that legal privilege extends to in-house lawyers can be a costly error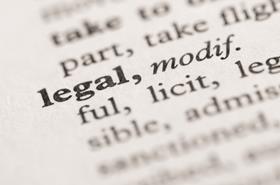 A landmark ruling has highlighted the dangers of a common misconception that the in-house legal team at every construction firm should bear in mind when conducting an internal investigation.
On 5 September the Court of Appeal handed down a much-anticipated ruling determining whether in-house lawyers are covered by legal privilege – which protects confidential communications between lawyers and other advisers and their clients when giving or obtaining legal advice. The case – Director of the Serious Fraud Office vs Eurasian Natural Resources Corporation – related to documents prepared by mining firm ENRC's lawyers during an internal probe into allegations of fraud and corruption, levied against the company by a whistleblower. The ruling means the Serious Fraud Office could not access the documents or use them as evidence during its formal investigation into possible offences committed by ENRC under the Bribery Act 2010.
My experience as a commercial fraud practitioner shows this misconception is held by many in construction
However, there is a risk that the positive implications of the case in corporate and legal circles could overshadow a commonly held and potentially dangerous misconception, which was also highlighted by the ruling. My experience as a commercial fraud practitioner shows this misconception is held by many in construction: that the legal privilege enjoyed by a company's external advisers during an investigation is extended to its in-house legal team without exception.
One crucial part of the Court of Appeal's judgment related to a series of email exchanges between ENRC's head of mergers and acquisitions and another senior company executive. The court found that even though the former was a qualified lawyer and spent the lion's share of his time giving legal advice to the board, he was not entitled to the same privilege as ENRC's external advisers because he was embedded in the commercial side of the business.
Subject to scrutiny
This shows that in-house lawyers cannot assume they are protected by their legal qualifications alone. If their role is not exclusively one of a confidential, professional adviser, their activity is subject to the same legal scrutiny as everyone else within their organisation during an external investigation.
It is a distinction lawyers employed directly by construction firms cannot afford to forget. If a contractor's in-house legal team is conducting its own investigation into the validity of allegations made by whistleblowers, regulators, or law enforcement, they could quickly find themselves in hot water if they discover their own internal communications are not confidential.
We know that allegations of bribery and corruption are unfortunately all too common in the construction industry. That said, criminal investigations into corruption and bribery are still rare, and it is unlikely in-house legal teams will encounter them regularly, if at all, during their careers. But this sort of investigation is just one of many that could be launched against a construction business and which could see an in-house team mistakenly invoke the principle of legal privilege. Others could involve health and safety or environmental investigations.
While in-house legal teams within the construction industry are arguably aware of the range of potential charges that can be brought against them, if the same cannot be said for their knowledge of the rules around legal privilege, they risk launching their own investigations without realising their actions could be used as evidence later down the line.
The likelihood of this is apparent when we consider the composition of many of the sector's in-house legal teams. They are often staffed by employees with little experience in commercial litigation or fraud, who have duties outside the legal sphere that place them at the heart of their employer's commercial operations – and consequently further outside the boundaries of legal privilege.
Take external advice
To avoid finding themselves in this situation, in-house legal teams within construction firms need to take external advice as soon as accusations against their organisations rear their head, or as soon as problems occur in an area that could have criminal law implications.
By reaching out at an early stage to an external legal adviser with relevant experience, contractors can receive confidential guidance on which of the activities they undertake during an internal investigation will be protected by legal privilege. This can usually be done at a low initial cost – and certainly for less than the cost of getting it wrong.
This adviser will suggest next steps and whom the company should bring in to investigate what has happened, as well as providing external legal and project management support from start to finish.
This approach means any investigation will be done at an appropriate distance by an impartial outsider clearly protected by legal privilege. This will help firms get to the bottom of an allegation and mount a robust defence in a fully confidential environment – something to which every business should be entitled.
Mark Surguy is a partner and commercial fraud practitioner at Weightmans