Decaying buildings littering any skyline are obviously unacceptable; we also shouldn't cling onto the past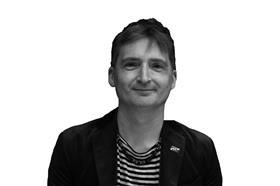 London 2120: a city littered with abandoned, derelict residential housing towers, a dystopian vision straight from J.G. Ballard. However, it's actually the stark prediction of Peter Rees, former chief planning officer for the City of London commenting on how the capital's skyline might look in the future.
I agree the current proliferation of high-rise residential fosters a negative culture where a focus on short-term profits prevails. This attitude risks overlooking essentials such as refurbishment costs not being factored into service charges. These flats are sold on 125-year leases, when the lifespan of a modern reinforced concrete and curtain wall building can be as short as 60 years, approximately half the life of a traditional masonry/wood construction.
We should see this as a call to action to establish a serious dialogue addressing all aspects of the housing crisis, factoring in the lifespan of these buildings.
Rees has a point that flats being sold to property investors on 125-year leases is motivated by developers attempting to maximise short-term profits. On the other hand, Steve Turner from the Home Builders Federation is adamant that 'professional companies' take a long-term view of buildings. It's a debate which needs urgent resolution if we are to build homes which last for centuries, not decades.
The track record of refurbishment and maintenance of high-rise residential over the last 70 years should provide both a warning and a lesson, given that our planning policies require homes to be designed for the occupier's full lifespan.
The post-war construction boom was a response to an acute need to quickly re-house large swathes of the city, therefore focus given to energy conservation was far less. Hence apartments built in the 50s and 60s require far more power in terms of operational costs for heating and cooling. Because of that short-termism, these older blocks face substantial costs in refurbishment to bring them up to a contemporary standard, which will also result in a potential loss of floor area to residents.
Often the cost of improvements are such that it is easier for freeholders to ignore them and rely on the lack of choice to renters in an over-priced property market. This demonstrates little regard on the part of some the big developers for the improvement and maintenance of older properties. But developers need to be more vocally committed to factoring in the future maintenance of high-rise residential to avoid the costs.
Don't sleepwalk into disaster
I also share Rees' frustration with the political classes, as I see the status quo largely as a result of the government's ill-advised right-to-buy and buy-to-let policies, which have enabled not a home-owning utopia but a situation where it is easy for freeholders to misuse their assets. It wasn't until the 1970s that homeowners outnumbered renters, and 60 years prior to this less than 25% of homes were owner-occupied.
In the wake of Grenfell and the Hackitt report we need to be extra vigilant, ensuring that councils and developers work together, no corners are cut in terms of quality, and that developers have an interest in taking a long-term view on building maintenance.
Currently, the need for affordable homes is too dire for us to see the extent of the neglect clearly. Humans adapt to their circumstances and make the best of what they've got. But the quality of our homes has reduced over the past three decades due to a significant decrease in floor area, fuelled by the profit-driven model.
Politicians haven't destroyed building control, it's still as relevant as it ever was. But there is a lack of communication between the planning department and building control, which needs to be addressed.
Aesthetics should not dictate but beauty is not irrelevant. Louis Sullivan believed form follows function, and Warhol that you can find beauty in the most simple, useful things; if people have the activities and spaces they need, isn't there beauty in that?
Decaying buildings littering any skyline are obviously unacceptable; we also shouldn't cling onto the past in order to bask in the glory of how good things used to be. Inferior buildings need to make way for more efficient ones, which stand the test of time. But it is not the case that we need to make a choice between form and function. We can have both, we just need more vision.
Jeremy Wiggins, technical director, Gpad London