With all eyes on Brexit, government has neglected to back up its push for offsite with a solid pipeline of investment, says Stephen Beechey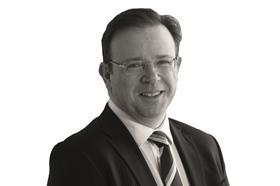 29 March is finally here – although we are now to overshoot that deadline for exiting the EU by two weeks at the very least – it's fair to say that many sectors are facing something of a Rumsfeldian prognosis: we have our known knowns, our unknowns knowns, and we have our unknown unknowns. And of course, it's not as though the mists will clear immediately we leave the EU (assuming that we do leave) – absent of a crystal ball or a time machine, ongoing uncertainty will be the order of the day for some time to come.
What's important in times like these is the ability to be agile and to adapt. For us at Wates, one of the big changes we have introduced over the past year is accelerating our shift to offsite construction. Take schools, for instance. We have an order book of over £525m. Around 60% of this is now through offsite construction, and that will continue to grow. Cost, time and quality considerations all point towards offsite – our company may have been one of the early adopters in the market but others are starting to cotton on.
It's not as though the mists will clear immediately we leave the EU. What's important in times like these is the ability to be agile and to adapt […] Cost, time and quality considerations all point towards offsite
When we launched the Adapt system in 2012 it represented a significant change in what had gone before, and over the years we have evolved this model and are now seeing school schemes using our Adapt 2.0 out in the field.
Adapt 2.0 provides a design framework for successful offsite through:
Standard design principles – following a one‑size‑fits‑many approach
Repeatable, pre-co-ordinated standardised building components – such as precast concrete planks, robust primary frame, ventilation units
Elements sub-assembled offsite, including service modules and plant rooms.
Sticking rigidly to our design and construction "rules", without compromising on design quality or specification, the approach achieves considerable economies. The fact that most of the construction information can be developed up-front allows discounted product procurement and significantly reduced design costs.
This benefit is evident at Maghull high school in Liverpool, a block replacement under the government's Priority Schools Building Programme. Through pre-coordinated product selection, we are achieving better site-level workmanship and quality – and the scheme is set to complete next month, six weeks ahead of the original programme.
Further examples of where schemes are benefiting from Adapt standard design principles can be found at Eden Boys' Leadership Academy in Blackburn and both Eden Boys' and Girls' Academies in Manchester, all of which are 800-pupil-place secondary schools that are Muslim faith-based and teach students aged 11-18. Repeatable designs and processes are implemented across the three schools, with repeat supply-chain teams delivering consistency in materials and workmanship to create bespoke high-quality spaces for teaching and learning using standard components – all of which respond to the context through their scale, location, mass and their materiality.
As the Farmer review told us in stark terms: modernise or die. Main contractors with any sense are acting on those words and looking largely to offsite as the solution. From this year, the presumption will be for offsite construction for public procurement – if ever there was an incentive for firms wanting to win public sector jobs then this is it. Hopefully this will help pave the way towards the brave new world of offsite construction.
But in these challenging times, we need the government to do even more to shore up confidence in the market. Clearly the move by the Department for Education to introduce a new offsite framework is welcome news, allowing schemes greater than 750m2 to be procured in this way from September when it goes live.
Having created the mechanism, government needs next to think about a pipeline of investment. With all eyes focused so completely on Brexit, it's clear that domestic policy is suffering. Major programmes are scarce – and where they do exist, for instance in the Ministry of Defence, it typically takes projects more than two years to get to site. Others are insufficiently funded, for instance social housing programmes. Billions of pounds need to be committed to deliver the 300,000 new homes we need to be constructed every year.
And while clearly there were no infrastructure rabbits pulled out of the chancellor's hat on 13 March in the Spring Statement, government does have some immediate levers at its disposal. Accelerating the next round of the Priority Schools Building Programme is one such lever. It is not due to get approval until November, and bringing the next phase of this programme forward would be a significant boon – not just for construction but also for the schools, many of which are struggling on in buildings way beyond their use-by date. What better way to respond to those who say government has lost its way on domestic policy? Come on, Mr Hammond and Mr Hinds – show your mettle and prove us all wrong.
Stephen Beechey is group strategy director and managing director for government affairs at Wates Group