A flurry of trading statements downplaying the gloominess of the market can't disguise the ominous outlook for the year ahead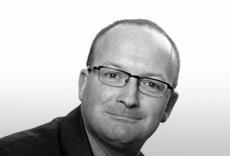 November brought not just a sudden chill to the weather but to the climate in the construction sector. The recent spate of trading statements from the quoted contractors contained more than a spattering of what looked on the surface like modest profit warnings, but, reading between the lines, were far more ominous. Especially in the case of the sector's doyen, Balfour Beatty, which lost a fifth off its share price, and Morgan Sindall, which lost its chief executive.
It was not only that the US order book had shrunk, but also a quadruple whammy in the UK that got analysts cutting their forecasts for profits and, more worryingly, cash
Balfour's 8 November interim management statement, covering the £11bn-a-year group's third quarter trading, contained none of the language of a classic bells-and-whistles profit warning. There were no nightmare contracts, no uncovering of "accountancy discrepancies".
The consultancy, services and PFI investments divisions were "performing well and in line with our expectations". Not so the construction division: "US construction markets remain depressed, and the performance of our UK [division] is weaker than anticipated." As a result, profits for 2012 would be "slightly lower than expected at the time of the half-year results". Not great, admittedly, but hardly the end of the world. But the shares fell 18% on the day and ended the week down 22%.
The real problem (echoed in Morgan Sindall's statement) wasn't 2012, but next year's outlook. It was not only that the US order book had shrunk, but also a quadruple whammy in the UK that got analysts cutting their forecasts for profits and, more worryingly, cash.
The division was seeing "further deterioration" in the overall market, one of the main causes of the group order book sliding from £15bn in June to £14.4bn in September. Meanwhile, larger, complex contracts were being rapidly replaced by smaller ones, which are generally marked by greater competition, commoditisation and less visibility. Not good for revenue or profit. More worryingly, the group was finding it harder to "negotiate terms [with its supply chain] that match the worsening market conditions". In other words, subcontractors were living such a hand-to-mouth existence that they were incapable of sharing any more of the pain with main contractors. This also appeared to suggest pressure on the bigger firms to pay more quickly rather than risk failures on site.
This was one reason that the group had moved from a hefty £292m net cash position at the end of June 2011 to an average net debt of £15m in the nine months to this September. The group had flagged many months issues such as a normalisation of the favourable working capital position resulting from the 2009 acquisition of Parsons Brinckerhoff, but the degree of deterioration in UK cash levels was probably more marked than anticipated.
Subcontractors were living such a hand-to-mouth existence that they were incapable of sharing more of the pain with main contractors
Balfour was not alone. Morgan Sindall said 2012 profits would be "slightly below previous expectations" and conceded that a 12% fall in secured orders "has impacted the short-term outlook for 2013". Like Balfour it was having to undertake a hefty restructuring, which would cost £10m, and had parted company with chief executive Paul Smith.
Kier's statement read more reassuringly, at least in terms of its profitability, which it predicted would still meet investors' expectations in the current financial year, albeit more weighted to its second half to June 2013. However, it echoed Balfour, cautioning that "the working capital position in construction will remain challenging".
It also signalled "a further review of our construction operations". Another repetition of the phrase "slightly below expectations" appeared further down the league table, in North Midland Construction's IMS. "Cash collection is becoming increasingly difficult," was a familiar refrain.
Perhaps ironically, two companies that have had their share of profit warnings in recent years appeared to buck the trend. Costain said it was trading in line with expectations, its order book was unchanged, tendering activity "remains high" and there was no change in the strong net cash position.
Costain's repositioning over the past few years towards big spending infrastructure and utilities clients seems to be coming good.
And, markedly in contrast to Balfour, ground engineering group Keller saw improvements in its most important market, the US, which "as a whole continues to show solid growth". As a result, it signalled that 2012 profits would be "significantly above" market expectations". A rare positive surprise, which saw its shares jump 10% on the day. Arguably, Keller, which is at the grimier end of the construction cycle, was earlier into the US downturn and earlier coming out. But one suspects that similar upgrades elsewhere in the sector are going to be as rare as swallows in autumn.
Alastair Stewart is a construction analyst