Construction is one of the largest contributors to the economy, but productivity has barely grown in recent years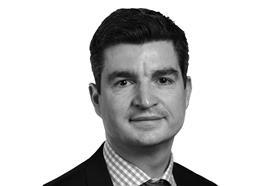 Construction profit margins were brought crashing into the public discourse following Carillion's collapse last year. Suddenly the media, politicians and public started to understand the fragility of margins – even within the sector's biggest beasts.
Margins, however, aren't just key to company profitability, but to the future of construction. Low margins stunt investment in innovation within a sector which is one of the largest contributors to the global economy, but where productivity has grown by just over 1% over the last two years.
Where perhaps Carillion did stand out was for its UK exposure, because against this global backdrop, the UK and London in particular has a growing profitability problem.
Research through our International Construction Market Survey (ICMS) shows that contractor profit margins in London fell from an average of 6% in to 2017 by almost a third to 4.2% in 2019. When compared to the rest of the world, the UK construction industry is operating on some of the slimmest margins – at an average of just 4% across the country.
By contrast London's competitors – in terms of their size, significance and presence in the global economy – can boast much higher profitability in construction. Amsterdam contractors see average margins of 10%, Paris' at 7.5% and New York City's at 7%.
Short-term, low margins in the UK are an acute risk to the supply chain as we face the uncertainty of Brexit and escalating costs for resources – with labour costs in the capital rising by 2.9% over 2018. The long-term challenge, however, is even greater. Without investment supported by a profitable industry, and in the context of global skills shortages, it will be these competitor markets that will begin to lead the way when it comes to innovation in how we build for the future.
In the last 18 months we've seen encouraging signs from Whitehall for construction, with the unveiling of the new industry sector deal to channel investment in R&D. This vision is critical, but ultimately change will be driven not just by policy priorities, but by client behaviours.
Public projects in particular are key. Despite muted growth, the outlook for the UK market is buoyed by continued investment in large infrastructure projects – in road, rail and power – where the government acts not just as policymaker, but as the client, handing it a big role to play in tackling the market's broader structural issues.
The refreshed Government Construction Strategy (GCS) coming later in 2019, is a major opportunity. It will outline how government will behave as a client for the sector – and in turn what it expects from its supply chain. It is imperative that the new GCS makes the case for sustainable business models – underpinned by higher margins – that drive innovation and long-term economic growth.
To make a success of the sector deal, we also need to see the government commit to greater coordination in how it commissions the supply chain across multiple departments. Accelerating a model of design for manufacture, for example, will only be possible if you can use volume to deliver lower production costs. At the moment, the detail of the deal identifies six government departments – each with their own priorities.
Government action alone won't solve the problem, but can go a long way through its spending power to change behaviours that will benefit the wider industry – and those sectors from health, to housing, to manufacturing – that it supports. The way to do that is to ensure that higher margins comes with strings attached: in return for higher rewards, the supply chain needs to prove investment in performance.
This will be crucial to the future health of the market, but also for UK plc on a global stage to export our world-class expertise in infrastructure and real estate projects and programmes. In the context of global pressures and Brexit, that becomes ever more critical.
Paul Connolly is managing director, cost management at Turner & Townsend