Since the contracting giant went bust six months ago, a mess of startling facts and figures have emerged into the public domain. Dave Rogers picks his way through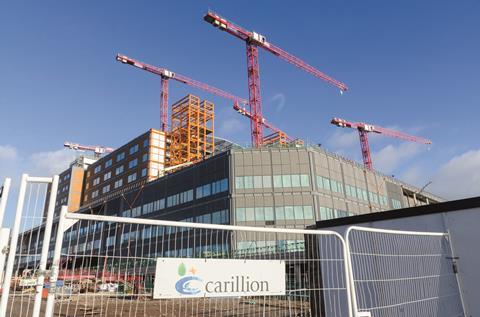 Here's a story that sums up the Carillion debacle. The boss of a major builder was considering a potential recruit who had previously worked at the failed contractor. "No harm in looking," he thought. The candidate had worked on the Battersea power station project, where Carillion had been involved in building more than 800 flats in the first phase of the redevelopment, called Circus West. What went wrong there, the boss wondered. Everyone knew the job had cost Carillion money, but how?
The candidate on the opposite side of the desk told him that Carillion had bid £500m for the job, but that this was £50m too high for the client. Carillion's chief executive Richard Howson soon called him to say it would be doing the job for £450m after all, because the client would be giving them £16m in cash up front. The London builder was incredulous. "I don't understand what they were doing," he says.
That might have sounded like a tall tale a year ago, but, given what has emerged since Carillion went bust six months ago, it doesn't seem so ludicrous any more. In early summer last year, everything seemed tickety-boo and then, a year ago this week, Carillion shocked pretty much everyone when it announced an £845m profit warning. At the time it went bust, it seemed unthinkable that a firm with its turnover and its history could go under. Since then, the revelations about the way it did business – the losses it was racking up, the blind optimism about getting money it thought it was owed, the hapless performance of some of its executives before MPs, their "we were as surprised as anyone when it went under" chutzpah and the fact that a £5bn-turnover firm had just £29m left in the bank when it collapsed – mean it's not just unsurprising that Carillion went under, it's incredible it survived for so long.
"The most shocking revelation is that a £5bn global company was run by a bunch of incompetents"

Rudi Klein, SEC Group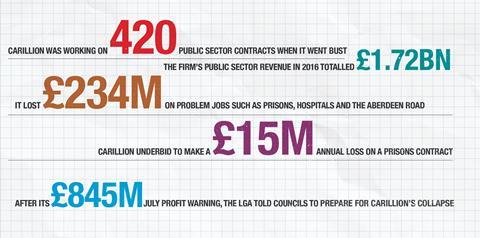 Rudi Klein is the chief executive of the Specialist Engineering Contractors' Group, the body that represents hundreds of subcontractors – many of whom have been caught out by Carillion's implosion. He, too, is incredulous about the collapse, which is striking given that he's long campaigned to end the abuse that firms like Carillion routinely employ against their supply chain. "The most shocking revelation is that a £5bn global company was run by a bunch of incompetents," he says.
Last month prisons minister Rory Stewart seemed to be saying the same thing when he revealed Carillion had underbid for a five-year contract to look after 50 prisons by £15m a year, which the Ministry of Justice (MoJ) had willingly lapped up. "We signed up to that," Stewart said of the 2014 deal. "In retrospect, more weight should have been given to saying, 'Wait a second – what on earth is Carillion proposing here? It's basically proposing to do this and lose £15m a year.'"
Klein says the way Carillion shouldered this financial black hole was by abusing its supply chain. He thinks the amount its construction arm owed firms in retentions is somewhere between £750m and £1bn, although he doesn't expect a final figure to emerge until this time next year. "The accounting process is going to take some more months," he says. "People have still got to register proof of debt."
Reports in the spring said that Carillion's 27 UK-based construction companies had liabilities of £6.9bn. A spokesperson for the Official Receiver appointed by the High Court to handle the liquidation admits the number is "expected to change significantly as assets and debts are fully identified".
The story since the collapse
15 January Carillion goes bust. PwC is appointed by the Official Receiver to handle the liquidation.
6 February Carillion executives – including chief executive Richard Howson, interim chief executive Keith Cochrane, finance directors Richard Adam and Zafar Kahn and chair Philip Green – give evidence to a joint inquiry into the firm's collapse by the work and pensions and business select committees.
28 March M&E contractor Vaughan Engineering becomes the first high-profile victim of the collapse when it calls in the administrators after blaming £600,000 owed by Carillion for its demise.
16 May The inquiry's report into Carillion's collapse is published. It begins: "Carillion's rise and spectacular fall was a story of recklessness, hubris and greed. Its business model was a relentless dash for cash, driven by acquisitions, rising debt, expansion into new markets and exploitation of suppliers."
12 June Carillion's Qatar arm goes into liquidation, with French accountant Mazars appointed liquidator.
25 June Prisons minister Rory Stewart says a £200m deal Ministry of Justice signed with Carillion was "too good to be true", adding: "We need to be more honest internally."
28 June The FCA launches an investigation into allegations of insider trading. It wants to know whether the £845m profit warning from July 2017 was announced at "the appropriate time".
Public shame
While the exact details of what Carillion owed firms in outstanding invoices and retentions are some way off, other gory financial figures have emerged. What has made Carillion a national story rather than simply one about a very large builder going bust was the amount of work it was carrying out for the government. When it went under, it was working on 420 public sector contracts, and in 2016 it had revenue of £1.72bn from the UK public sector – one-third of overall group revenue and 45% of its £3.8bn UK income.
Its biggest public sector employer in 2017 was the Ministry of Defence (MoD), for which it carried out £510m-worth of work mainly concentrated on a scheme to look after 300 sites in a joint venture that included Amey. It carried out £372m of work for Network Rail and nearly £300m for the NHS, including on two new hospitals in Liverpool and the West Midlands.
These hospitals, along with the prisons deal and a scheme to build a bypass around Aberdeen, racked up losses of £234m alone last year. According to a National Audit Office (NAO) report published last month into the government's handling of the collapse, the £845m profit warning put out by Carillion last July – which at the last minute had been revised upwards from £695m by its then interim chief executive Keith Cochrane – caught the government off-guard. It said: "The size of the profit warning came as a surprise to the Cabinet Office as it contradicted the information and commentary Carillion had given it up to that point [as well as] publicly available financial information and the expectations of the market."
The Cabinet Office gave the firm a risk rating of red – applied when there are "significant material concerns" over a firm's financial health – in September, but this was not raised to "high risk" before it collapsed. The Cabinet Office wrote to Carillion again at the end of last November proposing it be moved to high risk – which involves more frequent meetings with government representatives known as Crown Representatives and reducing the amount of work it carries out for government – but Carillion successfully argued against this, saying it would risk the firm's future. Less than 50 days later, it went bust.
Incidentally, its risk rating was green – meaning there were no known issues – between August 2013 and January 2016, before it was then raised to amber – denoting "material concerns" – in February 2016 by the Cabinet Office because of performance concerns over its MoD and MoJ contracts as well as ongoing worries that it was delaying payments to suppliers.
But while the Cabinet Office claimed not to know too much about the state of Carillion's finances, others were taking note: notably the markets, in which investors, sensing all was not right after payment terms were pushed up to 120 days in 2013, began short-selling shares. In effect, shorting means getting rid of shares when you believe their value will fall, so you can buy them back at a lower price in future for a profit.
Beginning of the end
Spooked by the £845m profit warning, the Cabinet Office began making contingency plans in July last year, appointing PwC – which would later handle the liquidation of the firm – in September to advise on contingency planning and dealing with the consequences of insolvency. Reading the NAO report, it is obvious that Carillion's management did not expect the firm to go bust, despite the mess it was in. It was simply too big to fail. In early January it asked for a £223m bailout, which was made up of £160m
in a loan and a £63m deferment of tax. It also asked for £125m in funding to complete the Midland Metropolitan hospital, with the Cabinet Office getting an equity stake in return.
But, during last-minute rescue talks the weekend before the Monday it collapsed, the government decided enough was enough and told a shocked Cochrane, who later admitted to MPs he had been "very hopeful" about the government bailout coming off, that it would not be rescuing the business, part of whose recovery plan centred on getting back more than £250m in claims on a handful of schemes in the UK and overseas.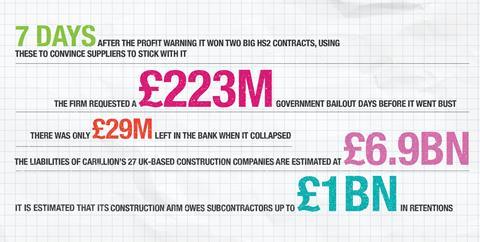 The NAO added: "[The government] decided it would not support Carillion because it had serious concerns about: Carillion's business plans; the legal implications; the potentially open-ended funding commitments created; the possibility of setting a precedent, and the concern that Carillion would return with further requests."
The government's role in all of this is coming under scrutiny, especially the way its public backing of Carillion was used by the firm to calm supplier nerves. Eleven days after its £845m profit warning, Carillion was using recently awarded government contracts – including two jobs on the HS2 railway – to convince thousands of suppliers to stick with it. The deals were "a sign of the confidence that our key customers have in our ability to meet their requirements", it said in an update it sent to them.
What must stick in subcontractors' craw is that local authorities were being told something very different and instead were being advised to start preparing for Carillion's collapse ever since it issued that July profit warning. The Local Government Association (LGA) had been in touch with government since the £845m figure came out, David Simmons, a member of the LGA executive told MPs in March, while Nigel Kletz, director of commissioning and procurement for Birmingham city council admitted: "We got good intelligence from the Cabinet Office, Crown Commercial Service and through the LGA."
Reputational damage
No such luck for the specialists, whose corner Klein fights. "What the Carillion collapse has revealed is the dark underbelly of construction to the general public. If that is the legacy, it's not necessarily a negative legacy, ironically," he says.
Carillion's directors, notably Howson and his finance director Richard Adam, have been torched by the MPs from the business and work and pensions committees. People watched the faltering performance before MPs of former finance director Zafar Khan, who said he was "surprised" Carillion went under, before later blunderingly telling them the firm's debt had gone down in 2017 when, in fact, it had increased. He was later castigated in the official report by the joint inquiry for signing off Carillion's 2016 accounts "that presented an extraordinarily optimistic view of the company's health, and were soon exposed as such".
Where next? More revelations, undoubtedly. Questions are now being asked about how the firm won the Royal Liverpool hospital scheme, after the trust there revealed details of its scoring process which showed Carillion was behind on three of the five main bidding categories. And the Financial Conduct Authority (FCA) has confirmed it is looking into claims of insider dealing at Carillion. In a letter to MPs on the business and work and pensions committees, it writes: "Our primary focus is to determine whether the matters announced in Carillon's trading update on 10 July 2017 were identified and announced at the appropriate time. We are also considering whether earlier announcements made by Carillon were false or misleading as a result."
The role of government in the whole mess is bound to come under further scrutiny too: what it knew – rather a lot, it now seems – and whether the decisions it made such as awarding Carillion contracts for work on HS2 in the days after its £845m profit warning were counterproductive.
Prisons minister Stewart, giving evidence to another group of MPs, this time on the justice select committee towards the end of last month, gave an insight into the failures government made in general when talking about Carillion's contract to look after 50 prisons in London, Kent, Sussex and the East of England. That number represents 43% of the 117 prisons in England and Wales, a colossal amount to hand to just one firm – especially one that seemed to be begging for the deal, such was the discount it proposed.
Stewart was honest enough to admit that his department, then headed by current transport secretary Chris Grayling, botched the award. "We did not get the deal that Carillion was proposing to give us because it turned out what Carillion was proposing to us was completely unsustainable in terms of their finances," he told MPs.
And the former diplomat, admitting that his department should have been more rigorous in its assessment of what Carillion was offering, could have been speaking about the way the company was, hindsight tells us, in denial about the way the entire business was heading in its last few years. "Something that looks like too good a deal", he told MPs, "may be too good a deal."