Matthew Marson has worked on designing smart technology throughout his career. But sometimes it can go wrong…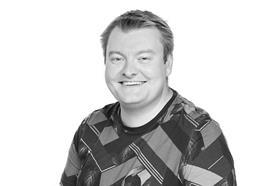 "Smart" technologies are designed to enhance the built environment, but sometimes we are presented with "solutions" that we don't even know how to switch on or off. I've worked on developing these technologies throughout my career. Here are some of the lessons I learned along the way.
Providing more information would have prevented fears of a Big Brother situation
A 'crotch-cam' won't build trust
In an effort to understand work dynamics and how an office was being used, sensors were installed under employees' desks for a client. Information from the sensors generated heatmaps to show the high, medium and low use levels of the space, to establish a more effective and productive layout.
Although the sensors ultimately benefited employees, we soon realised that providing more information about their purpose would have prevented fears of a Big Brother-type situation.
Lessons learned? Be upfront, share your data and don't hide the sensor.
Know your scale
One client wanted to install a lighting system that could capture data on space use. The lights would also adapt to daylight, tuned for the best level of energy consumption, and would contribute to the wellbeing of people in the building.
A system was set up to connect the building lighting to a data source in the cloud. One light wouldn't provide enough data, so we plugged 3,000 lights into one gateway. Soon enough there was a burned gateway on the receiving end of too much data.
To keep the office running, we speedily redesigned the system so 3,000 lights went to 60 gateways and three clouds.
Lessons learned? Go to see it in action, build simulations and take everything with a pinch of salt.
Reputation is everything
A one-stop app for your workplace sounds ideal. It acts as your access pass, but also tells you where your colleagues sit, which meeting rooms are free and what's on the menu of the in-house restaurant.
A previous client achieved this, with an app that helped to connect people in the workplace. But it also drained phone batteries and could send notifications even when workers were out of the office.
Lessons learned? Be subtle in how you interact, keep it fresh and respect boundaries.
Matthew Marson is head of Smart Places at WSP and one of Building's digital champions