Many of the answers required for the shift to a restorative and regenerative system already exist, now the industry needs to start asking the right questions, says Alastair Mant of UKGBC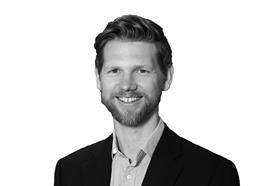 There are ecological and business imperatives for moving away from our current 'take-make-dispose' economy, towards a model which decouples economic activity from the consumption of finite resources. In the UK, construction, demolition and excavation account for 60% of both material use and waste generation. Humanity is on course to triple material extraction in the next 30 years and triple waste production by 2100. Meanwhile, prices of construction materials in the UK rose by 4.9% between 2017 and 2018, and adopting circular economy principles is a €1.8 trillion opportunity for the EU between 2015 and 2030.
To help the industry tackle this, the UK Green Building Council (UKGBC) launched a comprehensive guidance document to promote the practical application of circular economy principles on construction projects. The guidance is a result of a collaborative project that included a working group made up of 23 companies with many more taking part in consultations.
'Circular Economy Guidance for construction clients' focuses on RIBA stages 1 and 2 and is designed to enable clients to write project briefs in line with five circular economy principles:
Re-use (including refurbish and repurpose)
Design buildings for optimisation
Standardisation or modularisation
Servitisation and leasing
Design and construct responsibly
The aim and benefit of each principle is explained, alongside consideration of how to ask for it in a project brief. Perceived challenges and potential solutions are also provided, together with over 50 examples of projects from the UK and abroad that have implemented the principles. But the project team highlighted that it was hard to find examples of really progressive projects that have implemented anything close to the full suite of circular economy principles. Indeed, 65% of the 100 attendees at our launch event agreed that clients and the supply chain are currently unable to operate fully in line with the guidance.
Many of the products and systems required for a significantly more circular built environment do already exist. Indeed, 80% of attendees had applied at least one of the principles on a project and the same percentage believe there is a clear business case for their organisation to move to a circular model. What is missing is a culture that is willing to take a new holistic approach to projects, from the strategic brief onwards. New objectives and measures of success are required, which will lead to the right questions being asked.
It is becoming increasingly apparent that some of these questions will soon be asked by local and national government. The UK government's 2017 Industrial Strategy included a commitment to move towards a more circular economy and the Scottish government have a Circular Economy Strategy. However, it is at a city level that change is happening fastest, with for example the Draft London Plan including the ambition for major developments to produce Circular Economy statements.
The UKGBC guidance is only the start of the industry's journey towards circularity. We want to work with developers, contractors, consultants and designers to help them implement the principles and create a feedback loop to improve the guidance and accelerate progress across the industry. The systemic nature of the required culture change means we need collaboration across the industry, because none of us have all the answers. The question is, will you be part of the journey?
Alastair Mant is head of business transformation at UKGBC