Derry Long loves the history and charm of St Pancras International station but can't bear the simply criminal design flaws of Sutton Police headquarters
Without doubt my wonder is St Pancras International station. Being a First Capital Connect commuter, I often walk through this iconic station, looking up at the amazing arch roof, appreciating its scale and history and the talent and craftsmanship that were behind its successful renovation.
I always enjoy observing the commuters and tourists looking up in awe at the magnificent architecture, hearing their comments and walking around them as they take their photos. I share their appreciation.
Having recently travelled to Mipim by train, I had the pleasure of exploring the undercroft at the Eurostar terminal. The modern architecture complements the old, making use of the existing structure and intricate decoration. For me this adds to the experience of the international traveller.
Even the station clock, handmade by Dent, adds to the overall sensation, although the recent addition of the Olympic Rings does reduce its visibility.
For my blunder I have chosen Sutton Police headquarters in south London. This six-storey building is an extension to the original police station.
It's a monster extension, which should have been spread across the site, rather than located in one big block. It's the height of this building that depresses me. Even the roof is two stories high.
No real thought was given to complementing the original architecture. Why did the planners allow that design? The building is technologically state of the art and meets all the functional requirements of the modern police service, but as a public building it lacks architectural charm and character.
Derry Long is an associate at Scott White and Hookins
WONDER
The original St Pancras railway station opened in 1868 after two years of construction. At the time, the arched Barlow shed was the largest single-span roof in the world. In 1996, London and Continental Railways was appointed by the government to reconstruct the grade I-listed building. The Barlow shed was extended by 200m with 18,000 new panes of self-cleaning glass added. The £800m redevelopment was reopened as St Pancras International by the Queen in 2007.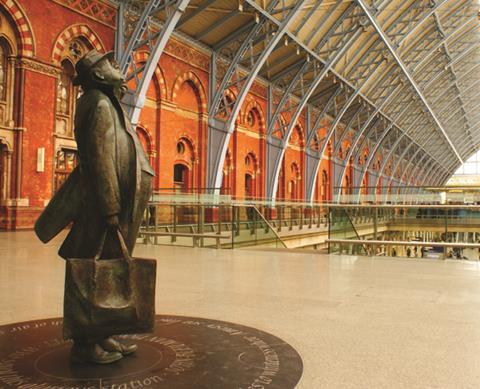 BLUNDER
Sutton Police headquarters is situated just off the high street on Carshalton Road. In 2004, a four-storey extension with an elevated roof was constructed through a private finance initiative. The purpose built structure includes 30 holding cells and provides custody, patrol, management and office facilities. The building is used by 320 police officers, 57 police staff and 72 police community support officers.