Karen Kirkham uses her daily commute to size up passing buildings. She finds Battersea Power Station has a dignity even in decay whereas the MI6 building is indestructibly pompous
I'm spoilt for potential candidates not only in London but in some of the other cities I've worked in: Liverpool, Manchester, Belfast and Newcastle. The Chavasse Park development in Liverpool One is magnificent in its conception. The Gherkin is beautiful not only on the outside but on the inside, as a vantage point for seeing London and the South-east laid out like a relief map. However, my all-time favourite piece of architecture is Giles Gilbert Scott's Battersea Power Station. I'm a big fan of everything Scott: Bankside, Liverpool Cathedral and of course the iconic red telephone boxes. But above all else I love the quiet and dignified grandeur of the power station (even as I've watched its heartbreaking decay as my train passes it every day; I'm glad it's being rescued). For some reason it reminds me of the Sphinx. Perhaps when our civilisation is dead and buried it will be found still sticking out of the sand like Ozymandius. It's wonderful that beauty was thought worth including along with functionality in that industrial landscape.
Once again there are many candidates for my blunder. In a similar area to Battersea Power Station and dominating the next bit of skyline on the rail track into Waterloo, I would like to name and shame the MI6 building at Vauxhall Cross, designed by Sir Terry Farrell, which opened in 1994. Pompous, ostentatious and weirdly indiscrete considering its use, it clearly thinks it is in New York and I half expect to see Sigourney Weaver from Ghostbusters up on the roof with her two snarling monster hounds. Apparently it is known by the spooks as Legoland or Babylon on Thames and you can certainly see why. However, to be fair to it, a missile attack in 2000 left it barely scratched, so whatever its aesthetic shortcomings, it clearly is doing its bit in defence of the realm.
Wonder
Battersea Power Station is a decommissioned coal-fired power station on the south bank of the River Thames, London. It is actually two individual power stations, built in two stages in the form of a single building. Battersea A Power Station was built in the thirties, and Battersea B Power Station to its east went up in the fifties. The two stations were built to an identical design, providing the well-known four-chimney layout. The station ceased generating electricity in 1983 and is now grade-II listed.
Blunder
The MI6 HQ sits on a site that was once the Vauxhall Pleasure Gardens. In 1983 Terry Farrell won the competition to develop a building on the site - originally planned as an urban village. Gradually the development changed to become an office block scheme.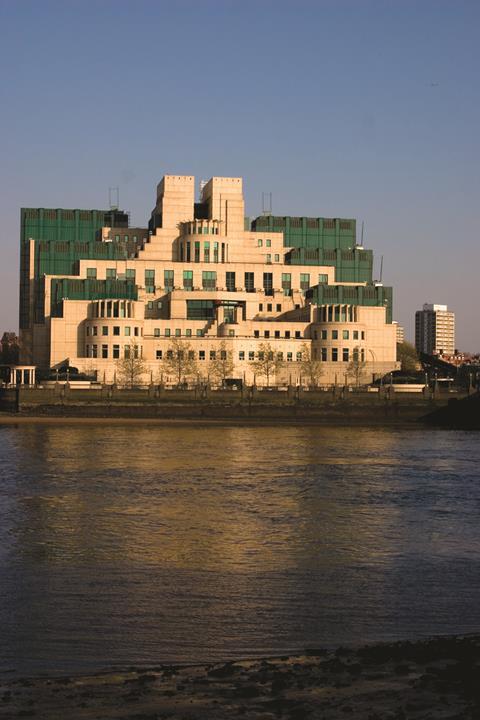 Karen Kirkham is partner and head of construction at Howard Kennedy