Dream holiday home in the New Forest the Watson House is a delight, while the interior of the Renaissance Hotel St Pancras is a missed opportunity, says Oliver Richards
My wonder is small and discreet - without invisibility it would never have received planning consent in its sensitive New Forest setting. The Watson House is delightful. It lifts your spirits to see a simple yet thoroughly inspirational house sitting comfortably in its landscape. John Pardey's design pays homage to Danish examples of the mid-20th century and has been enriched by a playful humour such as the floor level windows which give privacy, but also expose the inner life of the building in a delightful way.
The building is uncomplicated, elegant and ticks all the environmental boxes. This is the optimism of the post-war period made to work properly with modern and vast sustainable technology. I find it a poetic building, which is all too rare in the English environment for new homes. It's the sort of holiday home everyone would wish for.
My blunder is not a building I hate. To the contrary, St Pancras Chambers is a building I have enjoyed watching for the past 30 years as it finds a new life. Foster's Eurostar train shed reinterpretation is fantastic and G G Scott's former Midland Grand Hotel is a masterpiece now recognised by grade I listing. However, the new Renaissance Hotel's interior is an enormous missed opportunity.
The bedrooms are overpowered by the bathrooms, but that isn't what upsets me. It's the public spaces with their high Victorian gothic splendour that disappoint, in particular the artificial lighting, which could have made this building rapturous.
This building should make you marvel at how it was originally made, its relevance to the modern age and how the new use is so subtle and clever.
It should be optimistic and uplifting, but it isn't.
Oliver Richards is a director at ORMS Architecture Design and the RIBA vice president for education
WONDER
The Watson House in the New Forest was designed by John Pardey Architects and completed in 2010 for £640,000. The floor, walls and roof are formed in cross-laminated prefabricated timber panels, externally insulated and clad in open sweet chestnut strips.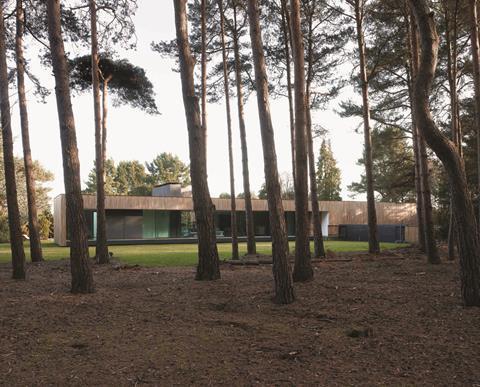 BLUNDER
Restoring the Midland Grand, as it was then called, was part of the 1996 deal to turn the station into a new terminal for high-speed Eurostar trains to Europe. The hotel needed at least 240 rooms to be viable but there wasn't the space. The answer was to build an extension on the west side of Barlow's train shed, providing 207 bedrooms.