Billy Reading applauds the Barbican for stitching together old and new elements in a historic setting, but boos the unsustainable Palm Jumeirah for assaulting its surroundings
I love the Barbican, its design and scale. It's a very thoughtful building where everything has been considered, down to the door handles and the fire hose reels. It welcomes people in and encourages them to attend events by mixing "culture" with retail, residential and civic architecture.
But it's about more than that: it succeeds in stitching a recent addition into a very old part of London, Cripplegate, and successfully incorporating existing elements: a medieval church, a Roman wall and historic street layout. It could have been alien, but the designers took care to make it work, bringing new forms, geometry, materials and density - and water - into the old city core. With its gardens, it manages to become a "place", with everything that suggests.
Today, it probably would not have been built over a car park, but times have changed. It's still special.
At the opposite end of the spectrum is the Palm Jumeirah in Dubai. I hate the idea of changing the shape of the planet just for marketing purposes. Like the rest of Dubai, it's a non-design, non-place. It's been plonked down and imposed.
All decisions here seem to have been made based on who's the biggest brand and there is no context apart from tax-free development and luxury.
Nobody has thought about sustainability. There is no public transport. All the water is bottled or from treated seawater. There is no sewerage system, but each building has a septic tank, emptied by lorries. However, the queue for the treatment plant is so long that the lorry drivers often get bored and dump the waste, which ends up in the sea. It epitomises everything I hate about unsustainable city futures.
Billy Reading is English Heritage's buildings inspector for Westminster and west London
Wonder
The Barbican Centre is one of Europe's largest performing arts centres. Designed by Chamberlin, Powell and Bon in the brutalist style, it was built in 1965-1976 on a 35-acre site that was devastated in the Second World War. The centre's interior was redesigned by AHMM to improve wayfinding in 2005-2006, in part a response to a 2003 poll naming it the ugliest building in London.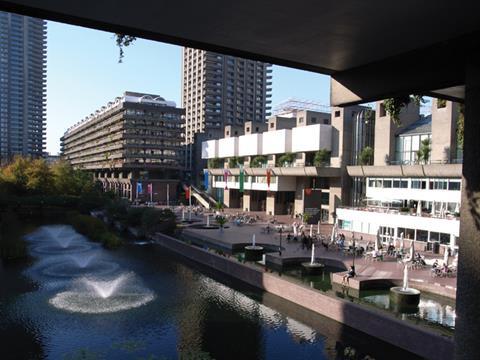 Blunder
The Palm Jumeirah is one of three artificial archipelagos created by Nakheel, the Dubai government-owned developer. Together these extend Dubai's shoreline by 320 miles. The first archipelago, the Jumeirah, covers an area the size of 800 football pitches and bills itself as the "eighth wonder of the world." It is in the shape of a palm tree and consists of a trunk with 16 branches, with a crescent island around this.