Eighteen months after the government introduced its Prompt Payment Code, Building's Specialists White Paper has revealed that 83% of contractors are still waiting more than 30 days to be paid. Vern Pitt reports on one of the industry's longest-running battles
When groundworks contractor O'Donnell Development went into administration last month it was just the latest name on a growing list of specialist contractors brought down by falling workloads and uncertainty over payments.
The government had hoped that this was a problem it could do something about. In December 2010, keen to protect small businesses, it unveiled its Prompt Payment Code - a voluntary set of standards for government contractors, under which they promised to pay specialists right down to the third tier of the pecking order within 30 days of receiving payment from government.
But research published this week as part of Building's Specialists White Paper shows that, nearly 18 months since the introduction of the code, 83% of contractors on public sector work are still being paid outside of this 30-day timescale. This follows the government's decision to make the code compulsory on all of its contracts from 1 January. Clearly the policy is not working as well as the government would like. So how bad is the problem?
Scale of the problem
Shadow construction minister Iain Wright is worried: "Given the difficulties that the wider economy and the building sector are seeing at the moment, payment periods are another problem we don't want to have." Rudi Klein, chief executive of the Specialist Engineering Contractors Group, also voices concern: "We are losing some good firms. The loss of expertise could be the worst we have ever had in the industry," he says.
There are additional pressures that make the need to shorten payment periods more acute. The research shows that nearly a third of specialists report that banks have become less willing to lend to them over the last six months and 30% of specialists reported they had over £10,000 currently tied up in overdue retentions payments - money held by clients or main contractors to make sure any defects are rectified before full payment is made.
Nor are specialists able to operate at generous margins which would insulate them from the problems of late payments. Building's research found a third (34%) are typically operating at margins of 0.1%-5% and 6% are typically working at cost or less.
'Main contractors expect smes to fund them'
Glasgow based flooring specialist MacGregor Flooring has been in business for 27 years and learned not to deal with main contractors that didn't pay promptly. The firm was left £300k out of pocket in the nineties after the collapse of two Scottish contractors. Managing director Hamish MacGregor vowed to keep a healthy bank balance aside. "Too many people starting companies with thousands of pounds coming in forget the money is not theirs," he says. "My father always lectured me that from a pound you only get a very small percentage after you have paid out all your costs in wages, materials and rents etc."
The firm, which turns over around £3.8m, has no overdraft and finances its own operations. But MacGregor says reserves are dipping down below 20% of their levels before the recession. "Main contractors are doing everything they can [to hold on to money] because they are putting in suicide bids around 10% under cost and they expect SMEs to fund the money for them," he says.
What can be done?
Looking to the private sector is not the answer. The public sector is still marginally leading the industry with its payment terms. Only 13% of specialists said they were paid within 30 days by the private sector.
Another glaring hole in the process is local government. The Prompt Payment Code does not apply to the UK's hundreds of councils, although it has been adopted by the devolved governments. Nor is it routinely adopted by NHS trusts and other bodies that are a step removed from Whitehall. Suzannah Nichol, chief executive of the National Specialist Contractors Council (NSCC), describes the situation at local level as "patchy". "We want to see every penny of taxpayers' money spent effectively, the best way of doing that is paying promptly," she says.
Government chief construction adviser Paul Morrell adds: "All elements of good practice espoused or mandated by central government internally are also recommended for adoption in the wider public sector. The Cabinet Office, with the Department for Communities and Local Government and the Department for Business, Innovation and Skills, is seeking ways of strengthening this, in the interests of eliminating the waste."
Wright says cuts to council budgets are making it hard for councils to pay promptly and support firms, and therefore jobs, in their areas. At a central government level, around 80% of main contractors are paid on time, which leads Nichol to one conclusion: "The government is doing what it said but the main contractors are sitting on cash."
Klein would like to see greater adoption of project bank accounts. Under that system, clients pay into a central pot from which all contractors take their share. This way, he argues, you get greater transparency and fewer barriers to money reaching specialist contractors.
This system is proving popular with the government. It has committed to deliver £500m of projects using the accounts in 2011/12, £2bn in 2012/13 and £4bn in 2013/14. The first year has seen double its target amount spent through such accounts.
But, as ever, there is a quid pro quo. Morrell says he hopes that if the government can be more consistent in its payment times, it will have a favourable effect on the tenders it receives. "The clearest signal that suppliers can give that security of payment is valued must be to start to differentiate in their pricing between those cases where it is secure and those where it is not - so that competitive advantage accrues to those who do pay on time, rather than those who do not," he says.
HOW MUCH OF THE MONEY WITHHELD IN RETENTION IS CURRENTLY OVERDUE FOR RELEASE?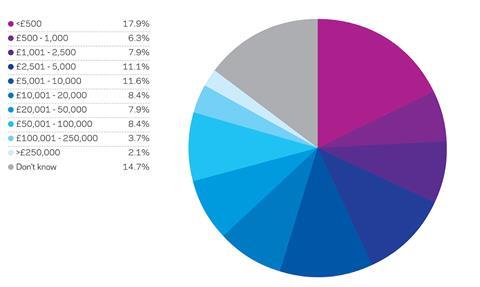 WHAT IS THE AVERAGE TIME IT TAKES FOR YOU TO BE PAID?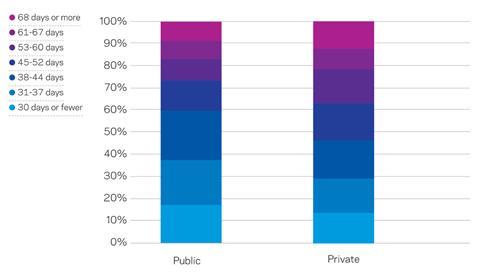 SPECIALISTS WHITE PAPER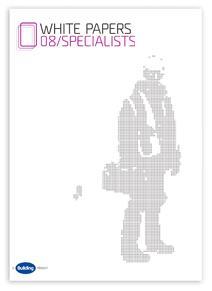 Building's 40-page Specialists White Paper, which includes a survey of 250 leading specialists, reveals the impact of the recession. It is produced in association with the National Specialist Contractors Council and CITB-ConstructionSkills, it also reveals the top 100 most active specialists in the UK market, and the top 50 specialists in nine key trades, based on exclusive data from Barbour ABI.
To buy your copy of the white paper go to www.building.co.uk/specialists