Construction is making strides, but it is crucial we also work to improve the industry's image among the wider public and - most importantly - future recruits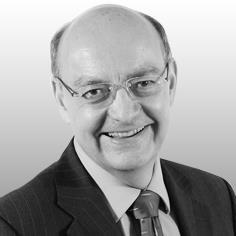 The first half of this year was frenetic for me, spent as it was drawing together the joint industry-government industrial strategy, Construction 2025. This was published with much fanfare at the Construction Summit on 2 July. And as far as I can tell it seems to have been well received by the industry.
Construction 2025 focuses on a vision of where industry and government jointly want to take construction in the UK over the next decade or so. It sets out the priority themes and the key areas that we all need to work on to transform our industry.
The newly-established Construction Leadership Council oversees the strategy, acting as a focal point for the partnership between industry and government. It held its second meeting on 14 October. I now chair a new Delivery Group tasked with supporting the Council and making the strategy happen. So the framework is definitely shaping up.
Those of you who have read Construction 2025 will know that it's structured around five themes: people; smart construction; a sustainable industry; growth; and leadership. I've been asked a number of times what my priorities are. Of course, all of these things are important, but for me perhaps the most important are the people aspects. After all, people really are at the heart of construction.
But is construction the industry of choice for the next generation of school leavers? Is this the industry that will provide them with rewarding careers? We might say that it should be, but what are we actually doing to attract young people - and to retain them? To be honest, we need to do something serious about our image.
It is important to teach young people early about the possibility of a career in construction. And in my experience, few schools understand what the construction industry has to offer. Whose fault is that? It can only be our own. We need to talk to schoolchildren - boys and girls - from the age of 11 or 12, or even younger. We need to talk to teachers. We need to show them the exciting things that are happening in our industry and how a career in construction can make a difference to communities and the world in which they live. That is one way to start to improve our image.
It's not difficult for us to promote this industry to young people. The fantastic buildings we create are there for all to see. Our buildings are our shop windows
There is of course a plethora of school outreach initiatives. The UK Contractors' Group has its annual Open Doors scheme; the government is promoting See Inside Manufacturing; there's the Design, Engineer, Construct programme; Engineering UK has its Big Bang Schools Fair; and more. It is up to the industry to get behind these initiatives and to raise our game in shouting about what we do.
It's not difficult for us promote the construction industry, because it promotes itself. The fantastic buildings we create are there for all to see. Our buildings are our shop windows. But to really inspire the next generation, we need to open the shop and show them what's inside - the new technologies we are using, our low-carbon credentials, the many exciting career opportunities available to them.
Another area affecting the image of the industry in the eyes of the wider public and potential recruits is our working conditions. The industry has made enormous progress over the last decade to improve site safety. But we still have a long way to go. According to the HSE, 70% of fatal accidents now occur in the SME sector, so we need to turn our focus to standards on small projects. Andwe must now bring the same focus to occupational health.
Our goal has to be to create a working environment at least comparable to those in other sectors of the economy. We must make this industry a great place to work in, and a great place to pursue a career.
We need to talk to schoolchildren from the age of 11 or 12, or even younger. We need to talk to teachers. We need to show them the exciting things that are happening in our industry
I'm keen that we also attract more women into this industry. Lack of diversity has a large bearing on the image of construction. Less than 14% of people in construction are female and only 2% come from ethnic minorities. We must be able to do better than that.
And one of the public's main points of contact with the construction industry is through the domestic sector with home improvements and emergency repairs. This might be particularly relevant following last week's big storm. Customer experiences here - good or bad - have a huge bearing on the image of the industry with the general public - to them, it is all construction! So we must drive up standards in the domestic market and marginalise the incompetent players.
Transforming the construction industry in large part hinges on improving our image. That's a task for all of us. So let's get out there and shout about construction.
Peter Hansford is the government's chief construction adviser