Salisbury Plain deal comes as consultant lands places on three new frameworks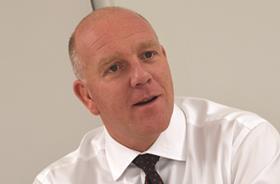 WYG has won the contract to construction-manage 1,200 new service family homes as part of the Salisbury Plain Training Area masterplan.
The news comes as the consultant has secured places on three new frameworks, which are expected to be worth more than £10m to the company over the next two years.
The Salisbury Plain development is the 11th project that WYG has won under the Ministry of Defence's Principal Support Provider (PSP) framework, which is used to procure technical and advisory services to optimise the use of its 230,000ha estate. The family homes will be the centrepiece of the area masterplan, which also includes accommodation blocks for single soldiers and the conversion of other buildings such as garages and armouries.
Since June 2014, WYG has won work under the PSP framework valuing more than £3.8m, including redevelopments of barracks at Catterick and North Luffenham and projects at RAF Lossiemouth, RAF Brize Norton and the Commando Training Centre Royal Marines at Lympstone.
Paul Hamer, chief executive of WYG, said: "The group has achieved a 45% win rate on contracts under the PSP framework, representing a marked increase in our bid-to-win ratio on our long-term framework agreements over the past three years. This reflects our focus on bidding less and bidding bigger to win more, an approach which we believe will serve us well as we continue to win places on further frameworks."
Meanwhile, WYG's three new framework appointments include:
A £50m ground investigation framework on a national infrastructure project. WYG will provide a range of services ranging from pre-investigation surveys to on-site activities such as a ground and groundwater analysis, as well as surface geophysics.
A four-year Homes and Communities Agency multidisciplinary panel. WYG will provide services including project and cost management, engineering, architecture, planning, masterplanning, landscape architecture, ecology and biodiversity.
Transport for London's Professional Services Framework - (freight planning & commercial vehicle planning & modelling). This is in addition to TfL's Professional Services Framework Lot 4 - Transport Consultancy (design and implementation of traffic signal schemes), which the company was appointed to in 2014. Both frameworks are to run for an initial two years with an option to extend for a further two years.