The number of towers being proposed and developed in London and the UK continues to grow, as does their height. The team at Aecom report on key design and construction drivers and provide a cost model for a central London office tower
01 / Introduction
Why are towers so attractive? After all, they take longer and can be trickier to build than other projects. They attract more scrutiny too, so getting consents for new tower development can be tough. Yet done right, a tower can inspire in the way other buildings can't. They can provide a focal point to a skyline, embody aspirations of a masterplan and spearhead regeneration of the surrounding area.
This is perhaps why towers continue to be popular among developers and councils alike. The latest New London Architecture's Annual Tall Buildings survey for 2016 identifies around 436 towers (which it classes as buildings having 20 or more storeys) either proposed or under construction. Towers, it seems, are here to stay - and it is to be hoped that this continues to be the case following the recent referendum result.
Although residential towers contribute around three quarters of the towers proposed, commercial towers continue to be developed in the established commercial districts of City of London and Docklands. The growth of London though is resulting in taller buildings being proposed in new or upcoming commercial districts outside of the established tower clusters. Any new tower proposed, if in an existing or new district, will need to balance between the higher density and efficient use of land they offer against change the city's skyline and heritage.
Many are in their early planning and development stages, and others are part of long-term masterplans. Future market conditions will have an impact on the number that actually get built. The largest commercial towers tend to transcend market cycles and the overall development period from inception to completion can be over 10 years, they come under more scrutiny and need the planners and politicians backing to proceed, so with a new mayor and EU referendum result some may well take longer to deliver than planned.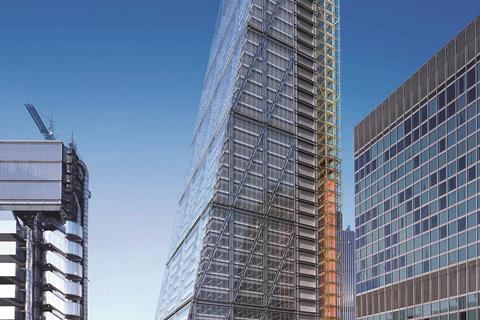 02 / Evolution of the commercial tower
The first decade of the 21st century saw a resurgence of tower buildings in London, with iconic shapes emerging that helped to remould the skyline.
Now, as tall buildings have become more established, 50 to 70 storeys are becoming the norm for commercial towers, but the architectural response in their shape and form is more restrained, introducing functional shapes and forms to keep costs down, with larger floor plates at higher levels to maximise rental revenues.
Good design matters
For towers, the quality of the design is still important, a 250-300m tower in London will be a prominent new feature on the skyline, to gain planning consent, a high quality architectural design showing flair and an intelligent response to the heritage of its surrounding area is a must. Design needs to be evaluated across various criteria and incorporate the clients' and tenants' changing requirements. They want large, open-plan floors and plenty of amenity space inside. Sky lobbies, intermediate floors and roof space are all good for non-core office use, and can increase both "wow factor" and contribute positively to the wellbeing of those working there. The traditional specification standards of BCO, BREEAM and LEED still matter, and large commercial towers still need to score well on them. Ratings such as the WELL Building Standard are also coming into play.
Ground-level thinking
How towers interface with the surrounding area is another area of interest, particularly for planners. External landscaping and improvements to the public realm, as well as amenity space, need to be of exceptional quality.
It is important to think how towers operate at ground level - to minimise the impact of a potentially intimidating structure by opening it out where it hits the ground and even to actively manage wind as it meets the street to maximise the use of external space.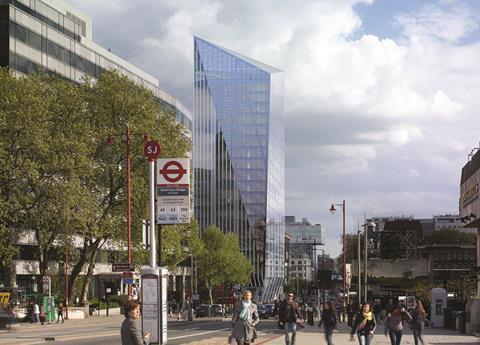 03 / Design and Cost Drivers
The biggest cost centres for towers, and those influenced the most by design, remain the structure, facades (and their interface) and the MEP services. As tower design evolves the prevailing trends such as increased structural grids, floor-to-ceiling heights and location of cores impact the design response.
Structure
Structural systems for tall buildings are driven by a combination of architectural, economical and site factors. Building form and height is clearly critical, as are the net-to-gross areas. The nature of the site itself will also have an impact. With land values in London at a premium, developers are exploring more challenging sites (infills, tunnels or old industrial land) that may require a more complex structural solution.
Structural framing solutions will continue to depend on the building's intended use. In the residential sector, tall buildings are usually concrete framed with flat slabs. This reduces the structural zone and allows floor-to-floor heights to be minimized, providing a more economical design for this sector. In contrast, commercial tall buildings deploy either a composite (steel and concrete) or steel frame. Steel frames allow longer spans than traditional reinforced concrete, giving developers more flexibility in the use of space and enabling column-free floor plates to be provided.
With the increased appetite for taller buildings and larger floor plates, braced tubes or bracing on the perimeter are increasingly common. How this is incorporated into the design and its interface with the facade is a key cost driver. Exposing structure and making it an architectural feature can give the design some edge but can be more expensive. Increasing floor-to-ceiling height, without increasing the overall storey heights can be achieved by reducing the structural and services zone within the ceiling. However, this, in combination with the larger spans, will add weight to a steel frame.
Another important design trend is the preference for offset cores. They appeal to developers and architects looking for a greater flexibility, adaptability and efficiency of floor space. But they pose a greater challenge to structural engineers, as an offset core generates higher torsional forces, which could result in the need for expensive outrigger systems deployed to resist the torsion.
Sustainability will be a continuing and growing influence on structural engineers, driven by legislation and central government targets. Developers will need to consider alternative construction techniques and new material technologies in response. Modular systems and off-site fabrication will become more prevalent. Timber frames, re-cycled aggregates and high-strength materials will also become more frequently used.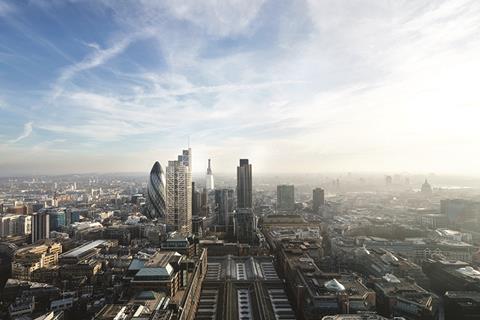 Cladding
One of the first studies on a tower scheme is to create a successful facade and define the performance limits. The glazing ratio of the facade will define the look of the building making it look be transparent, opaque, solid or light. It's important for the team to ask the question: how do you make the correct architectural decision but balance the requirements for amount of daylight into the building, direct sun exposure, and reduce energy use. There a number of different options:
Natural ventilated facades - Double-skin facades have been developed to reduce the heat loads on glass envelopes, with blinds in the cavity. These vary from those with wider cavity to allow for maintenance; principally these work well but are expensive and take up floor space. Slimmer systems are available, typically with a cavity of 150mm but the cavity still needs to be maintained through opening vents, which can be disruptive to tenants.
Closed cavity facades - A system that uses compressed dry air to be pumped into the sealed cavity between the two skins, the cavity can only be reached by removing one of the glazing skins. As the blinds in the cavity cannot be accessed once manufactured, blind drive motors are fixed outside the cavity and have a driveshaft penetrating the cavity, connecting them to the blinds.
External solar shading - Fixed solar shading on the outside of the tower is an alternative solution to minimize the heat load for MEP services. The overall cladding zone incorporating the shading is wider but if the perimeter structure or bracing is exposed this can create the zone for solar shading. While there are additional costs for the solar shading elements the base cladding system behind can be a simplified and maximise on the economies of scale.
High performance double-glazed units - A fully glazed solution using unitised double-glazed units remains a possible solution. It requires enhanced G and U values achieved through high-performance coatings or by increasing the amount of solid cladding on the building. A full-height clear glazed solution will give the benefit of increased daylight but does place additional requirements on the MEP design due to the additional heat loads and sustainability requirements.
In any solution to the buildability requirements of the facade should be considered from the earliest design concept.
Services
The specification levels, interfaces and distribution are important considerations for the services design. The services strategy should be carefully considered at the outset, as changes later on are difficult to incorporate.
Off-set cores are a major enabler of innovation in services design, allowing options for where plant is located. Individual on-floor plant solutions house principal air handling kit at each level - the loss of space on these floors needs to be balanced with the advantage gained from freeing up wider areas at either the midpoint or at the top of the building.
Towers developed in financial districts have retained the traditional MEP design allowances to meet the requirements of tenants with higher cooling loads, resilience in services and future flexibility.
Exposed services are becoming popular with tenants, particularly those in the technology or media sectors. This is mainly an aesthetic decision and depending on the layout and specification can in fact cost more than a conventional approach.
The unique nature of towers brings with it some challenges for service design. Logistics needs to be carefully thought out, and the services programme needs to reflect the time it takes to move people and materials around. Due to height of tall buildings, the question of hydraulics and pipe pressures are critical in design terms. Towers need a greater number of pipe risers, with increased pumping requirements and basement distribution. More pipe gauges are needed and the cost of fittings, valves and so on, is higher. Hot water services need to be treated locally, and often hydraulic breaks are required. Developers may also need to evaluate whether PRVs or heat exchangers are more economic.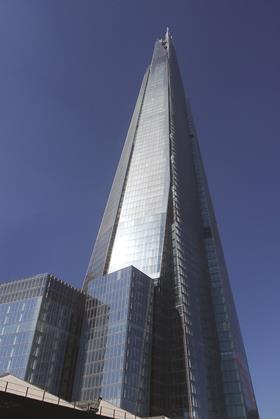 Electrical installation
Decisions taken around plantroom location will be critical here. Generally, HV distribution systems are the same as in other commercial offices. But levels of standby generation need to be fully explored. For commercial office towers, 100% standby generation is often provided; the location is a balance between the use of roof space, which is increasingly valuable for other uses, and location within the basement and building with the acoustic and flue requirements taking up net floor area.
Lifts
Careful analysis of traffic is required to ensure lift design is fit for purpose. That said towers lead the innovations and features such as destination hall controls, first seen in high-rise buildings, are now common in all. However, lift costs for towers are often two to three times standard building cost.
Designers will need to strike a balance - performance vs occupational density requirements, ease of use and the space taken up by lifts and service core in the overall design. The combination of increased occupational densities and the drive to maximise efficiency in space taken by lifts can lead to a solution with sky lobbies and transfer floors to manage user flows, something that is common in other countries but not yet in London.
04 / Procurement and Construction Challenges
The construction of towers brings a different set of challenges compared to a lower rise building. Towers are specialised major projects and there are really only a few contractors who have the skilled staff and expertise to deliver them successfully. The more towers under construction in a city, the busier the main contractors will be. Simple demand and supply will result in higher pricing levels.
When assessing the risk of delivering a tower, investors and developers need to include how it is viewed by the market. They need good, well co-ordinated information to sell the schemes positively to the market, especially if the developer or client is not well known in UK.
The chosen procurement route needs to reflect all of this. Two-stage design and build or construction management contracts are more popular than single-stage agreements. Contractors still favour lump-sum deals - but the correct sharing of risks between contractor and developer is essential in the current market.
To deliver maximum value to the tall building client it is essential to engage with trade and main contractor's advice is sought and inputted into the design process at an early stage. This allows the contractors expertise to be designed in, and waste and inefficiencies to be designed out - early - when most value can be created.
Construction
Continuous innovation is important in order to stay ahead in construction - and tall buildings are seen as the test bed of the construction industry, with innovations trickling down to regular construction projects once proven on tall buildings.
The current swath of innovations are across many specialist trades, but all are aimed at reducing the critical path of the construction period including: high strength concrete allowing slimmer columns, beams and slabs, quicker curing and striking, hence quicker frame cycle times; high-strength steel allowing slimmer double or triple-storey members and quicker erecting; advancements in jump lifts enabling the early use of lifts in lieu of hoists within weather protected lift shafts by building temporary crash decks and lift motor rooms; advancements in unitised cladding installation methods, speeding up the waterproofing of the tower.
Modularisation, or off-site manufacture and assembly, is a very exciting area of construction innovation, potentially offering real productivity benefits to the tall building, if the current glass ceiling of 30 storeys can be broken. The well designed tall building form tends to be inherently modular with simplicity, repetition, standardisation and economies of scale designed in. Modular construction is already viable and even the preferred form of building in some market sectors, but less than 1% of tall buildings have been built using this method. The key benefits to using modular construction for a tall building include: speed of erection, commissioning and handover; quality, as the product is built in a controlled environment yielding higher productivity and quality; safety, as less time is needed on site and working at height; sustainability, due to better thermal and acoustic performance along with reduced waste; innovation, in the form of increased prototyping, and factory testing of new technology effectively de-risks the on-site use of the new tech.
These are all very desirable benefits when building a tall building, but there are key construction challenges to be overcome: planning the logistics route of modular units from factory to site, adhering to articulated lorry standard sizes and avoiding low bridges; tower crane selection will need upsizing in both load and reach capacity; site layout needs to allow clear material handling areas to lift the modules directly off the back of the vehicles, necessitating the use of just-in-time deliveries and out-of-town consolidation centre to ensure exact timing of each module delivery, minimising congestion of city centre roads around the tall building and maximising hook-time efficiency.
There is also the risk that the modular industry is small and predominantly based in central Europe with very limited supply chain in the UK. This makes procurement and performance risky. The tall building principal contractor will be nervous about having such a strong dependence on a single source determining the success or failure of their high-profile tall building project.
Utilities
The requirements and size of incoming supplies for a new commercial tower need planning and implementing at an early stage of its development and it is advisable to engage with the statutory utilities at the earliest opportunity.
Of particular importance is early engagement with UK power networks, the incumbent electrical distribution network operator. Electrical connections in the City have to be planned well in advance as it is common for the point of connection for a power supply to be a fair distance away from the point of use.
To install cabling through the streets of London requires planning in advance and can be very expensive to deliver. Due to their size commercial office tower developments are connected at 33,000 volts.
This will has an effect on the overall connection arrangement and cost with the transformer provisions are much larger within the buildings itself and the capital cost is significantly higher.
05 / Cost Model
There is a wide range of cost for a commercial office towers, when measured on a £/ft2 basis over the gross floor area. In Central London the current day cost for the shell and core can range from £275 to £375/ft2. This range is primarily influenced by the architectural response to a site and its interface with the required structural solution, followed by overall specification levels and then height.
The cost model summarises the shell core cost of a notional landmark tower in Central London. It has a gross floor area of 110,000m2 over 61 floors above ground and three basements. It has an overall net-to-gross ratio of 68% and a wall-to-floor ratio of 0.46.
Costs are base dated at 23 June 2016 and the model reflects prices obtained from a competitive tender through a two-stage tender process converted to a lump sum. The cost model includes all main contractor preliminaries, fees and risk allowance to complete the building to a shell and core status. Demolition, enabling works, external works, external services, category A fit out, tenant enhancement, professional fees and VAT are excluded.
| | Total (£) | £/m2 | % |
| --- | --- | --- | --- |
| SHELL WORKS | | | |
| Substructure | 25,701,800 | 233.65 | 6.4 |
| Break out existing slabs, piles, obstructions and allowance for probing/testing (1 @ £750,000) | | | |
| Secant pile wall to perimeter, including guide wall and removal of arisings (250m @ £15,000) | | | |
| New piled foundations including mobilisation, piling mat, ramps and removal of arisings (2,500m² @ £3,500) | | | |
| Excavation of reduced level (12,500m³ @ £120) | | | |
| Temporary works to perimeter, including adaptions and removal (1 @ £2,500,000) | | | |
| RC basement slab 500mm thick, including waterproofing, excavation and disposal (1,500m² @ £300) | | | |
| RC mat slab 1,200mm thick, including waterproofing, excavation and disposal (1,000m² @ £510) | | | |
| Reinforced concrete to capping beam (250m @ £1,000) | | | |
| Reinforced concrete retaining walls to perimeter, 300mm thick including any filling voids, works to existing perimeter wall (3,000m² @ £500) | | | |
| Reinforced concrete ground-floor slab (1,760m² @ £180) | | | |
| Reinforced concrete structure to basement 1 and 2 levels (5,000m² @ £500) | | | |
| Allowance for construction joints between new/existing work, slab, thickenings to stair foundations, lift/escalator pits, drainage channels, concrete transfer walls, etc (1 @ £1,500,000) | | | |
| Allowance for crane base including base piles (1 @ £75,000) | | | |
| Allowance for de watering excavations (1 @ £250,000) | | | |
| Attendance on archaeologists and movement monitoring (1 @ £250,000) | | | |
| Allowance for below slab drainage (1 @ £350,000) | | | |
| Allowance for all other items and sundries (1 @ £500,000) | | | |
| | | | |
| Frame | 72,616,000 | 660.15 | 18.2 |
| Steel frame to perimeter tube (4,400t @ £3,000) | | | |
| Steel frame to internal columns and beams (11,000t @ £2,200) | | | |
| Allowance for secondary structure to double-height spaces (1,540t @ £2,500) | | | |
| Secondary steelwork for cladding brackets, cleaning cradle brackets, plant rooms, lifting beams, etc (1,100t @ £2,100) | | | |
| Fire protection - 90 minutes intumescent (18,040t @£650) | | | |
| EO for decorative finish to main lobby and other selected areas (1 @ £450,000) | | | |
| Temporary steelwork for erection, tower cranes, etc (300t @ £2,000) | | | |
| RC ore walls to frame (37,000m² @ £440) | | | |
| | | | |
| Upper floors | 14,817,000 | 134.7 | 3.7 |
| 130 lightweight concrete slabs on profiled metal decking (74,800m² @ £95) | | | |
| 250 thick RC slab to core areas (32,800m² @ £170) | | | |
| Allowance for enhancing loading capacity to plant and other areas (11,000m² @ £40) | | | |
| Permiter detail, downs stand beams, soft spots, etc (1 @ £1,000,000) | | | |
| Allowance for platforms and handrails to risers (1 @ £400,000) | | | |
| Allowance for lift pits, escalator pits, etc (1 @ £175,000) | | | |
| Allowance for insulation to exposed soffits (1,600m² @ £75) | | | |
| | | | |
| Roof | 1,017,500 | 9.25 | 0.3 |
| 200 thick slab to roof to metal decking (2,200m² @ £160) | | | |
| Proprietary roof finish, paving slabs, insulation and ballast (2,200m² @ £120) | | | |
| Allowance for plant bases (260m² @ £150) | | | |
| Allowance for insulation below plant levels (1,500m² @ £75) | | | |
| Allowance for architectural feature and lighting (1 @ £250,000) | | | |
| | | | |
| Stairs | 2,960,000 | 26.91 | 0.7 |
| Painted mild steel escape stairs, incl perimeter handrail and central balustrade (120nr @ £20,000) | | | |
| Ditto basement stairs (20nr @ £18,000) | | | |
| Allowance for ladders and catwalks to plant rooms (1 @ £200,000) | | | |
| | | | |
| External walls | 54,595,000 | 496.32 | 13.7 |
| Unitised curtain walling system with solid spandrel panels and high-performance glass (41,900m² @ £1,000) | | | |
| Base cladding system with louvres to plant floors (3,300m² @ £900) | | | |
| Full height frameless glazing to reception levels (1,800m² @ £1,600) | | | |
| Glazed screen to retail shopfronts at ground floor (100m² @ £1,200) | | | |
| Aluminium screening to plant enclosures (1,000m² @ £650) | | | |
| Glass entrance canopies; cantilevered from building (350m² @ £2,500) | | | |
| Allowance for wind mitigation measures (1 @ £1,000,000) | | | |
| Allowance for visual mock-ups and performance tests (1 @ £1,200,000) | | | |
| Allowance for facade cleaning equipment (1@ £3,000,000) | | | |
| | | | |
| Windows and external doors | 438,000 | 3.98 | 0.1 |
| Main entrance revolving doors, full height, including single leaf pass doors to side (3nr @ 100,000) | | | |
| Other entrance doors, single leaf (10nr @ £3,800) | | | |
| Double doors from escape cores (4nr @ £5,000) | | | |
| Electrically operated galvanised steel roller shutter to loading bay and car park ramp (2 @ £25,000) Metal doors in service areas (1 @ £30,000) | | | |
| | | | |
| Internal walls and partitions | 10,929,000 | 99.35 | 2.7 |
| Drylining partitions to core areas (40,000m² @ £100) | | | |
| Blockwork partitions to form cellular areas in basement and plant rooms (18,000m² @ £110) 120 min fire rated blockwork wall to enclose loading bay, fuel storage, generator rooms (1,410m² @ £150) | | | |
| Four hours blockwork wall to EDF enclosure and other areas (250m² @ £250) | | | |
| Veneer-faced WC cubicles/doors; access panelling (675nr @ £6,000) | | | |
| Allowance for acoustic linings to where office floors are adjacent to plant areas (1 @ £250,000) | | | |
| High-quality glazed balustrades to void edges (250m@ £1,500) | | | |
| | | | |
| Internal doors | 4,390,000 | 39.91 | 1.1 |
| Full height glazed doors to lift lobbies with side screens (55nr @ £13,000) | | | |
| Single leaf timber veneer solid doors to core areas (700nr @ £2,500) | | | |
| Double leaf timber veneer solid doors to core areas (100nr @ £3,500) | | | |
| Fire rated doors to basement and landlord areas (120nr @ £2,000) Allowance for fire rated access panels to cores (850nr @ £1,500) | | | |
| Steel doors to sub-station and plant rooms (20 nr @ £3,000) | | | |
| | | | |
| Wall finishes | 7,100,000 | 64.55 | 1.8 |
| Feature wall panelling to main entrance lobby and sky lobbies (3,000m² @ £475) | | | |
| Enhanced wall finish to lift lobbies - stone or back painted glass (8,500m² @ £250) Lift architraves (1 @ £400,000) | | | |
| Podwall framing and finishes to toilets (9,000m² @ £250) | | | |
| Skim coat and paint to drylined walls in cores, circulation and landlord areas (35,000m² @ £8) | | | |
| Paint to fair face block walls (15,000m² @ £8) | | | |
| Allowance for other wall finishes: chequer plate linings in high-use areas, finish to plant and storage rooms, finishes to landlord management suites, ceramic tiling to showers, cleaners' cupboards, etc (1 @ £500,000) | | | |
| Floor finishes 5,237,650 47.62 1.3 High-quality stone finish to reception, lift and sky lobbies (6,000m² @ £450) | | | |
| Stone tiles to toilets including membrane, waterproofing, screed and skirting's (4,000m² @ £350) | | | |
| Floor finish to landlord circulation (2,000m² @ £40) | | | |
| Lightweight screed to circulation and core areas to make up levels (6,000m² @ £40) Durable sealant/hardener to car park, loading bay and plant rooms (4,000m² @ £85) | | | |
| Vinyl flooring to security areas (1 @ £7,650) | | | |
| Entrance mats and matwells (1 @ £45,000) | | | |
| Allowance for lining to car park and loading bay (1 @ £25,000) | | | |
| Allowance for other floor finishes (1 @ £400,000) | | | |
| | | | |
| Ceiling finishes | 2,440,000 | 22.18 | 0.6 |
| Feature ceiling to main entrance lobby (1,500m² @ £300) | | | |
| Feature drylined ceiling to sky and lift lobbies (4,500m² @ £200) | | | |
| Metal tile suspended ceiling to toilets (4,000m² @ £100) | | | |
| Painted plasterboard on metal framing to corridors, circulation area, etc (2,000m² @ 90) Painted soffit to plant rooms/loading bay/parking areas (4,000m² @ £40) | | | |
| Allowance for access panels, bulkheads/other detailing and other sundry ceiling finishes (1 @ £350,000) | | | |
| Fittings/fitting out (excl loose furniture) 4,550,000 41.36 1.1 Allowance for main entrance reception desk and security desks (1 @ £150,000) | | | |
| Stone vanity tops in toilets with holes for basins/taps and mirrors behind (600m @ £1,850) Toilet fittings including soap dispensers/tanks, roll holders, paper towels, coat hooks, etc (120nr @ £3,000) Extra for fittings to disabled toilets (60nr @ £1,500) | | | |
| Fittings to basement showers and changing rooms (1 @ £300,000) | | | |
| Cycle storage (1,300nr @ £650) | | | |
| Security turnstiles to reception (20nr @ £40,000) | | | |
| Security bag scanners - reception and basement (2nr @ £50,000) | | | |
| Statutory and general signage (1 @ £220,000) | | | |
| Allowance for rubbish compactor (1 @ £25,000) | | | |
| Allowance for column guards, bollards/crash rails to loading bay/car park, cycle racks, car park traffic management system (1 @ £200,000) | | | |
| Allowance for fitting out management suites, control rooms, etc (1 @ £250,000) | | | |
| Allowance for other fittings, misc metalwork, etc (1 @ £100,000) | | | |
| | | | |
| Sanitary appliances | 1,760,000 | 16 | 0.4 |
| Sanitaryware and fittings, including disabled toilets and basement showers (110,000m² @ £16) | | | |
| | | | |
| Disposable installations | 2,530,000 | 23 | 0.6 |
| Rainwater disposal system (110,000m² @ £5) | | | |
| Soil, waste and vent installation (110,000m² @ £16) | | | |
| Condensate drainage including insulation (110,000m² @ £2) | | | |
| | | | |
| Water installations | 3,080,000 | 28 | 0.8 |
| Cold water services: incoming supply, storage, pumps, etc. Including connection to sanitaryware (110,000m² @ £15) | | | |
| Hot water services plant and distribution including connections to sanitaryware (110,000m² @ £8) | | | |
| Water services for retail, kitchenettes (110,000m² @ £2) | | | |
| Miscellaneous water supplies (Cat 5) (110,000m² @ £3) | | | |
| | | | |
| Space heating and air treatment | 16,790,000 | 152.64 | 4.2 |
| Heat source incl boiler, flues and dilution, pumps and primary distribution (1 @ £1,500,000) | | | |
| Air handling units and ductwork distribution (110,000m² @ £40) | | | |
| Water cooled chillers (110,000m² @ £19) | | | |
| Heat rejection plant (110,000m² @ £21) | | | |
| LTHW installation including pumps and riser pipework (110,000m² @ £15) | | | |
| CHW installation including pumps and riser pipework (110,000m² @ £17) | | | |
| Condenser water installation including pumps and riser pipework (110,000m² @ £12) | | | |
| Metering LTHW/CHW installations (110,000m² @ £4) | | | |
| Supplementary heating and cooling to landlord areas (110,000m² @ £10) | | | |
| Gas installation (110,000m² @ £1) | | | |
| | | | |
| Ventilation installations | 2,970,000 | 27 | 0.8 |
| Toilet supply and extraction installation (110,000m² @ £9) | | | |
| Car park, plant rooms and basement ventilation (110,000m² @ £8) | | | |
| Stair and lobby pressurisation (110,000m² @ £10) | | | |
| | | | |
| Electrical installation | 21,150,000 | 192.27 | 5.3 |
| HV switchgear and transformer (110,000m² @ £22) | | | |
| LV distribution, rising busbars, distribution cabling, containment and distribution boards (110,000m² @ £55) | | | |
| Power to mechanical plant (110,000m² @ £8) | | | |
| Small power installation to landlords areas (110,000m² @ £15) | | | |
| Lighting and luminaries to landlords area including emergency lighting (110,000m² @ £30) | | | |
| External lighting (1 @ £750,000) | | | |
| Standby generator installation, including flues, acoustics, fuel installation (1 @ £5,000,000) | | | |
| Containment for security/CCTV/Comms/FA (110,000m² @ £6) | | | |
| Earthing and bonding (110,000m² @ £4) | | | |
| | | | |
| Lifts and escalators | 23,100,000 | 210 | 5.8 |
| Lift installations; express shuttle lifts, double deck to sky lobbies; low, medium and high rise passenger lifts; goods lifts (2nr); fire-fighting lifts; escalators to receptions; DDA lifts to reception; vehicle lift to basement (110,000m² @ £210) | | | |
| | | | |
| Protective installations | 4,570,000 | 41.55 | 1.1 |
| Sprinkler installations: tanks, pumps, risers and coverage (110,000m² @ £25) | | | |
| Wet riser installation (110,000m² @ £10) | | | |
| Other protective installations, void protection, argonite to switchrooms/generators (1 @ £500,000) | | | |
| Lightening protection (110,000m² @ £2) | | | |
| | | | |
| Communication installations | 5,250,000 | 47.73 | 1.3 |
| Fire alarm installations (110,000m² @ £15) | | | |
| Landlord data, IT and security provisions (110,000m² @ £20) | | | |
| Disabled alarms, refuge alarms, induction loops (1 item @ £400,000) | | | |
| Allowance for landlord security installations (1 item @ £1,000,000) | | | |
| | | | |
| Special installations | 2,860,000 | 26 | 0.7 |
| Building management system (110,000m² @ £25) | | | |
| Leak detection system (110,000m² @ £1) | | | |
| | | | |
| Builders' work | 3,782,700 | 34.39 | 1 |
| Builders' work in connection with services installations, including machine bases, steel framework, fire stopping etc: overall allowance (110,000m² @ £34) | | | |
| | | | |
| Preliminaries and contingencies | 104,002,496 | 945.48 | 26.1 |
| Main contractor preliminaries costs and OH&P @ 23% (1 item @ 70,417,681) | | | |
| Risk transfer at 4% and construction contingency at 5% (1 item @ 33,584,814) | | | |
| | | | |
| TOTAL SHELL AND CORE WORKS | 398,637,146 | 3,623.97 | 100 |