With a lower carbon impact than new-build and the potential for repurposing existing stock into attention‑grabbing schemes, refurbishment is more than ever a serious prospect for London developers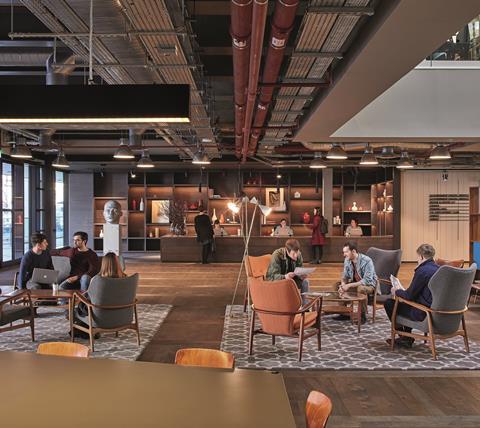 01 / Introduction
With London's mayor declaring a climate emergency at the end of 2018 and nearly two-thirds of London boroughs unveiling strategies to drive down emissions, awareness of the negative effects of climate change is growing across the UK capital. Construction – a ubiquitous presence in the city – is drawing attention due to the high carbon impact of new-build schemes, particularly where these replace existing buildings.
Demolishing buildings creates a massive amount of waste and, if not managed properly, generates noise and air pollution. The materials needed for new construction, such as concrete and steel, have large carbon footprints due to the processes used to manufacture and transport them. In all, the sector accounts for nearly half of UK emissions.
It is understandable, then, that refurbishment continues to gain traction. Why not upgrade and add value to what you already have, generating far less waste and using fewer materials, instead of knocking a building down and starting again from scratch?
The draft London Plan's commitment to circular economy principles and the London Energy Transformation Initiative's (LETI) drive to a net-zero carbon-built environment are helping make the case for more sustainable development. Developers and building owners are also fielding a growing number of queries from occupiers about their properties' environmental impact and credentials.
02 / Improved market appeal
Speed and flexibility
While there will clearly always be a need to develop world-class, sustainable new buildings, the case for refurbishment is stronger than it has ever been – and not just because of green factors. With a constricted supply and high demand for good‑quality office space across London, a well-run refurbishment can drastically reduce time to market for a new scheme.
Leases are getting shorter, too. In place of long-term occupancy, many tenants want flexible short-term contracts that can flex to suit how their business changes. They want to be up and running quickly and provided with the latest plug-and-play technology. The relatively fast turnarounds offered by refurbishment are an attractive proposition.
The push for multi-tenanted spaces, serviced offices and co-working with like-minded organisations has seen a demand for even greater flexibility. Start‑ups and entrepreneurs often want to take things month by month and flex their space as their needs change. A refurbishment that produces a functional space with flexibility of fit-out options meets the need perfectly and enables established developers to create new brands to reflect this trend. British Land's Storey and the Crown Estate's One Heddon Street are examples of this.
The draw of history
Instead of concerns about quality and longevity, older buildings with a history can now be deemed very desirable and act as a magnet for new tenants. At the old Triton Court in Finsbury Square, Resolution Property avoided complex structural work in favour of an inspired revamp that balanced classic design with cutting-edge features. Now renamed the Alphabeta building, it has attracted a range of technology, social media and finance tenants.
Other schemes such as Granary Square, part of the extensive redevelopment behind King's Cross station, and Derwent London's White Chapel Building deploy reuse to positive effect. The elegance of historic design contrasts with a contemporary view of building usage in which traditional offices or education facilities nestle alongside publicly accessible bars and break out, restaurants and events spaces.
British Land's current refurbishment of 1 Triton Square – by a team including Aecom, Arup Associates and Lendlease – is keeping most of the facade and superstructure in place while gaining three new floors, provides more evidence of how to add value to a building during its refurbishment.
Adopting a circular economy approach to design out waste and promote the reuse of products and materials delivered an estimated embodied carbon saving of 56% versus a typical new-build, reducing CO2e emissions during construction by 27,463 tonnes. The biggest West End pre-let in over 20 years, this demonstrates that green principles can also drive commercial benefits.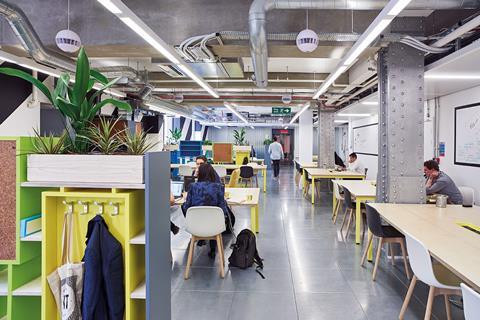 03 / Start with a strong feasibility study
Refurbishment still has its challenges. Each project is different, so the nature of the site and state of the existing building means that a one-size-fits-all approach rarely works. A high-level analysis that categorises the project into a minor, medium or major refurbishment can assist developers in assessing how invasive the works will be and help define the scope in the early days of a project.
In a minor refurbishment, a light-touch intervention generally matches clients' short-term needs in both lifespan and capacity. MEP services are often retained, refurbished and reused while considering both lifespan and capacity. Medium refurbishment generally requires replacement of the MEP plant, lifts, and systems; refurbishment of core areas and reception; repairs or upgrades to the facade; and new category A fit-out works in order to significantly extend the life of the building. And a major refurbishment calls for significant structural intervention and remodelling, new facades, extensions and new MEP installations, and effectively provides a standard equivalent to a new building.
A strong initial feasibility study is also essential. Ideally, whoever is buying the building will vet it before they take it on, to investigate base parameters and explore where value can be added in terms of better, more efficient and valuable net space, value-adding extensions and infills, good volumes, improved natural light and increased building permeability. Developers will be looking for a robust structure with slab‑to‑slab heights that are tall enough to suit a variety of occupants, perhaps even those from the life sciences sector.
Building services' life expectation will need careful evaluation. Ultimately an owner will need to prove standards are as good as a new-build. This may not always be easy. Warranties may not be available for existing equipment and suppliers may not want to provide new ones for equipment they installed several years ago. Replacement may turn out to be less problematic than retention. Older designs were often designed for lower occupancy in terms of lifts, toilets, fresh air supply, cooling and power loads and this will need to be evaluated to meet modern occupancy standards of one person per 8m2.
Reusing existing pipework risers is typically high on the agenda for cost-saving opportunities. A challenge is to establish the internal condition of the pipework and to determine how best to deal with any microbiological water contamination issues, if parts of the existing system are to remain in operation. The solution to this is to carry out early validations of the existing systems and take regular water samples throughout the construction project, as well as after completion.
Fresh air, daylight and water also need to be considered during the design phases. Openable windows, views to outside, tall ceilings, fresh air and good daylighting along with visible, internal staircases, showers and changing areas all contribute to wellness. The WELL Building Standard allows project‑specific parameters to be used for scoring building developments, which can be refined to take account of the constraints that a refurbished building may pose. An early assessment of the WELL framework can enable developers and design teams to set out the metrics to be considered in order to provide a building that promotes heath and wellbeing for its occupants. This is echoed in the more widely recognised BREEAM rating system, which has a dedicated framework for refurbishment and fit-out schemes.
Carrying out a building refurbishment is an ideal opportunity to enhance the energy and sustainability performance of a property. Simple measures such as improved lighting efficiency, replacing central plant, energy-efficient intelligent controls, improvements of insulation and upgrades to lighting control systems are just a few of the enhancements that can have a dramatic effect on the energy in-use performance of a property. It is, however, more difficult to improve insulation standards in listed buildings that are being refurbished.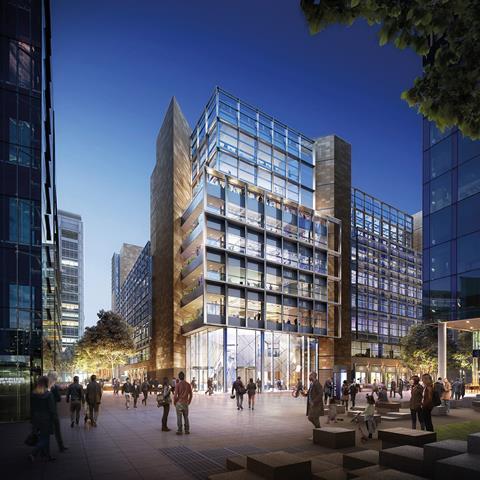 04 / Have a clear vision
A clear strategy and strong vision for the completed building are essential for any refurbishment scheme. Merely replacing the services and sprucing up the fit-out will not make a drab office block any more inspiring.
Developers and designers need to work together to reimagine a building that makes the most of its potential. Scenario modelling and visualisations may be useful to understand how refurbishment options can maximise net internal area (NIA), support a variety of occupant types across the lifetime of the building and achieve favourable rents.
Adding floors is a logical step, subject to planning and structural capacity. Can the roof be converted to winter gardens or amenity space? Cores can be simplified and capacity for higher occupancy addressed considering fire escape, toilets, lifts and MEP capacity.
Plant needs to be considered. Extensions and roofscapes will take plant away from its traditional home up top, meaning that it will need to be relocated into the basement or a maybe distributed across each floor. This can be an opportunity for innovative MEP designers to develop novel mixed‑mode solutions, and new heating and cooling solutions using heat pumps.
For example, the idea of adaptive comfort that tracks interior and exterior temperatures allowing internal space temperatures to float as the temperature changes according to the season (a few degrees cooler in the winter and a few warmer in the summer) will require less equipment and deliver a lower carbon footprint.
Future-proofing and adaptability will bring benefits later. Alternative fit-out layouts to suit a range of occupiers, including high-tech users, lawyers wanting cellular spaces and science or research-based organisations, should be explored. This will prove the building is flexible over its life for a range of occupiers. How other technical spaces such as gyms, restaurants and auditoriums could be accommodated will also demonstrate flexibility to potential occupiers.
Think about the future
In any case, clients and their consultant teams should be designing for the future city rather than the present day. Electric vehicles are likely to have a huge effect on London's air quality, for example. Air-conditioning and ventilation systems should have much less pollution to deal with. We will move away from the "sealed box" mentality, to more mixed‑mode solutions.
Recent government legislation to decarbonise the energy grid is another driver to better, more efficient MEP. Traditional gas boilers or district heating networks served by gas-fired CHP will be phased out in favour of heat pump solutions (from ground, air or water).
Ground-source heat pumps are a challenge for refurbishment projects unless sufficient external area can be found for the heat collection arrays. If air-source heat pumps are being used at height, then consideration needs to be given to the noise these generate when trying to add value with external amenity space.
Promoting wellbeing, increasing productivity
Consideration of how a refurbished building will perform during its operational phase is an important part of any project. Reducing the carbon impact of construction should flow seamlessly into a low-emission operation and maintenance regime. Landlord and occupier should work together to ensure building systems are running effectively, supported by proactive monitoring of plant usage.
There is also the opportunity to embed positive behaviours, promoting wellness and potentially increasing productivity. Designs can emphasise features such as staircases and connectivity and occupants can be encouraged to use them instead of lifts. Post-occupancy surveys will highlight issues and identify areas of improvement. Workshops and forums will encourage feedback from the people who use the building every day, allowing systems and processes to evolve to meet changing requirements.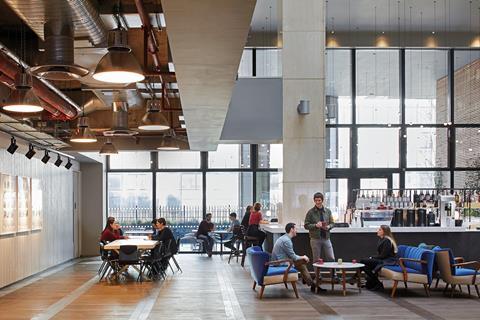 05 / Early engagement
For major refurbishments, early involvement of the contractor and specialists is recommended. A two-stage procurement route works well in these situations, with the greater planning and engagement at the outset generally balanced by a reduced risk profile during construction and a therefore better managed exit cost and timeframe. For lighter-touch works, a single-stage approach may suffice with reduced intervention and less risk.
The design team and contractor chosen should be well versed in refurbishment. They will develop the scope of the building condition surveys early and drive a successful discovery phase, supporting a more comprehensive, costed risk register and cost plan and designing out risk wherever possible to reduce unplanned change and surprises during construction.
Different layers of the building will have different lifespans. The structure and facade will last longer than the services, and whole lifecycle costs need to take this into account as well as the embodied carbon considerations.
In addition, pre-refurbishment audits can look at what can be reclaimed and reused, reducing waste and bolstering the project's sustainability rating. Items such as floor tiles, fit-out partitions, furniture and catering equipment may have potential uses at other sites or by other organisations.
Tax relief opportunities
Refurbishment project expenditure can attract significant levels of tax reliefs, in particular via capital allowances. Moreover, the proportion of expenditure qualifying for reliefs can be far higher than on new‑build projects, due to the non-structural nature of the works involved.
The value of the capital allowances will be dependent on the nature of each particular qualifying asset. Most of the mechanical and electrical installations will qualify as integral features and will therefore accrue relief at the rate of 6% per annum on a reducing balance basis. Expenditure incurred on those installations of a more specialist nature, for example fire detection and alarm systems, IT installations and furniture and fittings, will realise relief at the more beneficial rate of 18% per annum.
Certain qualifying energy or water-efficient technologies where expenditure is incurred up until April 2020 could attract 100% relief in the year of expenditure or generate a 19% payable credit for loss‑making UK companies.
The balance of expenditure will potentially qualify for the structures and buildings allowance, which offers relief at the rate of 2% on a straight-line basis. This increases to 3% per annum from 1 April 2020 and is available for contracts entered into on or after 29 October 2018.
The occupier fit-out is likely to attract considerably higher levels of allowances, with between 60% and 75% of the cost incurred potentially attracting relief, as this would focus on bespoke services installations, fixtures and furnishings. It is also important to note that developer contributions made to an occupier's costs can yield relief to the contributor and it is therefore important to ensure that lease agreements are appropriately structured to ensure that all available relief is secured.
In addition to capital allowances, refurbishment projects can also generate 100% first-year tax relief on repair works, which does not typically apply to new‑build developments.
Based on our cost model, relief of between £44m and £50m could be available relating to capital allowances and repairs, which would equate to a cash value of between £8.36m and £9.5m to a UK corporation taxpayer.
Where elements of the refurbishment design or construction involve innovative solutions to overcome site-specific challenges or use improved material technologies, the relevant staffing costs may generate a research and development expenditure credit (RDEC). Qualifying expenditure is relieved at either 230% or as a 12% "above the line" credit. This will increase to 13% for expenditure incurred from 1 April 2020. Capital projects can also benefit from 100% relief for research and development allowances (RDA) where the expenditure is trade related.
Companies carrying out refurbishment works may be able to benefit from land remediation relief (LRR), which provides a 150% super-deduction against corporation tax (provided the taxpayer is not the polluter), or a 16% payable credit for loss-making companies. For refurbishment projects, LRR can be particularly relevant with regard to asbestos removal.
In summary, a significant proportion of the capital cost of refurbishment and retrofit projects can be offset by the various reliefs and incentives available, many of which can be optimised by consideration at the design stage of a project.
06 / Cost ranges
Developers can consider a range of options when looking to extend the economic life of the asset and increase its value. For buildings offering limited potential for sustained uplift in value, a basic refurbishment might provide an opportunity to enhance the rental income of the building ahead of a comprehensive redevelopment of the building. This has the potential to extend the economic life of the asset by up to five years. A medium to major refurbishment can also be considered but this will close off any opportunity for redevelopment for an extended period.
Taking all the above into account, the developer needs to consider which option is best suited to the site. The options open to a developer are summarised in the table below.
The indicative costs of refurbishment as shown here are driven by the design and condition of the building, constraints on the design and construction solutions adopted as well as by the scope of works required to meet the project objectives.
All projects are unique and as a result cost ranges are much broader than for new-build. Furthermore, substantial allowances for additional costs associated with design development and risk should ideally be retained in project budgets until a late stage in the programme, to take account of potential for further changes in scope based on better knowledge of the existing building.
These figures exclude any occupier enhancements and furniture installation.
Table 1: Costs and resulting economic life extension for varying levels of refurbishment
| | Minor refurbishment | Medium refurbishment | Major refurbishment* |
| --- | --- | --- | --- |
| Scope | Investment is focused on common areas and involves essential repairs only | Usually involves a full upgrade of the existing building services and finishes but stops short of major structural alterations | Works include significant structural alterations and may also include the replacement of facades and roof finishes |
| | Often carried out during occupation | If occupied, then some decanting and phasing of works will be required | Involves the complete renewal of internal fittings, finishes and MEP systems, so the building is typically unoccupied |
| Extension of economic life | Approx five years | Approx 10-15 years | Approx 15+ years |
| Benchmark costs | £50-£125/ft2 gross internal area | £125-£200/ft2 gross internal area | £200- £300/ft2 gross internal area |
* Includes category A fit-out. Costs current at Q2 of 2020 for central London location.
07 / About the cost model
The cost model captures the full refurbishment of a central London office block. The cost model is based on 20,500m2 (gross internal area) building comprising a basement, a ground floor and nine further floors. The net internal area (NIA) is 13,500m2.
The cost model assumes the presence of an atrium. The atrium is subject to a series of floorplate extensions into the atrium space to gain additional NIA office space. The cost model also makes an allowance for a pavilion at roof level of around 360m2 in size.
The cost model contains several project-specific abnormal elements, which could have a direct effect on the overall cost. These include the following:
Foundation strengthening = £250,000.
Asbestos removal = £180,000.
Rates are current in the second quarter of 2020 based on a central London location. Furniture and fittings, professional fees and VAT are excluded.
The building is designed to meet BCO 2019 and BREEAM Excellent standards.
Download the cost model using the link below
Acknowledgments
The authors would like to acknowledge the contribution of Aecom colleagues to the development of this article and cost model.