As the James Review made clear, the future of schoolbuilding lies with low-cost standard solutions, much as it did in the fifties. Darren Talbot and Stuart Francis of Davis Langdon, an Aecom company, offer an overview of this burgeoning market and consider the costs
01 / INTRODUCTION
Following the publication of the James Review in April 2011, considerable attention has been given for the need to provide standardised solutions for schools. A number of well-known names immediately come to mind, including the Laing O'Rourke / Atkins prefabricated sustainable solution (manufactured in the factory they purchased just before the cancellation of the Building Schools for the Future programme), Willmott Dixon's Sunesis offering through the single-source SCAPE framework, and Wates' modular ADAPT solution (the forerunner of which, at Campsmount Technology College in South Yorkshire, has provided the first of the new "low-cost academies") - see below and PDF attached.
In this article, we review the underlying reasons for the promotion of standardised solutions, some of the current solutions in the marketplace, the general advantages and disadvantages of standardised solutions and how this approach may be used in other sectors.
02 / A BRIEF HISTORY LESSON
Standardised solutions have been around for many years. Liverpool's city engineer John Alexander Brodie was at the forefront of technology promoting the use of precast reinforced concrete slabs as a means of building houses quickly and cheaply in 1898.
Between 1945 and 1948, having forgotten the lessons learned by Brodie, about 157,000 prefabricated houses were developed, falling well short of the expectations of the Burt Committee - the governmental working party on housing shortage -and leaving a perception that standardised construction meant poor quality and programming failure.
By the early fifties, large panel systems (LPS) and high-rise buildings had become the architect's preferred approach. London County Council was the first commissioner of an LPS domestic system, and once this had been constructed, the London Borough of Newham followed suit with a further nine 22-storey LPS blocks. Following the Ronan Point disaster in 1968, many of these blocks had additional works carried out on them and future designs were modified to prevent disproportionate collapse.
The best-known system-built approaches in schools were developed in the post-war years. The same pressures that drove the prefabrication boom were creating
an urgent need for education, particularly in the new towns that were springing up outside London. One result of this was the well-known Hertfordshire schools programme.
Two principal building systems have models that have survived the following 50 years - CLASP and Intergrid. Intergrid was constructed from precast beams and slabs and can be found in many surviving school buildings today. The CLASP system was a steel-framed, flat-roofed, precast concrete solution. The CLASP system has evolved into SCAPE - a modern prefabricated school system.
03 / THE JAMES REVIEW
Following the failure of the Building Schools for the Future initiative to deliver either to time or to programme, the School Capital Review was commissioned in July 2010 by education secretary Michael Gove. Carried out by Sebastian James, group operations director for the electrical retailer Dixons, its remit included:
setting out a clear way forward for prudent future capital investment in education up to 2015;
flexibly targetting schools in the worst condition;
cutting red tape;
tackling demand from rising birth rates.
It covered all capital investment in schools, early years, colleges and sixth forms.
When it was published in April 2011, some of the many recommendations included the following paragraphs:
"There should be a clear, consistent Departmental position on what fit-for-purpose facilities entail. A suite of drawings and specifications should be developed that can easily be applied across a wide range of educational facilities. These should be co-ordinated centrally to deliver best value.
"The standardised drawings and specifications must be continuously improved through learning from projects captured and co-ordinated centrally. Post-occupancy
It is this push towards developing standardised drawings and specification that has been the driving force behind schools contractors and their design teams developing their own standardised models, with the Priority Schools Building Programme, an upcoming £2bn-plus pseudo-PFI investment programme being touted as the ideal test-bed for them.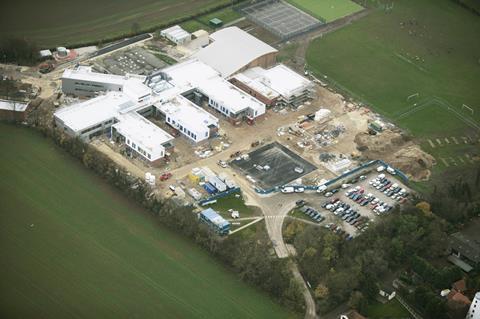 04 / THE MARKET
In response to the James Review, and the ongoing population bulge that has led to demand for the rapid provision of largely primary school places,
a number of solutions have been developed.
These include:
Sunesis This is only offered through SCAPE, the CLASP successor organisation, by Willmott Dixon. It offers a number of models. At primary level these are the Keynes and Newton primary schools for one or two forms of entry, plus an optional nursery "module", with options for building on tight sites in the pipeline. At secondary level, there is the Mondrian option, which can be configured in a number of ways, to suit the school pedagogy - options include Year 7 Base, Department and School Within School.
ADAPT Wates and Capita Symonds have developed the steel-framed ADAPT system. This adaptable system can be used on any size school, up to three storeys in height. It is the successor to Wates' Campsmount Technology College scheme, which featured on the cover of the James Review and underpinned its efficiency recommendations.
Laing O'Rourke and Atkins have developed a "kit of parts" approach, using precast concrete elements from their own manufacturing plant. Each element of the structure has been subjected to time and motion studies to confirm certainty of programme and cost. By using a standardised "menu", underpinned by a database of time and cost, it readily lends itself to being BIM-compliant, supporting chief construction adviser Paul Morrell's construction efficiency drive.
PodSolve Developed by Interserve, Maber Architects, partitions provider Norwood and Arup, this is an environmentally friendly series of steel-framed flexible composite material pods that contain classrooms and informal circulation space. The school can be altered by the addition or removal of pods in five days.
Edventure is a joint venture between Bam, Bryanston Square and Aecom that takes inspiration from a developer shell-and-core approach. It provides a permanent external shell and core and a customisable highly flexible interior, using a fit-out approach. The first Edventure schemes are currently in procurement in Liverpool.
Persimmon and Stride Treglown have developed a modular approach to primary schools, using a central resource hub with core facilities and "wings" that provide classrooms, nursery and so on. The classroom wings maximise natural light by borrowing from the top-lit corridors and the building is naturally ventilated.
05 / ADVANTAGES AND DISADVANTAGES
Each of the solutions identified above has subtly different advantages and disadvantages, not least because they use different approaches, including standardised design, modular building and portal frames.
The general advantages and disadvantages are well rehearsed, and some of the key points to consider are as follows:
Programme For a true standardised solution, the design programme will be very short, and will concentrate primarily on foundation design, external cladding and internal layout requirement. If the internal layout is adaptable, there will be additional time spent on this aspect. In simple terms, the more off-the-shelf the solution, the less design time will be required. The degree of time reduction depends on the construction method being used. Off site solutions will be constructed on site faster than other solutions, but factory production time has to be taken into account, unless the contractor has a large stock of complete parts in storage.
Sustainability All of these solutions claim to have "in-built" sustainability. What this actually means in practice varies considerably from one solution to the next. The most effective, from a school utility bill perspective, will be those solutions that provide the best U-values for the key elements. The least effective will be those that concentrate on visual sustainability at the expense of true "invisible" sustainability.
Procurement For the public sector, the easiest solution to procure is the Sunesis solution. This is procured through the single-supplier SCAPE framework, which is available to all public sector bodies, including joint ventures. Other solutions can be procured through existing frameworks, but will have reduced design periods, as noted above.
Reduced cost Due to the inherent simplicity and efficiencies in the design approach taken to standard solutions, and by definition, the limited number of options that can be delivered, there is likely to be a reduced cost in design fees. The market is also showing a reduced construction cost on a square meter basis, when compared with traditional buildings. If the volumes of standardised solutions being procured increases, then further efficiencies are possible; and this in turn would reduce the build cost further.
Refurbishment The integration of a new building into an existing estate is likely to be the greatest challenge to any standardised solution. During design stages, careful consideration needs to be given to how new buildings connect with existing ones, in terms of circulation, site layout and services.
There is no outright winner in the traditional versus standardised schools argument when considering these points. Equally there is no "best" standard solution - they all have advantages and disadvantages and the points made above must be reviewed carefully against the requirements of the new estate before a solution is chosen.
06 / THE FUTURE OF STANDARDISED SOLUTIONS
Under the five-year Priority Schools Building Programme, it is likely that contractors will be required to develop their own standard designs for the first year. The DfE and Education Funding Agency are then likely to identify their preferred designs to be used as the programme moves into its later years.
However, on its own, this will not provide the volume required to significantly reduce the costs of these buildings below their current figures. For standardised solutions to have any realistic chance of attaining the positive cost and programme benefits that are advertised by the promoters of these buildings there will need to be take-up of the schemes beyond the current school building programme.
The solutions that use a "kit of parts" or frame approach will be the easiest to promote in other sectors, such as healthcare, housing and the defence and judicial sectors.
By the very nature of their elemental design, they will also be the easiest to align with BIM at the 4D and 5D levels and beyond.
07 / COST MODEL
The standardised solution example that is used for the cost model in this article is Wates' Campsmount Technology College in Doncaster, South Yorkshire. For comparison purposes, we have contrasted Campsmount to a traditionally built school of the same area.
Following a fire that destroyed the original school, Campsmount was chosen by Partnerships for Schools as the pilot for the new reduced-time procurement process, and after an eight-week process, Wates was announced as the selected bidder, starting on site 11 weeks later.
The construction period was reduced to 12 months for the 7,500m2 flexible steel-framed building, and it took just four and a half months from the start of procurement process to work starting on site.
The school was completed both on time and to its agreed £10.5m budget. As a result, Campsmount became the prototype for Wates' modular ADAPT system.
The building comprises a steel frame, with a mix of brickwork, rain-screen cladding and render finishes. Internally, there are movable walls for flexibility and non-loadbearing walls to give an adaptable environment. The school is primarily naturally ventilated, uses biomass boilers for heating and has photovoltaic panels mounted to provide a source of future income. Externally, the football fields were extended and three hard tennis courts provided.
Downloads
PDF, Size 0 kb

PDF, Size 0 kb