The motor industry is booming, with showrooms continuing to be built. And with the customer experience at the heart of the schemes, substantial add-on features may be included. John Fox, Joe McCann and Chris Webb of Aecom report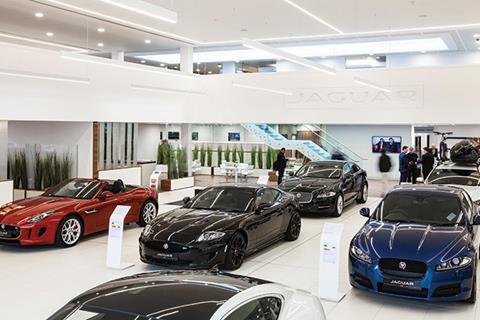 01 / Introduction
Despite fears of a post-Brexit economic slowdown and the ever-increasing shadow of climate change, the UK car market continues to grow. Last year saw the highest-ever number of new cars registered – more than 2.6 million, an increase of 2.3% on 2015.
As ever, fleet sales, for example, for company cars or car rental companies, accounted for the majority, but private sales still numbered around 1.2 million vehicles. Attractive finance options, such as personal contract purchase (PCP), part exchange and manufacturer pre-registration, supported this strong showing.
Yet as sales grow, so do targets. In the drive to push up revenues, brand visibility, customer experience, flexible finance and after-sales care become critical differentiators for manufacturers and dealerships alike.
Online retail still plays a relatively small part in car sales, for premium brands at least. Web auctions and online inspections are popular in the pre-owned market, as apps providing 360-degree audit and visibility become available.
This technology is also used in new sales, via configuration tools that enable buyers to tailor their premium model before visiting the showroom to complete the deal in person. Dealers may also use online auction sites to sell off traded-in stock. But in general, showrooms still perform a critical role in delivering those all-important new registrations.
02 / Car showrooms: what and where
Above all, dealerships are looking for larger sites for their showrooms. GIAs are increasing – around 3,000m2 is becoming standard, but spaces of up to 6,500m2 are not unknown.
As well as a higher quantity of units, showrooms must cope with a greater diversity of ranges, with most brands offering crossovers, convertibles, 4x4s, city cars and MPVs in addition to the standard saloon and estate models.
Showroom sites are located traditionally on the periphery of urban centres, close to transport links, with good visibility to draw in visitors easily and communicate brand messages.
While some showrooms will be owned by manufacturers, many premium-brand sites will be run by franchisees.
Given the lack of available greenfield sites around UK cities, brownfields are becoming the preferred option. These bring with them associated remediation and other abnormal costs, which are borne by the dealerships rather than the manufacturer. Dealerships continue to move away from stand-alone showrooms to edge-of-town automotive retail parks, with premium brands vying to be situated near to the entrance.
Brand
For premium car sales, the brand's the thing. Dealerships will want to link current models to aspirational lifestyles, heritage (Ford Mustang, Aston Martin, and so on) or, conversely, to the dynamism of their Formula 1 divisions (as with Mercedes-Benz and their current success).
Fit-out of front-of-house facilities will reflect these brand messages, with features such as themed areas (or "theme fields"), branded merchandise and so on.
Franchises may also want to reflect both their own and manufacturer branding. This will require a balance of corporate identity guidelines, from both organisations, at the design and fit-out stages.
Franchisees will be keen to maintain the connection to the core brand, although the need to absorb cost changes of rebrands and new initiatives, such as the latest Jaguar Land Rover "corporate identity/retail concept" – "Arch" – which may require architectural changes to part or all of the dealership, may put pressure on this in volatile times.
More than just a sale
Front of house layouts are also becoming attuned to the all-round customer experience. In addition to viewing the models currently on sale, showrooms will offer hospitality and refreshment. Basic tea and coffee may be expanded into in-house coffee bars. Wi-Fi and desk space allow buyers to work while they wait for a purchase or maintenance. For premium brands with larger showrooms, leisure facilities – games consoles, children's play areas, a gym, even, in the extreme, facilities such as hair salons – may help to create the sense of a "destination" rather than just a transactional environment.
Financing is an important incentive and source of revenue, and so dealerships will include office space for the relevant teams – whether from the manufacturer or franchisee.
However, car dealerships cannot afford to focus exclusively on new sales. After-sales service is increasingly important, so workshop facilities and tyre bays for smart or cosmetic repairs must be factored in, possibly as outbuildings adjacent to the main showroom. Workshops also provide significant secondary revenue streams, with MOT warranties and multi-year service plans alongside regular servicing and repairs.
Finally, larger showrooms may also double as event spaces for high-profile launches. This may require some thought at the design stage as some minor moves and changes may be required to repurpose the space, if the event is a major one.
The pinnacle of premium brand dealerships are sites such as MB World in Weybridge, Surrey. Owned by manufacturers rather than franchisees, these include interactive displays, conference and exhibition facilities and several tracks (handling and 4x4s) where visitors can book driving experiences accompanied by expert instructors. In contrast, Ferrari World in Abu Dhabi is more of a conventional amusement park, with Ferrari-branded rollercoasters, rides and exhibitions and relatively few driving experiences.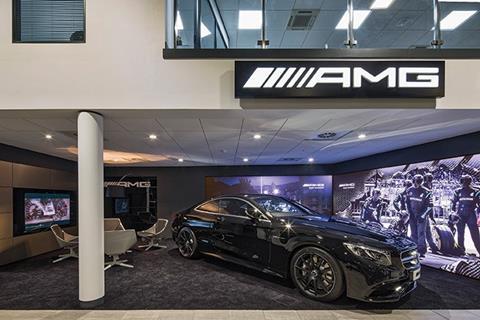 03 / Design
Key to the success of the design will be how well the showroom focuses on the "customer journey" – from the initial interest, through pre-sales discussions and test drives, to the sale itself and after-sales care and service. The showroom must not only look attractive, reflecting manufacturer brand and heritage, but also move potential buyers through this sales cycle effectively – the customer journey.
The buildings are usually steel framed, on two or more levels. First impressions are important, so front-of-house will deploy glazing and high-quality finishes as well as lighting that presents display models in the most attractive manner, with cladding for back-of-house areas. More showrooms are now incorporating special "handover areas", used to enhance the customer experience and to strengthen the brand and the showroom's relationships with the buyer.
Finance and administration staff require office space, which is usually functional and a combination of cellular offices and open-plan space. Showrooms also often need rooftop parking or additional decked car parks for stock and vehicle preparation. Space allowances are important here – clients need to maximise density while ensuring low-loaders can get in and out of the site for deliveries.
Customer parking is necessary, as are the hospitality facilities described in the previous section. Larger dealerships may also locate corporate functions on separate floors or mezzanines, as well as providing outbuildings for cosmetic repair, or valet bays.
Design of workshop and tyre bay areas should be considered in terms of after-sales customer service. Many premium dealerships are including budget for a decent workshop fit-out, with tile floors and clean "lab-style" cabinets. Vision panels enable customers to watch their vehicle as it is being serviced.
A recent change is around spares and parts, with a reduced stock being stored on site, as the trend now is towards centralised logistics centres. These use just-in-time processes to despatch parts as needed by dealerships.
Express and drive-through service lanes are another innovation, with automated wayfinding (usually arrows above the vehicle doors) and number-plate recognition technology.
04 / Sustainability
As in most construction projects, sustainability should be embedded into the design and build rather than being thought of as a separate issue.
There will be the usual discussions around BREEAM compliance and green technology for greywater reuse and energy control. Planning authorities may specify BREEAM "very good" or "excellent" for new-build showrooms. Brands may have corporate social responsibility (CSR) targets reducing their carbon footprint; others will be interested purely from a marketing perspective (so-called "eco-bling").
Financial savings through energy saving and green features should be considered. Lighting can account for up to 40% of a showroom's electricity costs, so LED lighting could be a worthwhile investment. Even without any new kit, more efficient usage could save dealerships around 10% of their energy costs.
That said, the ideal of "green dealerships" is still a way off. Only three car retail buildings in the UK are currently rated BREEAM "excellent" and 12 are rated "very good". Nevertheless, a combination of regulation, consumer pressure and CSR will undoubtedly result in cleaner, greener showrooms.
In the meantime, some issues specific to car showrooms are worth highlighting:
Existing green technologies can be incorporated into the design, procurement and construction of showrooms: LED lights, photovoltaic roof tiles and heat recovery ventilation systems are good, established examples. Dealerships should also consider harvesting rainwater to wash cars, intelligent lighting to dim lights when sunlight is strong and burning waste oil from workshops for heating.
Part L compliance will need to be considered carefully, given the amount of double- or triple-height glazing used in the typical car showroom. Designers may need to factor in photovoltaics and other renewables, along with solar shading and ventilation to counter the substantial solar gain.
Sales for hybrids and electric models are increasing and all major manufacturers are focusing on this area, so dealerships will need to include recharging points or fast chargers as part of the design (probably in the workshop areas). Overall, this is not a complex area, although it will need to be outlined in the MEP specification and may impact upon the off-site service infrastructure if there is insufficient capacity to support these growing needs.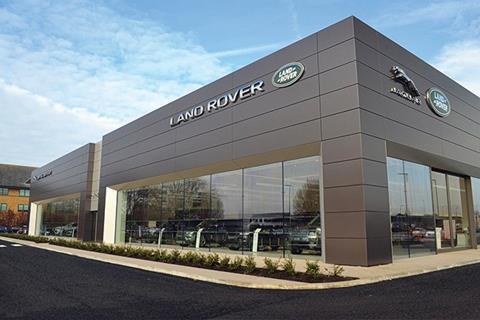 05 / Cost influences
Recent changes to sterling against its major currency pairs have been material in size, and this will have an impact on construction prices in the UK and TPI forecasts.
The volatility in exchange rate markets – which is very likely to continue for the near-term, perhaps even into the medium-term – needs to be considered when caluclating the costs of a new scheme.
It may be that a certain allowance for some percentage of exchange rate movement is included in the cost plan and any further changes are specifically excluded.
Construction materials used for showrooms (steel, glass, metal cladding, and so on) have a larger proportion of imported materials than other sectors.
This means that more focus is required when analysing and assessing the exposure of the sector, the project and its construction components to exchange rate risk.
Recent risk modelling by Aecom suggests that a 1% change in the sterling/euro exchange rate (if sterling weakens against the euro) results in somewhere around 0.3% increase in overall construction costs for this sector/project type.
The use of a risk register, where foreign exchange risk is separated, is therefore considered to be very sensible.
06 / Franchising and funding
Dealerships provide no guaranteed returns on investment to the franchisees. Therefore, willingness to invest in re-branding or brand compliance depends on the franchisee's relationship with the manufacturer, the potential for increased sales, profit margins, and so on. Of course, underpinning all of this is whether the franchisee wants to renew the relationship at the end of the franchise term.
Funding for new showrooms by franchisees will need to be sourced by the dealership and sources of finance will depend on the scale and business model of the dealership. There have been numerous recent stories of dealership expansion through acquisition, to increase geographic coverage or access strong or successful brands.
Development of car showrooms can be undertaken by a number of parties. The options available are generally either freehold or sale and leaseback:
Freehold The financing of the showroom is undertaken by the dealership, which then keeps it as an investment. This is the traditional approach.
Sale and leaseback The dealership develops and then sells the showroom and associated assets to a financial institution, leasing it back for a specified period. This enables the dealership to release the capital tied up in the development and concentrate on motor retail rather than on its property portfolio.
The manufacturer The opportunity to develop is sometimes determined by the manufacturer. Some support dealerships by providing information regarding preferred sites, and give potential sales expectations for the area. In some cases, manufacturers prefer to act as their own developer, acquiring and developing a site and then either renting it to the dealership or selling it into the investment market.
Showrooms are seen as secure investments, although most manufacturers offer franchises for five years rather than a typical building lease term of 15 years.
Dealerships obviously make strenuous efforts to retain appropriate franchises, maintaining their facilities to a high standard and usually upgrading the fit-out every five years alongside the renewal of the franchise.
07 / Tax relief opportunities
The capital cost of developing a car showroom can be substantially mitigated via a variety of tax reliefs and incentives. This is likely to be primarily via plant and machinery allowances, which can offer relief of up to 100% for qualifying installations. Particular allowable elements will include the mechanical and electrical installations, public health installations, lifts, security systems, CCTV installation, fire detection and protection systems and building management system. Furnishings, fixtures and fittings will also generate relief.
The benefit will be generated at a number of rates, dependent on the nature of each particular qualifying asset. Installations qualifying as integral features, such as the mechanical and electrical installations, will accrue relief at the rate of 8% per annum on a reducing balance basis. Expenditure incurred on those elements of a more specialist nature will realise relief at the more beneficial rate of 18% per annum. Finally any expenditure incurred on qualifying energy and/or water-efficient technologies could accelerate the relief to 100% in the year of expenditure, or a 19% payable credit for loss-making UK companies.
The rate at which the benefit of plant and machinery allowances is accrued can also be accelerated by means of the Annual Investment Allowance, which currently enables businesses to claim up to £200,000 of expenditure qualifying for relief per annum.
Plant and machinery allowances in the order of 40% of the capital development cost of a car showroom would not be unreasonable and for a corporation tax payer this will represent an 8% cost saving over time. For a higher-rate income tax payer the cost saving could represent as much as 18%. It is therefore well worth seeking input on the availability of allowances at the design stage in order for the available allowances to be optimised and the risks of disqualification reduced. The true bottom-line cost of the dealership can also be identified, which may provide valuable support for a viability analysis or to secure funding support.
Furthermore, where elements of the design or construction involve innovative solutions to overcome specific site challenges or utilise improved material technologies, the resulting staffing costs may benefit from an R&D expenditure credit. Qualifying expenditure is relieved at either 230% or an 11% "above the line" credit. Capital projects can also benefit from 100% relief for research and development allowances where the expenditure is trade related.
Finally, for brownfield sites, UK companies carrying out site remediation works may benefit from land remediation relief, which provides a 150% super-deduction against corporation tax (provided the taxpayer is not the polluter). Again, for loss-making UK companies, this can be surrendered for a 16% payable credit.
There are therefore a variety of avenues by which the capital cost of car showroom developments can by offset by the various reliefs and incentives available, and which may be optimised by consideration at the design stage of a project.
08 / Procurement and construction
Because showrooms are not, in general, particularly complex in construction terms, design and build tends to be the preferred procurement route for most franchise holders and manufacturers. Clients will tend to specify the front-of-house, workshops and admin office space fully (referencing dealer and manufacturer corporate guidelines and finishes as necessary), with support and floor zones left to the contractor to deliver cost effectively. Design, commercial and construction risk is transferred to the contractor, obtaining cost certainty with a consistent quality finish.
The construction programme is of critical importance, so contractors and consultants must be cognisant of the commercial pressures on the retail car market when putting the programme together. March and September are when new registrations take place, and dealerships will need a decent post-construction time window to prepare for these dates. As for any retail business, programmes should be concise and efficient to enable dealerships to start trading as soon as possible.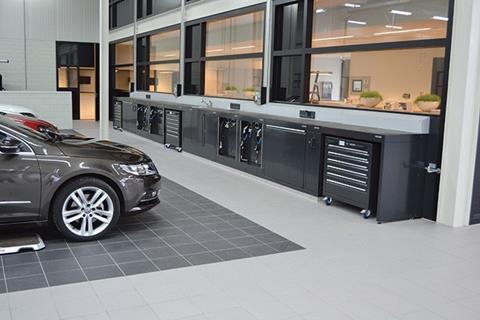 09 / The cost model
The cost model is based on a prestige brand dealership at the upper end of the market. It is a purpose built new dealership on an automotive retail park, comprising a showroom and workshop of 900m2 and 1,000m2 respectively, with additional office and ancillary space, giving a gross internal floor area of 3,500m2. The dealership is over two storeys with a mezzanine floor for the admin offices. It also includes the single storey workshop and rooftop parking above the showroom.
The development is built on a brownfield site, which has previously been cleared. The cost model excludes any site abnormal costs.
It has a reinforced in-situ concrete ground-bearing slab, a steel frame with piled foundations, reinforced concrete pile caps and ground beams. There is a full-height glazed front, aluminium cladding on the side walls and single-ply roofing and rooftop car parking. There is full comfort cooling in all areas and the cost of fitting out this and the display lighting is included. External works consist of car parking, forecourt display areas, landscaping and drainage.
The unit rates are derived from competitive design-and-build tenders and are current at the first quarter 2017, based on a south-east UK location.
The building-only cost is £1,620/m2. The cost excludes specialist workshop equipment, data and AV installations, access control, loose FF&E, enabling works, demolitions, professional fees and VAT. Design fees are typically in the region of 12%.
Unit rates should be adjusted for the location, site conditions, programme and procurement route.
| | Total (£) | £/m2 | % |
| --- | --- | --- | --- |
| Substructure | 758,000 | 216.57 | 13.39 |
| Reduced level excavation and disposal off site, 7,000m2 @ £15 | | | |
| CFA piled foundations; excavations; concrete; reinforcement; 600mm dia; depth of 15m, 277nr @ £1,000 | | | |
| Reinforced concrete pile caps; sizes vary, 94nr @ £575 | | | |
| Reinforced concrete ground beams; approx size 500 x 600mm wide, 500m @ £150 | | | |
| Lift pit, 1nr @ £3,000 | | | |
| Reinforced concrete ground bearing slab, 250mm thick minimum, including dpm, 2,200m2 @ £95 | | | |
| Recessed slab for specialist equipment, item @ £35,000 | | | |
| | | | |
| Frame, upper floors and stairs | 798,000 | 228 | 14.09 |
| Fabricated steel frame, including cold rolled sections, 220t @ £1,850 | | | |
| 1hr intumescent fire protection to columns and beams, item @ £40,000 | | | |
| Decoration/finishes to exposed steelwork, item @ £10,000 | | | |
| 150mm reinforced concrete suspended slab, 2,900m² @ £90 | | | |
| Feature customer staircase; steel with cement screed infill; including finishes, balustrading and hand railing, 1nr @ £40,000 | | | |
| Internal precast concrete staircase to serve upper office levels; including finishes, balustrades and hand railing, 2nr @ £20,000 | | | |
| | | | |
| Envelope | 1,028,000 | 293.71 | 18.16 |
| Engineering brick plinth wall, 30m² @ £250 | | | |
| Composite wall cladding - front of house, 600m² @ £170 | | | |
| Composite wall cladding - back of house, 1,300m² @ £75 | | | |
| Glazed curtain walling, 400m² @ £450 | | | |
| Vehicle doors in glazed curtain walling, 3nr @ £10,000 | | | |
| Revolving entrance door, 1nr @ £40,000 | | | |
| Entrance feature, item @ £20,000 | | | |
| Personnel doors, 3nr @ £3,000 | | | |
| Workshop doors, 7nr @ £8,000 | | | |
| Roof to dealership; single-ply membrane with tapered insulation, 780m² @ £90 | | | |
| Reinforced concrete slab to rooftop car park, 1,300m² @ £100 | | | |
| Kingspan styrozone car park system to rooftop parking; including screed, waterproofing, asphalt, etc, 1,300m² @ £125 | | | |
| Steel ramp to rooftop parking; single vehicle wide, item @ £50,000 | | | |
| Vehicle barrier to rooftop parking, 270m @ £150 | | | |
| Syphonic drainage, 2,080m² @ £12 | | | |
| Escape stairs enclosure, 10m² @ £700 | | | |
| | | | |
| Internal partitions | 263,000 | 75.14 | 4.65 |
| Metal stud partition system, 3,000m² @ £70 | | | |
| Glazed partition system, 80m @ £520 | | | |
| Workshop lining system (whiterock), 100m² @ £60 | | | |
| Column casings, item @ £5,000 | | | |
| | | | |
| Internal finishes | 397,000 | 113.43 | 7.01 |
| Barrier matting, 90m² @ £300 | | | |
| Floor tiles, 2,200m² @ £65 | | | |
| Tiled skirting, 80m @ £30 | | | |
| Carpet, 450m² @ £30 | | | |
| Timber skirting, 500m @ £15 | | | |
| Timber skirting - MDF, 200m @ £10 | | | |
| Vinyl flooring, 320m² @ £40 | | | |
| Vinyl cove skirting, 385m @ £15 | | | |
| Floor paint, 300m² @ £20 | | | |
| Decoration to walls, skirting, etc, 5,000m² @ £12 | | | |
| Wall tiles, 300m² @ £60 | | | |
| Suspended ceiling, 1,300m² @ £30 | | | |
| Metal framed ceiling and bulkheads, 1,200m² @ £45 | | | |
| Fire barriers, 1 item @ £5,000 | | | |
| | | | |
| Internal doors | 83,000 | 23.71 | 1.47 |
| Single doors including all associated ironmongery, 58nr @ £900 | | | |
| Double doors including all associated ironmongery, 10nr @ £1,300 | | | |
| Glazed doors including all associated ironmongery, 12nr @ 1,000 | | | |
| Roller shutters, 2nr @ £3,000 | | | |
| | | | |
| Mechanical installations | 671,000 | 191.71 | 11.85 |
| Incoming services, item @ £9,000 | | | |
| Metering, item @ £9,000 | | | |
| Ventilation, 3,500m² @ £75 | | | |
| Heat recovery system, 3,500m² @ £75 | | | |
| Hot and cold water services, item @ £42,000 | | | |
| Gas, item @ £10,000 | | | |
| Workshop heating, item @ £30,000 | | | |
| Above ground drainage, item @ £10,000 | | | |
| Photovoltaic system, item @ £16,000 | | | |
| Testing and commissioning @ 3%, item @ £19,000 | | | |
| | | | |
| Electrical Installations | 639,000 | 182.57 | 11.27 |
| Mains switchgear and distribution; including photovoltaic panels, item @ £22,000 | | | |
| Sub mains cabling, item @ £9,500 | | | |
| Lighting and emergency lighting installations, 3,500m² @ £75 | | | |
| Small power installations, 3,500m² @ £75 | | | |
| Power to doors and workshop equipment, item @ £26,000 | | | |
| External lighting, item @ £35,000 | | | |
| Earthing and bonding installations, item @ £2,000 | | | |
| Testing and commissioning @ 3%, item @ £19,000 | | | |
| | | | |
| Lift installation | 53,000 | 15.14 | 0.94 |
| Lift installation; 8-person electro-hydraulic serving 3 floors, 1nr @ £50,000 | | | |
| Allowance for builder's work in connection with services, say @ 5%, item @ £2,500 | | | |
| | | | |
| General fixtures / furnishings / equipment | 115,000 | 32.86 | 2.03 |
| Feature car display lighting trusses, item @ £20,000 | | | |
| Benches and seating, item @ £10,000 | | | |
| Signage, item @ £5,000 | | | |
| WC sanitaryware and cubicles, item @ £55,000 | | | |
| Kitchen units and coffee station, item @ £25,000 | | | |
| | | | |
| Preliminaries and contingency | 864,000 | 246.86 | 15.26 |
| | | | |
| Contractor's preliminaries, overheads and profit @ 15%, item @ £720,000 | | | |
| Contingency @ 3%, item @ £144,000 | | | |
| | | | |
| TOTAL CONSTRUCTION COST | 5,669,000 | 1,619.71 | 100 |
| | | | |
| External works | | | |
| | | | |
| Site works, including hard and soft landscaping | 236,000 | 67.43 | 47.58 |
| | | | |
| Landscaping | | | |
| Grassed/planted areas, 650m² @ £10 | | | |
| | | | |
| Car park | | | |
| Car parking/light duty road, 3,700m² @ £45 | | | |
| Standard kerbs, 610m @ £22 | | | |
| Road marking/linings, item @ £2,000 | | | |
| | | | |
| Paved area | | | |
| Paving to pedestrian areas, 200m² @ £35 | | | |
| Stainless steel bollards, 100nr @ £250 | | | |
| | | | |
| Perimeter security fence | | | |
| Perimeter fencing; 2.4m high Paladin welded wire mesh fence with posts, 102m @ £45 | | | |
| Entrance vehicle barrier, item @ £7,500 | | | |
| Entrance gates, 3nr @ £1,200 | | | |
| | | | |
| Drainage and external services | 184,000 | 52.57 | 37.1 |
| SW drainage to building and car park, 720m @ £80 | | | |
| SW drainage to manholes, 17nr @ £1,200 | | | |
| Gullies, rainwater outlets, etc, item @ £4,000 | | | |
| Connection to main sewer, 1nr @ £5,000 | | | |
| FW drainage to foul drain runs, 500m @ £80 | | | |
| FW drainage to manholes, 11nr @ £1,200 | | | |
| Petrol interceptor, 1nr @ £8,000 | | | |
| Connection to main sewer, 1nr @ £3,000 | | | |
| Gas; disconnection / new supply, item @ £13,000 | | | |
| Electricity; disconnection / new supply, item @ £17,000 | | | |
| Water; disconnection / new supply, item @ £3,000 | | | |
| | | | |
| Preliminaries and contingency | 76,000 | 21.71 | 15.32 |
| Contractor's preliminaries, overheads and profit @ 15%, item @ £63,000 | | | |
| Contingency @ 3%, item @ £13,000 | | | |
| | | | |
| TOTAL CONSTRUCTION COST (external works only, rate based on GIFA) | | | |
| | 496,000 | 141.71 | 100 |
| TOTAL CONSTRUCTION COST (rate based on GIFA) | | | |
| | 6,165,000 | 1,761.43 | 100 |