The Netherlands is one of Europe's great trading nations but the slowdown in the eurozone has hit the economy hard. Ted Peek of Arcadis and Magda Skalska-Burgess of EC Harris review prospects for the Dutch construction market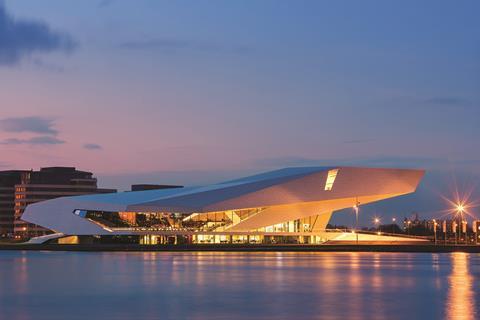 01/ Introduction
The Netherlands is one of the richest countries in mainland Europe, ranked 14th in the IMF's analysis of per capita GDP. With few natural resources, the economy has prospered on trade, necessitating high levels of investment in infrastructure.
It is also famously a country built on reclaimed land. The $7bn delta works project, part of a network of dykes, levees and storm surge barriers, is described as the world's best sea defence system. With rising sea levels, sustained investment in sea protection is a unique dimension of the Dutch construction industry.
02/ Economic outlook
The Netherlands was hit by the downturn in 2008. Due to its very close link to the European economy, the Dutch economy is believed to still be in recession, shrinking by 1.2% in 2013.
A high exposure to freight transport and shipping industries, where the majority of goods imported to Europe are received and redistributed in the Netherlands, mean that even the slightest downward pressures of the industry are clearly felt in the country's performance. There has been a lot of such real pressure recently. According to the WTO, world trade growth fell from 5.2% in 2011 to 2% in 2012. Data for European trade is even worse, illustrating a fall from 11% growth in 2011 to 2.2% in 2012. The changing fortunes of the shipping trade are also illustrated by movements in the Baltic dry index, which show that the cost of shipping has fallen by 10 times since peaking in 2008, caused by weak trade and glut of new ships.
The close link between the Netherlands and Europe suggests that future growth rates will be very modest. Current forecasts are certainly so. The CPB Netherlands Bureau for Economic Policy Analysis reported negative GDP growth figures of -1.2% for 2012 and -1.25% for 2013 with 0.5% growth forecast for 2014. CPB points to planned increases in government spending in investments and exports as areas that will contribute to a return to growth.
Unemployment is set to continue to rise from 7% in 2013 to 7.5% in 2014. Due to policy measures and a decline in real wages, median purchasing power is projected to decline too. The Dutch government deficit in 2013 dropped to 3.2%, after which it is forecasted to increase slightly to 3.3%. A €6bn (£5bn) package of austerity measures prepared by the Dutch government is due to help economic growth by a limited 0.25%. One measure that will have an impact on construction is the effect of mortgage tax relief being gradually reduced to 38% - increasing affordability problems in an already depressed market.
03/ Construction market
BDB Netherlands Bureau for Construction Financial Analysis reported falling turnover in all construction sectors in the country in 2010-2013 and its prognosis for 2013-2016 is not hugely optimistic. Turnover in renovation and maintenance in residential and non-residential workload is expected to average at around -4% in 2013-2016, which is worse than in the previous reported period. The only positive figures in turnover in 2013-2016 are expected in new construction in the residential sector and logistics, 1% and 7.5% respectively.
Continuing weakness in the economy also affects prospects for construction. Sustained price pressure has led to financial problems at many construction companies. Big projects including sports facilities, theatres, stations and buildings for the energy sector have had their budgets cut, resulting in a reduction in scope and quality in some cases.
04/ Infrastructure
The Netherlands has a well-developed infrastructure sector. Its main driver is freight transport. The country leads in international industry rankings. It is placed in the top 10 for its transport infrastructure by organisations including the Global Economic Forum and the World Bank. It also scores high in the World Bank's other indices: 5th in the Logistics Performance Index in 2012 and 5th in the Liner Connectivity Index in 2011, demonstrating the impact that sustained high levels of infrastructure spending have made on competitiveness.
Its transport network is due to receive a vast boost. The country sits in the middle of three out of nine Trans European Transport Network Corridors, which are at the core of a new, EU-wide, €26bn (£22bn) policy for transport in 2014-2020. Twelve projects, mainly upgrades to increase navigability or capacity of ports, inland waterways and rail lines along the North Sea-Baltic Corridor, the Rhine-Alpine Corridor and the North Sea-Mediterranean Corridor, will strengthen the Netherlands' freight transport even further.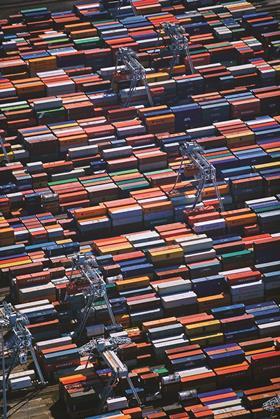 Ports
The Port of Rotterdam is Europe's number one port in terms of both total tonnage and container throughput. Despite its strong geographical position, it needs to work hard and innovate to remain competitive against other major ports including London's Thames Gateway. Maasvlakte 2, an expansion of the port, has already started and its first phase, completed in April last year, is due to become operational in 2014. The budget for the first phase was €1.9bn (£1.6bn) and the project was delivered by PUMA, a joint venture of two Danish contractors.
Registering a 1% increase in containers throughput the first half of 2013, but almost the same fall in overall cargo volume, the port of Rotterdam has again cut port fees, taking them below 2008 levels. As a result of new measures and investments, deeper berths and large high-speed cranes for fast turnaround, it recently featured as a port of call for some of the largest container ships, CMA CGM's Marco Polo and Maersk Line Triple E-type. This confirms that the port is adapting to new shipping trends.
The Port of Amsterdam is also expanding. A new lock system worth €740m (£615m) is set to be completed by the end of 2014.
Roads
Similarly to most of continental Europe, road freight is highly developed and dominates the freight transport sector. BMI maintains that 59% of all freight in the Netherlands in 2013 was moved by road. Two of Netherlands' neighbours and trade partners, Germany and Belgium, account for around 63% of exports and imports that use roads as the primary means of transport in the Netherlands. In consequence, roads remain highly congested. However, due to an EU-wide strategy of haulage diversification aimed at reducing pollution and congestion, there is increasing investment in alternative modes of transport, particularly rail and waterways.
Inland waterways
At 6,214km long, the natural inland waterways network contributes to the second largest percentage of freight transport in the country. Based heavily on two main rivers, the Wall and the Mass, inland freight volume is forecasted to increase to 2020.
Rail
The Dutch rail network stretches for 2,896km, the majority of it is electrified and it is the third official freight transport type in the Netherlands. Rail freight was estimated to increase by 3.4% in 2012 and 4.9% in 2013 and is forecast to grow by around 32.2% in the medium term. There is a new rail link project on the agenda creating a third freight rail line between Rotterdam and Germany, which is scheduled for completion in 2022.
Airports
The country's main freight airport, and Europe's fourth largest cargo airport by cargo handled, Amsterdam Schiphol, experienced solid growth and at the end of 2013 reported a year-on-year rise of 2.6% in volumes of cargo handled. With a reputation for playing a key role in transhipment and transit, it has recently announced a planned €1bn (£832m) investment into new facilities, including a seventh runway and improvements to the terminal building.
05/ Key data: The Netherlands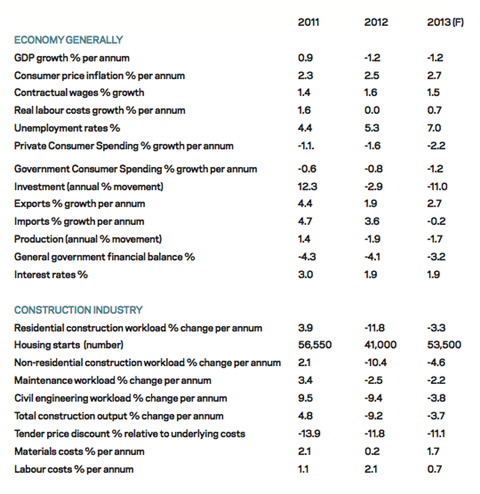 06/ Commercial sector
Office
All agents report low levels of demand due to the weak economic climate. High vacancy levels resulting from overcapacity provide many options for companies seeking to lease spaces; the total demand in the four main Dutch cities of Amsterdam, Hague, Rotterdam and Utrecht was 22% lower in the first half of 2013 than in previous half-years.
As a result, construction activity is low, including for the refurbishment market where older buildings in less favourable locations see the lowest levels of demand. BDB Bureau for Construction Financial Analysis estimates that office output fell by 12% per year between 2010 and 2013. A further fall of 20% is expected by 2016.
The global trend of the reduction of space per employee, as an outcome of changing workplace strategies and low levels of job creation in the Netherlands, is believed to be at the bottom of this decline. Corporate tenants keep reducing space requirements, which directly impacts take-up volumes. If companies are looking for new spaces they tend to choose lively mixed-use locations over large mono-functional offices in order to provide a good working environment for their employees.
Retail
Retail sector conditions in the country remain poor. Consumer confidence reached a historic low at the beginning of 2013 (CPI -44). One of the causes of low spending is the cuts to mortgage tax relief, introduced in 2012, which have had a direct effect on disposable income. Retailers also point to growing competition from e-commerce. A number of retail chains and commercial service providers in the sector have been forced into bankruptcy.
BDB estimates that output fell by an average of 6% per year between 2010 and 2013 and will fall by a further 8% by 2016. Dutch municipalities face similar challenges to the UK; keeping city centres alive while consumers move to large hypermarkets on the outskirts of towns.
Logistics
BDB Bureau for Construction Financial Analysis' forecast for average annual turnover in the sector is more optimistic - 7.5% for 2013 - 2016. The projection is most likely linked with the need for modern logistics and a growing interest in industrial real estate as an investment opportunity. The number of transactions reported in the first half of 2013 reached a turnover of €213m (£177m); a 7.5% increase year on year.
There is a growing trend for the upgrading and relocation of distribution operations to new, high-grade complexes as well as a rise in e-commerce, which is also driving demand for warehouse spaces. As a result, the higher vacancy rate in smaller, outdated logistics centres remains a problem.
07/ Residential
Despite changes in mortgage tax relief, new residential construction is one of two sectors that is expected to see positive growth. Encouragingly, housing starts are expected to recover after a sharp 20% fall in 2012. Population growth and the decreasing household size will be the main drivers of the projected increase in turnover of residential construction workload.
Together with an increasing number of transactions of existing homes, Dutch first-time buyers are believed to play a vital role in this development. It is, however, anticipated that the full recovery of the housing market will take a considerable time: first-time buyers need to save up large deposits, and due to a fall in house prices, many potential sellers need time for their homes to regain value.
The residential sector is also influenced by recent trends in the sale of corporate rental properties with a view to immediate cash flow improvements. Such substantial numbers of properties entering the market may slow
the recovery of the price level even further, adding distortions to the market.
08/ Public sector
Construction of educational facilities in the Netherlands is expected to drop further in the coming years. Experts point to diminishing numbers of students, which is a consequence of rising university fees, and changes to student grant systems. The downwards trend in the educational sector seems much stronger than turnover development anticipated by the BDB analysis, which is forecasted to remain at -3.5% per year.
The changing demographic of Dutch society is set to drive new construction in the healthcare sector. Many healthcare institutions are already engaged in the development of new facilities or have plans for such for the coming years. However, a lot of projects have been put on hold due to lack of funding. The weak financial position of many healthcare providers means that it is difficult to obtain project finance.
09/ Construction capacity and price levels
Construction output has been falling since early 2012, partly as a result of funding cuts. As a result, current prices are at a discount of about 11% compared with long-term price levels.
Looking forward, industry capacity is diminished by layoffs and bankruptcies. Nevertheless, the market demand is still about 10% below the equilibrium level and there is still excess capacity to be eliminated to return to a balanced market.
Materials costs showed small growth in 2012 and are estimated to have risen by around 2% in 2013. Labour rates showed smaller growth in 2013 than in 2012 due to current economic situation. It is expected that the growth will return to previous levels in the upcoming years.
10/ Construction costs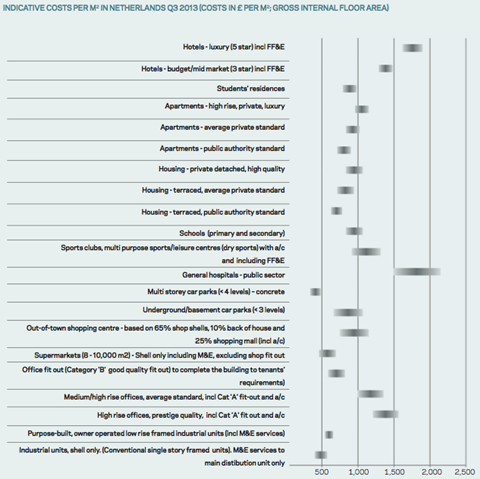 The authors would like to thank Simon Rawlinson for additional input.