This CPD, sponsored by Reynaers, will discuss the options available when specifying aluminium curtain walling, offer insight in to what needs to be considered when specifying curtain walling and provide a basic understanding of regulations and standards
CPD CREDITS: 60 MINUTES
DEADLINE: 23 NOVEMBER 2018
For more information about Assemble Media Group's CPD distance-learning programme, click here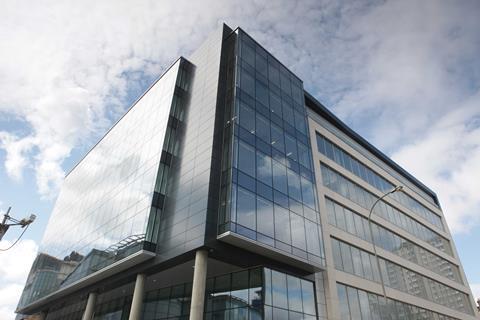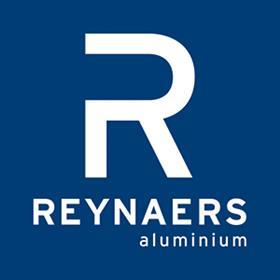 INTRODUCTION
Curtain walling is a form of vertical building enclosure that is effectively a form of facade. It is non-structural and non-load-bearing – apart from itself and environmental forces. It can be made from a variety of materials. This CPD will focus on aluminium curtain walling.
It will cover the options available when specifying aluminium curtain walling, consider what needs to be taken into account when specifying curtain walling and provide a basic understanding of the regulations and standards that need to be understood and applied.
Definition
According to the Centre for Window and Cladding Technology (CWCT), curtain walling is "a form of vertical building enclosure which supports no load other than its own weight, that of ancillary components and the environmental forces which act upon it".
The CWCT says that although the term "is sometimes restricted to metal-framed curtain walls, the above definition embraces many different construction methods and materials, including non-load bearing precast concrete".
The National House Building Council (NHBC) also offers a definition in its Technical Extra document dated February 2012, in which it agrees broadly with the CWCT's description, adding that curtain walling also includes slope glazing, while the system "includes all frames, brackets, fixings, flashings, gutters, copings, glass, panels, gaskets and sealant that forms the assembly".
The NHBC also reinforces the fact that a curtain wall is not a weight-bearing structure – it is designed to bear only its own weight and any external forces such as air and water.
The NHBC goes on to give further clarifications in its technical addendums and identifies when doors and windows become walls.
"Coupled door and window assemblies (including spandrel panels) that span one storey or more, or are not contained between a structural floor and ceiling, are very similar in their function to curtain walling and, therefore, the guidance set out in Chapter 6.9 [of the Technical Extra document] 'Curtain walling and cladding' should be used as a benchmark for acceptance."
It adds that coupled door and window assemblies (including spandrel panels) that are contained between a structural floor and ceiling within a single storey can be considered in accordance with chapter 6.7 [of the Technical Extra document] "Doors, windows and glazing".
This useful guidance clearly sets out the point at which one moves from a window to a curtain wall.
Types of curtain walling
The CWCT identifies six different types of assemblies that may be considered curtain walls. This CPD will focus on two: "stick" and "unitised" systems, the most commonly used types.
Stick – a site-assembled curtain wall system
Unitised – an offsite assembled curtain wall system
Panellised – comprises large prefabricated panels of bay width and storey height, which connect back to the primary structural columns or to the floor slabs close to the primary structure. Panels may be made of precast concrete or comprise a structural steel framework, which can be used to support most cladding materials (eg stone, metal and masonry)
Spandrel panel ribbon glazing – a long or continuous run of vision units fixed between spandrel panels supported by vertical columns or the floor slabs
Structural sealant glazing – a form of glazing that can be applied to stick curtain wall systems and windows, particularly ribbon glazing. However it can also be used in unitised and panellised systems. Instead of mechanical means (such as a pressure plate or structural gasket), the glass infill panels are attached with a factory-applied structural sealant (usually silicone) to metal carrier units, which are then bolted into the framing grid on site
Structural glazing – a bolted and suspended assembly, glass assemblies with special bolts and brackets or patch plates, supported by a secondary structure.
For the purposes of this CPD the focus will be on the metal framed products (specifically aluminium).
Stick curtain walling systems
Most aluminium curtain wall constructions in the UK are stick type assemblies. Horizontal and vertical framing members, or sticks, of extruded aluminium profiles, which are finished in anodised or polyester powder coat paint, form a basic grid to accept vision or spandrel panels.
Profiles are cut to length and machined in the factory prior to assembly on site as a kit of parts. Full access is required on site to both sides of the curtain wall.
With a stick system installation, the lengths of aluminium are fixed on to the building structure before the glass is installed. First the vertical profiles, or the mullions, are fixed to the structure. The profile is fixed at the bottom of the facade by sliding it on to a base plate bracket. At each floor slab, an intermediate bracket is used and at the top of the facade a head plate bracket is fixed in place. Mullions are joined as required through the height of the building using expansion joints, a method that allows for drainage and protection from water penetration.
Normally all the mullions will be installed across the facade before installing the transoms or horizontal profiles. Once the aluminium framing is in place, the glass is installed, then finally the relevant capping will be fixed into place.
All the components in the various joints are fixed in such a way as to allow for building movement and to take the necessary loading. This will be determined per project. The size of the bolts and brackets will also depend on each specific project. Of course all joints are also fixed with weather protection and drainage in mind and there is a lot of detail in the installation that will change depending on the specific curtain wall variant being used.
Unitised curtain walling systems
Unitised curtain wall systems comprise narrow, storey-height units of aluminium framework, glazing and panels preassembled under controlled, factory conditions. Mechanical handling is required to position, align and fix units on to pre-positioned brackets attached to the concrete floor slab or the structural frame.
Unitised systems are more complex in terms of the framing system, plus they have higher direct costs and are less common than stick systems. But the smaller number of site-sealed joints in unitised curtain walling simplifies and hastens enclosure of the building, requires fewer site staff and can make such systems cost effective.
The way the elements are installed also means that the building facade can be installed one floor at a time, allowing internal work to take place. If construction joints interlock, consideration must be given to how damaged units could be removed and replaced. The reduced number of site-made joints compared with stick systems generally leads to a reduction in air and water leakage resulting from poor installation.
On a unitised project, the vast majority of the work is completed in the workshop in a controlled environment, with much less work taking place on site. However, more specialist equipment is required to manufacture the product in the workshop and also to transport and lift the panels onto site. It is essential that the manufacturer and installer are adequately equipped to supply this product.
Aesthetics
While the building envelope remains one of the most important exterior elements for building functionality, the facade can be an elegant component that helps to define the unique architectural aesthetics of the building. Vision panels and spandrel panels of varying colour and depth can provide a texture and weight to a facade that enhance the visual appeal. A simple design with standard capping is typical of a basic curtain wall installation.
Feature capping can also be designed into the facade. These can give texture to a facade and allows the architect greater design flexibility.
Using an extended cap in one direction can enhance the vertical or horizontal emphasis of the facade. The office in Ferbocar, Madrid, Spain, below, shows greater emphasis on the horizontal lines of the facade.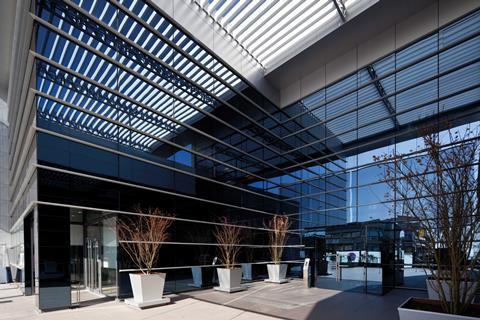 Uncapped or structurally bonded systems create a smooth envelope. In the image above, the facade has been used to reflect the Historisches Museum in Bern, Switzerland. The lack of exterior capping allows an uninterrupted reflection.
Another option is a mixture of capped and structurally bonded facade to create a modern aesthetic, again allowing the architect greater freedom of design (see image below).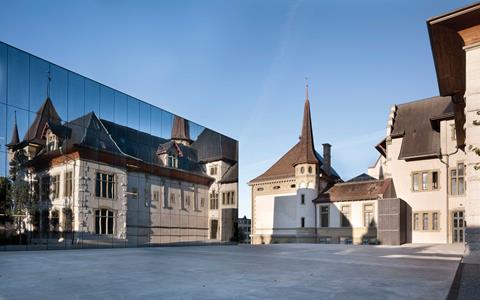 Of particular design interest is the multi-level facade, which allows a staggered facade with transoms and mullions placed at different angles (see image below). This system has been specifically designed with angles in mind so that the facade maintains good drainage. It allows the architect to choose a particularly striking design.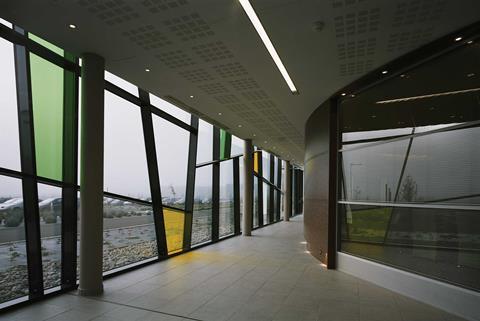 Opening vents within a facade will also have an impact on the aesthetic of a facade. Parallel opening windows allow an opening around all four sides of the window, giving maximum ventilation. Studies have shown that this allows greater air circulation than traditional side or top-hung windows. It also gives a uniform appearance to the facade when the windows are open. The image below shows a structurally bonded facade featuring parallel opening windows.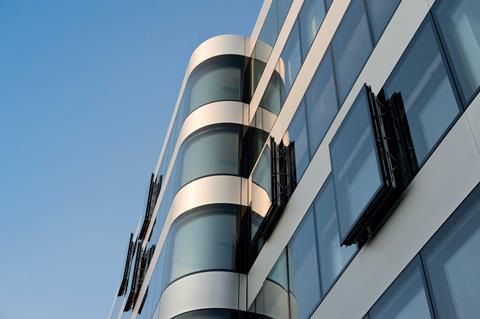 A unitised facade also gives a different design aesthetic to a stick system. The image featured below shows a facade that includes inserts of sloped elements, some of which incorporate top-hung vents.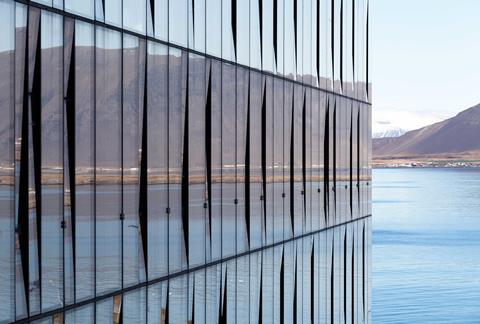 A mix of spandrel and vision panels can create an interesting matrix of colour. Bespoke solutions are also available in most curtain wall systems where a specific aesthetic or performance is required.
Rules and regulations
The recognised industry standard for curtain walling in the UK is the CWCT's "Standard for systemised building envelopes" (SSBE). SSBE incorporates BS EN 13830:2003 Curtain walling, product standard, and other relevant performance standards and Building Regulations. The CWCT standard covers the performance specification, testing, inspection and assessment of building envelopes constructed from systems of components.
Another point of great importance is fire safety. UK Building Regulations require buildings to be designed and constructed to limit the spread of fire, although it is important to note that the curtain wall product itself doesn't have to be fire-resisting in all applications.
This is an extremely complex topic and would need to be considered in full before specifying any curtain wall product. The CWCT has created a guide to the requirements of UK Building Regulations when it comes to the fire performance of facades. The guide is Technical Note 98 and is available free of charge from their website.
There are various building regulations to be considered when specifying curtain wall products. It is a huge topic but essentially the building regulations work together with the performance requirements:
Reaction to fire
Requirement of Building Regulations Approved Document (AD) B
Testing of components and materials
Fire resistant
Not always a requirement in Building Regulations AD B
Tested to BS EN 1364-4 or BS EN 1364-3
Fire propagation
Required in Building Regulations AD B even for walls that are not fire resistant
Tested to BS EN 1364-4
Taken to be the fire resistance of the floor junction should maintain fire resistance of compartmentation, impossible to test as the wall fails before the floor
Watertightness
Not explicitly required in Building Regulations AD C
Resistance to self-weight
Required by Building Regulations AD A
In accordance with relevant structural Eurocode: EN 1999 – Eurocode 9 for aluminium
Windload resistance
Explicitly required in Building Regulations AD A
In accordance with relevant structural Eurocode: EN 1990 and EN 1991 – Eurocode 1 for loads; EN 1999 – Eurocode 9 for aluminium
Impact resistance
Not explicitly required by Building Regulations AD A or AD K
BS EN 14019 requires: impact testing on spandrels and on full height panels if there is no transom
Horizontal live load
Explicitly required by Building Regulations AD K by calculation
Flanking sound transmission
Explicitly required by AD E in some uses
Testing of a standard specimen to BS EN ISO 10848-1 and BS EN ISO 10848-2 require large specimens
Thermal transmittance
Required by Building Regulations AD L
Calculation required for overall U-value including infill panels and glazing
Air permeability
Not explicitly required in Building Regulations AD L
Test of large specimen of wall
Radiation properties
G-value is explicitly required in Building Regulations AD L
Product test or calculation
Durability
Not required by Building Regulations
The durability requirements of the Product Standard
Issues
Of course, curtain walling can be installed incorrectly and are here some issues that can arise:
Inexperience – "One stick high". Some contractors do not possess the experience to construct curtain walls with vertical jointing details and if these are not correctly formed, they can leak
Incorrect design – brackets that have not been designed to withstand the loads imposed on them and design that does not allow for building or structure movement or does not take tolerances into consideration
Sealing (EPDM rubber) – without proper detailing and installation this can cause significant leaks in the facade
Installation – incorrect drainage will lead to leaks, incorrect glass support will damage units and cause unit failure. Incorrect gaskets or seating of gaskets will cause the facade to leak.
Manufacturers' recommendations are crucial. Each system supplier has designed its curtain wall to be constructed with specific preparations and these must be followed to ensure satisfactory performance.
A key consideration for the long term is the cleaning and maintenance of the facade. The architect who specifies the system and the designer for the manufacturer would have to consider the cleaning of the external glazed facade at the design stage and develop a solution. This solution could be a cradle approach or a telescopic brush pole depending on the specifics of the project in question.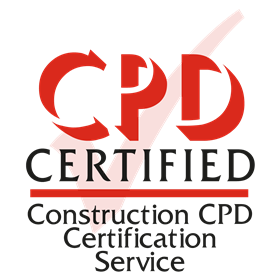 How to take this module
Assemble Media Group's CPD distance-learning programme is open to anyone seeking to develop their knowledge and skills. Each module also offers members of professional institutions an opportunity to earn between 30 and 90 minutes of credits towards their annual CPD requirement.
This article is accredited by the CPD Certification Service. To earn CPD credits, read the article and then click the link below to complete your details and answer the questions. You will receive your results instantly, and if all the questions are correctly answered, you will be able to download your CPD certificate straight away.
CPD CREDITS: 60 MINUTES
DEADLINE: 23 NOVEMBER 2018

Privacy policy
Information you supply to Assemble Media Group Limited may be used for publication and also to provide you with information about our products or services in the form of direct marketing by email, telephone, fax or post. Information may also be made available to third parties. Assemble Media Group Limited may send updates about Building CPD and other relevant Assemble Media Group Limited products and services. By providing your email address you consent to being contact by email, telephone, fax or post by Assemble Media Group Limited or other third parties. If at any time you no longer wish to receive anything from Assemble Media Group Limited or to have your data made available to third parties, contact the Data Protection Coordinator at building@building.co.uk. View our full privacy policy here.