This CPD, sponsored by Isover, will address a number of the issues facing developers and clients looking to find specific facade solutions to their building needs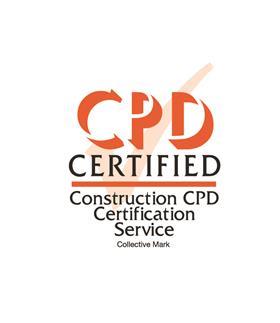 CPD CREDITS: 60 MINUTES
DEADLINE: 13 DECEMBER 2019
For more information about Assemble Media Group's CPD distance-learning programme, click here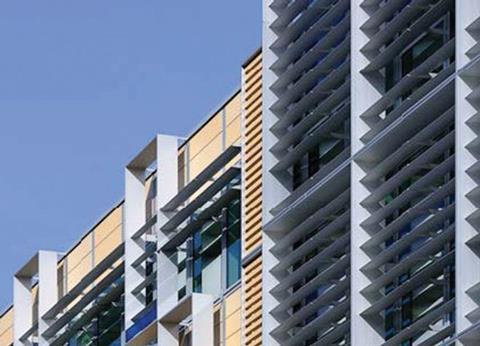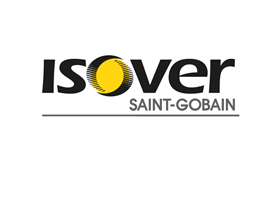 Introduction
As our towns and cities become more densely populated, there is an increasing call for either the building of new medium and high-rise buildings or the renovation of existing buildings for various uses. The external facades of these buildings are critical to the performance, safety and aesthetic quality of these buildings. This CPD will address a number of the issues facing developers and clients looking to find specific facade solutions to their building needs and is structured as follows:
Ventilated facade construction
Masonry overcladding construction
Building regulations considerations for buildings above and below 18 m.
Thermal insulation for facade applications
Common building types
There are three main structural frame types which the facades being described in this CPD are typically applied to:
Concrete
Heavy gauge steel
Lightweight steel frame
In concrete and heavy gauge steel buildings, the voids in the main structural frame are filled with lightweight steel studwork (so-called stick infill situations). Alternatively, continuous walling of lightweight steel framework 'oversails' the main structural frame to give a continuous wall external to the structural frame.
In the case of the lightweight steel frame, the light gauge steel forms the entire structural frame of the building to which the external facade is applied.
There are other structure types, including cross-laminated timber and timber-frame which could be used depending on the height of the building in question.
Ventilated facades
Figure X shows a typical make-up of a ventilated facade – this example is shown on a light steel frame. From inside to out there is:
An internal finish, typically two sheets of plasterboard
The steel frame itself, with insulation between. It is a good idea to fully fill the void in the steel frame structure (SFS) to avoid unintended air movement to maximise the thermal and acoustic performance of the building fabric
A sheathing board outside the steel frame that provides the weather protection to the structure, plus helping-hand (also known as L-shaped) brackets that fix the cladding system to the structure
The sheathing insulation (outside the sheathing board), held in place by insulation fixings and fitted between the helping-hand brackets. An air gap is created by the length of the helping hand brackets
The cladding panels forming the external finish fixed to the cladding rails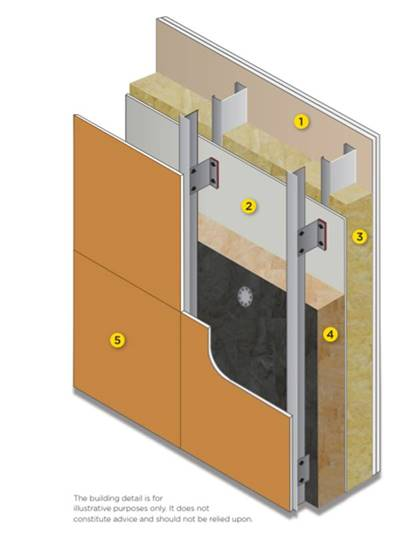 Rainscreen cladding
Rainscreen cladding systems are designed to keep both the structural frame and the thermal insulation dry through both the cladding panels themselves but also due to the airspace between the external cladding and the insulation. Such systems are lightweight when compared to brick and masonry solutions and can provide the designer with a wide range of aesthetic options due to the huge range of cladding panels available.
One type of ventilated facade system is the 'drained and vented' type. This variety is not weathertight, featuring as it does an open cavity to the top and the bottom of the cladding. Moisture can freely penetrate the joints between panels during periods of adverse weather. The top of the cavity is protected to minimise moisture entering while a moisture barrier (typically a breather membrane) is used to protect the building structure. It should be noted that these systems are typically specified on low-rise buildings.
Another type of ventilated facade system is the 'pressure-equalised' type. These rainscreen cladding systems are designed to prevent moisture from entering into the air gap between the cladding and the internal structure. Cavities are compartmentalised and when wind tries to drive moisture into the ventilation gap, the air in the cavity resists – acting as a 'cushion' and equalising the pressure by allowing the passage of air but not moisture. Any moisture that does penetrate the cladding is allowed to drain from the cladding system. This type is commonly specified on taller buildings in the UK.
Product choice
So, why choose a ventilated facade? A ventilated facade system consists of two distinct facades separated by an air cavity. This helps prevent rainwater from penetrating the building's structure and also helps to diffuse water vapour from the building's structure. The external cladding provides the majority of wind and rain protection, but the air cavity also contributes to keeping the building structure dry through allowing convection to remove any residual moisture from within the cavity between the two facades. The building structure, as we've seen, is commonly a steel or concrete frame, although timber framed, solid masonry and cross-laminated timber are all other possible options. With a steel or concrete frame structure a 'stick' infill of light gauge steel frame system (LSF or SFS) is typically used as infill walling within the primary structural frame.
Main advantages of specifying a ventilated facade system
There are several advantages to choosing a ventilated facade system:
Thermal insulation – if used in conjunction with a framed structure, a high level of thermal performance is possible with a relatively slim overall wall thickness
Acoustic insulation – due to the inherent sound deadening properties of mineral wool insulation, its use both within the SFS zone and also as the rainscreen insulation will help improve the acoustic performance of the external envelope, reducing unwanted external noise
Protection from the elements – the presence of two separate facades (and the air cavity between) means less chance of moisture accumulating in the building fabric, helping to prolong structural integrity and ultimately the lifespan of the building
Light weight – especially when compared to a traditional masonry cavity wall.
Aesthetics – a wide range of finishes and colours are available.
To maintain adequate airflow within the air cavity, 'open-state' horizontal cavity barriers must be used. These barriers typically consist of a mineral wool slab faced with an intumescent material that will expand rapidly when exposed to high levels of heat, closing the cavity off against the back of the cladding panels thereby preventing the spread of fire in the air cavity. In vertical locations a barrier that fully-fills the zone between the structure and cladding panel will typically be used.
U-values
It is also worth remembering that U-value calculations for ventilated facade situations are complex to produce and 3D thermal modelling software needs to be used rather than a simple U-value calculator. Providers of these calculations are recommended to have attended relevant training courses as accurate results depend very much on correct data entry. Accurate construction details for the build-up of the external wall as well as information on the brackets and fixings that will penetrate the rainscreen insulation slab are required in order to be able to generate an accurate U-value.
Masonry overcladding of framed structures
Figure Y shows the typical make-up of a masonry overcladding facade onto a light steel frame. Looking at this structure from inside to out there is:
The internal finish – typically two sheets of plasterboard
Tthe steel frame itself, with insulation between. It's a good idea to fully-fill the void in the SFS to avoid thermal bypass from uncontrolled ventilation, again via gaps and cracks in the building fabric
The sheathing board, providing the weather protection to the structure
The cavity insulation, in this case a black glass veil faced stone wool insulation. The channel component of the restraint system that helps fix the masonry outer to the structure. Such channels are fixed through the insulation into the SFS
The masonry outer leaf, held in place by wall ties slotted into the restraint system channel.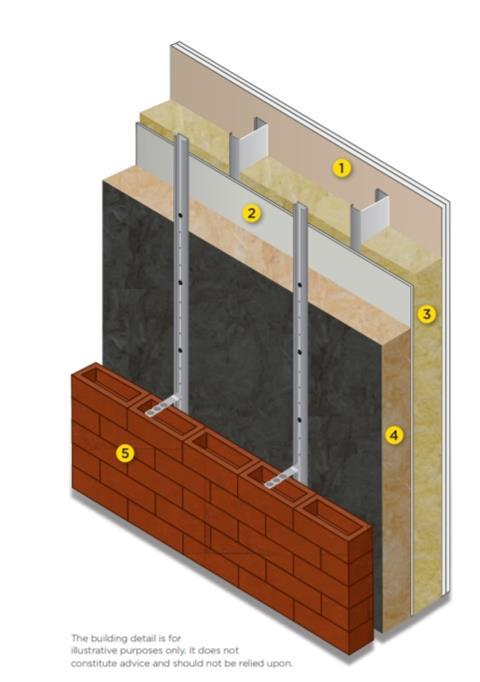 Main advantages of specifying a masonry overcladding system
The main advantages of using masonry cladding are:
Acoustic insulation – due to the inherent sound deadening properties of mineral wool insulation, its use both within the SFS zone and also in the cavity will help improve the acoustic performance of the external envelope, reducing unwanted external noise
Protection from the elements – the presence of the masonry outer leaf means less chance of wind-driven rain penetrating the building fabric, helping to prolong structural integrity and ultimately the lifespan of the building
Fire protection – the lack of a ventilated air cavity between the masonry facade and the insulation means this type of construction can typically be considered lower-risk in terms of fire propagation.
U-value calculations for masonry overcladding situations are simpler to produce than those for more complex wall constructions, such as ventilated facades. Widely available calculation software is used to generate these U-values. Although simpler to produce, accurate construction details for the build-up of the external wall are still required to be able to generate an accurate U-value.
Experience in producing U-values is also required as simple mistakes in data entry can result in wildly inaccurate U-values being generated – which could lead to insulation specifications not meeting Building Regulation requirements.
Fire regulations and compliance
It is critical to consider the most up to date Building Regulations when specifying facade systems on the buildings being discussed in this CPD.
There are several height cut-off points with Approved Document B of building regulations, recognising that fire risks in buildings generally increase as buildings get taller.
Prior to the amendments to the fire Building Regulations announced in December 2018, both combustible and non-combustible insulation materials were allowed in the external walls of buildings of above and below 18 metres above ground level.
As of 21 December 2018, only Euroclass 'A1' or 'A2-s1, d0' materials are allowed within external walls of relevant buildings (generally residential) with a storey at least 18 metres above ground level, (excluding roof-top plant areas or any storey consisting exclusively of plant rooms). There are some exclusions from this rule for minor components:
Cavity trays between masonry leaves
Door and window frames, doors and glass
Electrical installations
Insulation and water proofing membranes below ground level
Intumescent and firestopping materials
Membranes
Seals, gaskets, fixings and backer rods
Thermal breaks
Currently if the building does not have a storey above 18 metres or it is not classed as a 'relevant building' then the regulations have essentially not changed. Both combustible and non-combustible insulation is still permitted to be used within the wall.
More recently, revisions to the Scottish Building Regulations Technical Handbooks which came into effect in October 2019 state that insulation material exposed in the cavity should be Euroclass A1 or A2 where the storey height is greater than 11 metres.
Insulation
This section looks at the insulation outside the sheathing board that should be specified in these buildings types to comply with the recent changes to Approved Document B2. Stone mineral wool insulation slabs are a widely-used solution. Current NHBC & LABC technical guidance states that mineral wool manufactured to EN 13162 must be used.
The material has excellent fire credentials, as it is non-combustible Euroclass A1-rated and has proven thermal performance and inherent acoustic performance. The slabs are typically easy to cut and install, will butt together to avoid any air gaps which could compromise performance and have enough flexibility to accommodate substrate tolerances. The stone mineral wool will often feature a water repellent additive to help protect the insulation from moisture ingress.
Installation
This section covers installation guidance for insulation outside the sheathing board. It is recommended you speak to the insulation and fixing manufacturers for more specific advice.
The slabs should be protected from the weather until installation and any damaged slabs should not be used. Cutting can be performed with insulation saws or insulation knives and no additional PPE is normally required above that typical used on a building site.
To maximise thermal performance, joints between slabs should be tightly butted to ensure no gaps. Joints should also be staggered while coincidental joints should be avoided where possible.
The type of cladding system specified will usually dictate a design cavity that needs to be maintained between the external facade and the face of the insulation slab – it is important this is maintained. A typical fixing pattern is shown in figure 3, with a central metal 'fire' fixing in each slab and polypropylene fixings top and bottom of each slab. It is important not to overtighten fixings.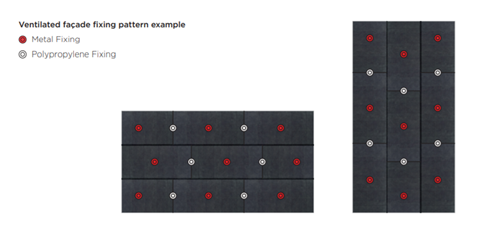 Detailed fixing-related advice should be sought from the fixing manufacturer as requirements can change depending on the specifics of each building (for example, the building height, aspect and geography).
When it comes to masonry overcladding systems the situation is a little simpler. The restraint system channel is fixed back to the frame through the insulation slab. It is important that fixings are not overtightened. Again, any specific fixing-related advice should be sought from the fixing manufacturer as again it can vary depending on the details of the building.
When installing slabs around openings in a ventilated facade situation, figure 4 details some key points to be aware of. When slabs are adjacent to an opening, there must be a fixing close to the opening. Any individual slab adjacent to an opening must not be too narrow in width or length. Every slab still needs a central metal 'fire' fixing. And to reiterate, joints should ideally be offset between slabs.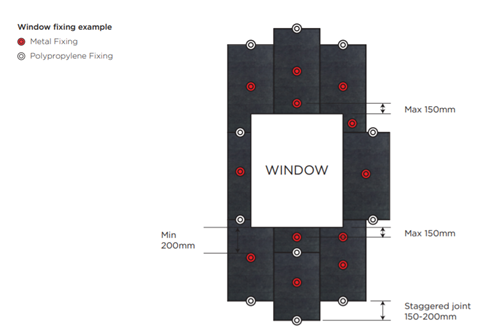 It is important to note that many insulation materials are designed for specific applications and these slabs are designed only for the applications detailed within this CPD. There are other applications where stone mineral wool slabs are often used and it is important when designing or specifying materials that the correct type of insulation is used for each application.
Conclusion
When specifying the external facades of a building, there are many considerations to ensure its safety, performance and aesthetics. Close reference to the latest Building regulations is critical, especially when specifying facade systems for buildings above 18 metres in height.
Specialist mineral wool insulation for facade applications is available with a non-combustible Euroclass A1 fire rating, making it suitable for use in buildings below and above 18 metres. Alongside contributing to the thermal performance, its inherent acoustic properties will also help reduce external noise to improve acoustic comfort of those working and living within a building.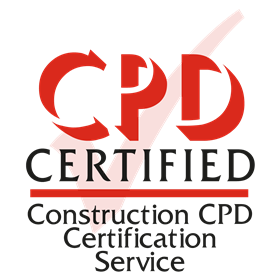 How to take this module
Assemble Media Group's CPD distance-learning programme is open to anyone seeking to develop their knowledge and skills. Each module also offers members of professional institutions an opportunity to earn between 30 and 90 minutes of credits towards their annual CPD requirement.
This article is accredited by the CPD Certification Service. To earn CPD credits, read the article and then click the link below to complete your details and answer the questions. You will receive your results instantly, and if all the questions are correctly answered, you will be able to download your CPD certificate straight away.
CPD CREDITS: 60 MINUTES
DEADLINE: 13 DECEMBER 2019

Privacy policy
Information you supply to Assemble Media Group Limited may be used for publication and also to provide you with information about our products or services in the form of direct marketing by email, telephone, fax or post. Information may also be made available to third parties. Assemble Media Group Limited may send updates about Building CPD and other relevant Assemble Media Group Limited products and services. By providing your email address you consent to being contact by email, telephone, fax or post by Assemble Media Group Limited or other third parties. If at any time you no longer wish to receive anything from Assemble Media Group Limited or to have your data made available to third parties, contact the Data Protection Coordinator at building@building.co.uk. View our full privacy policy here