Secondary glazing offers a range of benefits for both new builds and refurbishments. This CPD highlights the key design considerations. It is sponsored by Selectaglaze

How to take this module
UBM's CPD distance-learning programme is open to anyone seeking to develop their knowledge and skills. Each module also offers members of professional institutions an opportunity to earn between 30 and 90 minutes of credits towards their annual CPD requirement.
This article is accredited by the CPD Certification Service. To earn CPD credits, read the article and then click the link below to complete your details and answer the questions. You will receive your results instantly, and if all the questions are correctly answered, you will be able to download your CPD certificate straight away.
CPD CREDITS: 60 MINUTES
DEADLINE: 27 MAY 2016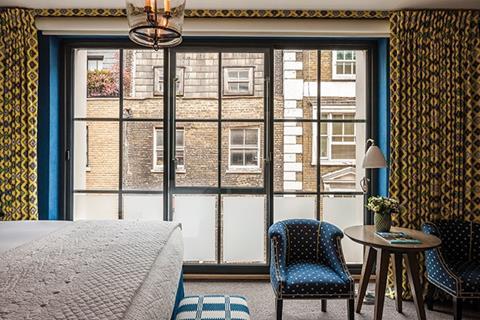 INTRODUCTION
Secondary glazing is a fully independent window system installed to the inside face or room side of the primary window. It can be retrofitted into an existing building or installed as part of a new build to provide triple glazing. Although it is often perceived as an outdated solution, crude and unsuited to listed buildings, aluminium extrusion technology allows the production of complex frames that are strong and lightweight and support high standards of insulation and security. It is recommended for use in appropriate circumstances by all heritage bodies.
This CPD will outline the benefits of secondary glazing and the key design considerations in its specification.
BENEFITS OF SECONDARY GLAZING
Secondary glazing can offer significant noise insulation, thermal insulation, enhanced security, a cleaner environment with improved air quality and, subject to glazing specifications, protection against the damaging effects of UV light. Here we look in detail at some of the key benefits.
Control of noise
The World Health Organisation and British Standard 8233 both set out guidelines for acceptable sound levels in a range of environments. An acceptable sound pressure level (SPL) is 30-35dBA for a bedroom, 35-50dBA for a classroom or meeting room and 45-50dBA for a typical open office. Traffic noise close to the facade of a building on fairly busy roads will be 70-80dBA and hence sound reduction of 30-50dBA is required.
A single-glazed opening window without seals will achieve a reduction of only 18-25dBA, rising to about 30dBA for a single fixed pane. A typical double-glazed unit can offer 34dBA, but a secondary window with an air space of at least 100mm will achieve 45dBA or more.
This is because sound is transmitted through a window by direct vibration of the glass. The larger air space created by secondary glazing decouples the movement of the inner and outer glass, which means they act as separate barriers, thereby reducing resonance. By contrast, a sealed glass unit, where the two panes of glass are rigidly connected and have a minimal cavity, performs little better than a single pane.
Airborne sound is also a major problem with ill-fitting windows – a 1% gap in the total window area can reduce sound insulation by as much as 10dB. A purpose-made secondary window seals the whole of the external window with frames bedded in non-setting mastic and opening panels fitted with twin-brush or compression seals.
Energy conservation
The 2008 Climate Change Act committed the UK to cut greenhouse gas emissions by 80% against 1990 levels by 2050. Since buildings account for 40% of emissions and 80% of existing stock will still be standing in 2050, retrofit solutions will be essential if the targets are to be met.
Energy efficiency in buildings undergoing renovation or upgrade is covered by Part L1B and L2B of the Building Regulations. Controlled fittings such as windows must meet strict performance standards, but the regulations acknowledge the sensitivity of working on listed buildings. Hence single-glazed windows that are part of the historic fabric of the building can be retained and secondary windows incorporating low-emissivity glass fitted, subject to listed building consent.
A secondary window traps an insulating mass of air between the inner and outer glass and the resulting warmer surface of the inner glass limits convection currents. Isolated frames are also less conductive and draughts are significantly reduced by efficient seals applied both to the frame and opening panels. If a low-e coating is applied to the inner glass it will reflect back infrared radiation and so retain energy in the room.
A single-glazed steel window achieves a U-value of about 5.7W/m2K, which falls to about 4.7 W/m2K with a better-insulating timber frame. A secondary window with standard glass achieves a significant reduction to about 2.9 W/m2K, and if a hard-coat low-e glass is specified it falls below 2 W/m2K, a near 60% reduction. The inclusion of sealed units creates triple glazing and will achieve U-values down to 1.4W/m2K.
Security
Secondary glazing can provide varying levels of protection against intruders and the effects of blast. It can also aid containment in locations such as laboratories and secure health facilities.
Protection against intruders Most intruders do not break glass because the noise can draw attention, and because weak window frames with poor fittings are quite easy to force open using small tools. A standard secondary window, even with simple locks, provides a second barrier to entry.

The recognised test standard for enhanced security is PAS 24:2016. The test assumes a stealth attack and so does not allow for glass breakage. Frames are subjected to a 3kN static load followed by attempts to remove the glass or force the window open using a range of tools. Secondary windows with more robust frames and strengthened locks which meet the security requirements of PAS 24 are accepted as a police-preferred specification under the Secured by Design initiative.

Areas of high risk, including those needing containment, require systems that can resist sustained attack on both the glass and frame. The applicable standard is LPS 1175 from the Loss Prevention Certification Board (LPCB). This is used for a range of building elements including doors, shutters, grilles, and windows. Test levels are graded by reference to the attack time and severity of tools. Secondary windows have been tested to level 3. All certified products are listed in the LPCB's RedBookLive website and twice-yearly audits ensure continued compliance.

Blast mitigation Secondary windows can incorporate laminated glass which does not break into damaging shards. The level of protection will be decided by a number of factors including glass edge cover, the strength of locks, frame design features and structural fixings.

The test standard used for products including windows is ISO 16933. This allows for a range of charges but 100kg TNT equivalent is commonly used against targets positioned at controlled distances.

Test level EXV45 uses a stand-off distance of 45m and can be met by lightweight products fitted with standard locks and glazed with 6.8mm laminate glass.
EXV33 at 33m requires more robust frames and locks but 6.8mm laminate glass will still perform well.
EXV25 at 25m is a standard used when designing protection for significant buildings. The laminated glass must have a minimum 1.52mm interlayer of Polyvinyl butyral. The thinnest glass is 7.5mm but 9.5mm and 11.5mm are regularly specified. Frames, locks and fixings are all significantly enhanced.
EXV15 at 15m deals with a very high level of risk and can be met with a demountable fixed frame glazed with a 15mm-thick five-ply laminate.
DESIGN CONSIDERATIONS
There are many factors affecting the design specification of a secondary window and its interface with the other elements. These will include:
the purpose of the installation – noise or thermal insulation, or security
how the client wishes to use the windows
aesthetics – particularly important for listed buildings
how windows should be maintained.
Frame options
There are several styles of frame design. These include:
Horizontal sliding systems These are very versatile, with two or more panels running on glide-pads, or rollers for larger windows. The panels slide within the frame so there are rarely problems with bulkheads, blinds or curtains. The panels can be removed quite simply for maintenance by lifting them into the head frame and swinging them out. Frames range from slimline for most applications, to heavy-duty for enhanced acoustics or security, and high-security where increased levels of protection are needed.
Vertical sliding systems These are mostly used to treat traditional sash windows. They operate on spring balances that fully support the weight of the glazed panel or sash. A minimum 75mm frame cavity is recommended in order to provide sufficient access for cleaning. Options include slimline frames incorporating lightweight springs and tilt-in systems that allow the sashes to hinge inwards for cleaning. This style should have restrictor stays to ensure safety in operation, and braking mechanisms are desirable to inhibit sliding in the open position. Heavy-duty frames that accept larger diameter springs offer enhanced acoustics or security, and high-security frames offer significant levels of protection.
Hinged casements These allow easy access to the outer window and are unobtrusive, with no transoms or mullions to impede the view. They can be single or double leaf, and in a top-hung, bottom-hung or stable-door format. Colour-matched flush hinges can provide very clean lines to the room side and high-memory compression seals minimise air leakage. Multi-point locking ensures a good seal and improved security, and a flush lock option is offered in some ranges. Slimline, heavy-duty and high-security frames are available, as well as a minimal "heritage" option that can sit within the staff bead of a sash window.
Shaped and curved frames Many buildings have shaped or curved windows and secondary glazing should, where possible, follow the lines to provide the most sympathetic treatment. Aluminium is particularly suited to bending and curves on-elevation or on-plan are available in many of the window styles. Raked windows can be produced in all styles.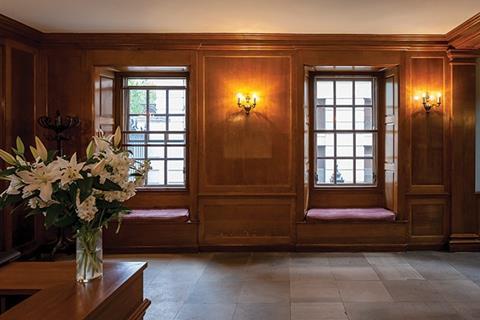 Frame finishes
Secondary windows normally have a polyester powder paint finish in a standard white but a wide range of RAL colours can be specified. Other options include painted timber-grain effects and anodised finishes, usually in silver, bronze or black.
Glazing
Secondary windows can incorporate a very wide range of glass, including sealed units when triple glazing is required. Glazing and safety is covered by BS 6262, the code of practice for glazing, and Approved Document N, requirement N1 – protection against impact. This requires the use of safety glass wherever a pane of glass extends below 800mm from finished floor level, or 1,500mm for doors and windows next to doors.
Ventilation
Rules on trickle ventilation are contained in Approved Document F, requirement F1 – means of ventilation. These are designed to reduce the damaging effects of condensation and apply to new-build and major refurbishments. It is normally sufficient to open internal secondary windows to provide this ventilation but sometimes trickle ventilators are required in both inner and outer windows – 8,000mm2 for habitable rooms and 4,000mm2 for other rooms. They can be fitted within an enlarged timber sub-frame usually at the head.
Practical issues
It is important to establish any physical restrictions and interfaces with other building elements at an early stage. This would include issues such as lack of reveals, clearances for pivot windows and sill support but must also take into account a range of factors such as ceiling bulkheads, partition layouts, new raised floors, curtain or blind positions, extractors and window cleaning eyebolts. Failure to consider such issues early in the design process could lead to late changes that impact on programme and costs.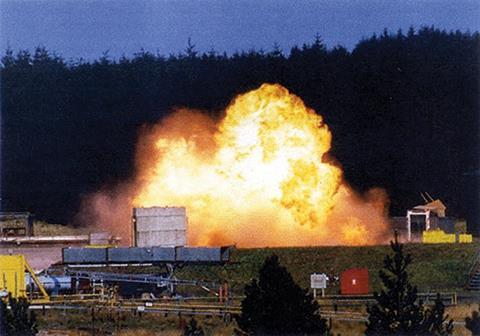 Health and safety
CDM regulations require the product to be designed so that it can be safely operated, handled and maintained. Manual handling guidelines recommend a weight limit of 25kg for a fit man, and 6mm glass weighs 15kg/m2. It is therefore important to consider panel sizes, safe access for installation and cleaning and the physical capabilities of the end users, as well as the installer.
Control of Substances Hazardous to Health (COSHH) regulations will apply to sealant mastics and some cleaners.
Maintenance
A detailed maintenance manual should be provided for all products and passed to the building owner or their agent on completion of an installation. Maintenance will involve general cleaning, occasional adjustment of spring balances, ensuring running tracks of horizontal sliding units are clear and, when necessary, lubrication of hinges and handles.
Sustainability
Optimised cutting programmes can reduce aluminium use, and all cutting waste and used frames are recyclable. According to the Council for Aluminium in Building, an estimated 90% of aluminium used in buildings is recycled at end of life and this requires only 5% of the energy used in producing new aluminium from raw bauxite. In new products, 30% of aluminium is now recycled.
Paint finishes can be specified that are non-toxic, and softwood used for subframes can be FSC-certified. In addition glass cullet can be recycled in a number of ways, some being turned into new glass and some into alternative materials such as road surfacing.

How to take this module
UBM's CPD distance-learning programme is open to anyone seeking to develop their knowledge and skills. Each module also offers members of professional institutions an opportunity to earn between 30 and 90 minutes of credits towards their annual CPD requirement.
This article is accredited by the CPD Certification Service. To earn CPD credits, read the article and then click the link below to complete your details and answer the questions. You will receive your results instantly, and if all the questions are correctly answered, you will be able to download your CPD certificate straight away.
CPD CREDITS: 60 MINUTES
DEADLINE: 27 MAY 2016

Privacy policy
Information you supply to UBM Information Ltd may be used for publication and also to provide you with information about our products or services in the form of direct marketing by email, telephone, fax or post. Information may also be made available to third parties. UBM Information Ltd may send updates about Building CPD and other relevant UBM products and services. By providing your email address you consent to being contacted by email by UBM Information Ltd or other third parties. If at any time you no longer wish to receive anything from UBM Information Ltd or to have your data made available to third parties, contact the Data Protection Coordinator, UBM Information Ltd, FREEPOST LON 15637, Tonbridge, TN9 1BR, Freephone 0800 279 0357 or email ubmidpa@ubm.com. View our full privacy policy at www.building.co.uk/cpd