Economic growth is slowing as falling real wages hit consumer spending, but the labour market is proving robust. In construction, activity is holding up, partly thanks to a big boost from HS2 contract awards in September. Michael Dall looks at the highlights of Barbour ABI's monthly Economic & Construction Market Review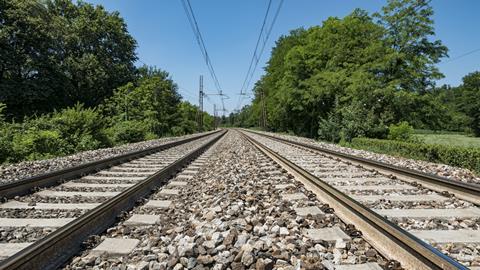 Economic context
The pace of economic growth continued to slow in September, according to the Markit All Sector Purchasing Managers' Index (PMI) indicator. The reading for September was 53.6, a slight reduction from the August's 53.8. A figure above 50 indicates growth and, according to Markit, September's reading is consistent with growth of 0.3% for the third quarter, which would indicate a continuation of the lower levels of growth seen in 2017. It is worth noting that Markit over-predicted economic growth for the second quarter, so it is possible the official statistics will show even slower growth in the third quarter.
Q2 figures confirmed that the rate of growth in private consumption is slowing. According to the Office for National Statistics (ONS), the rate grew by 1% in Q2, compared with 1.4% in Q1, and 2% a year earlier. There is evidence that consumers are delaying discretionary expenditure decisions owing to the fall in the level of real wages. Net trade was a positive contributor to GDP in Q2, growing by 0.4%, and this has been gradually increasing over the past two quarters as the lower value of sterling leads to an increase in demand for British goods from abroad. This improvement in net trade, however, has not been enough to offset the falls in private consumption.
The labour market is proving robust, with unemployment declining to 4.3% in the three months to July. Recent analysis also shows falling underemployment: the number of workers who would like to work longer but cannot secure more hours fell by 21,000 from the previous quarter. There are now 1 million involuntary part-time workers, down from 1.5 million in July 2013.
The level of wages is still a challenge for the UK economy. Average weekly earnings in the three months to July 2017 grew by 2.1% compared with a year earlier. Adjusting this for inflation shows real wages are actually 0.4% lower. This shows how inflation continues to outstrip wage growth, hampering consumers' ability to spend.
Other news on the economy includes:
The International Monetary Fund cut its forecast for 2017 world economic growth by 0.3% and now predicts GDP growth of 1.7% this year
The Office for Budget Responsibility is expected to revise its estimates for productivity growth downwards in next month's Budget, hitting the government's deficit forecast
UK retail sales rose for a fourth consecutive month in September after the onset of higher prices for clothes and food
A Society of Motor Manufacturers and Traders survey showed September's new car sales 9.3% lower than a year earlier – the first time the September market had declined in six years.
The construction sector
The latest ONS figures show the UK construction sector grew by 0.6% between July and August 2017. Industry output was 3.5% higher than August 2016. The main reason for the monthly rise was an increase across the board in new work. Only the private commercial sector declined, down 0.5%. Infrastructure grew by 3.6% and private industrial by 3.4%. However, the level of repair and maintenance fell in August by 1.4%.
Comparing construction output in August 2017 with August 2016 shows overall growth of 3.5%. Only public work declined, by 7.4%. Comparing the past three months with the preceding three shows a 0.8% fall in output, demonstrating that in the broader picture construction activity is declining. However, while the level of private housing continues to grow annually, growth prospects will remain broadly positive.
According to Barbour ABI data on all contract activity, September saw a further rise in construction levels, with the value of new contracts awarded hitting £6.9bn, based on a three-month rolling average. This is a 20.8% increase from August and 22.7% up on September 2016. The number of construction projects within the UK in September fell by 28.5% compared with August, down 16.5% on a year earlier.
CPA/Barbour ABI Index
The CPA/Barbour ABI Index, which measures the level of contracts awarded using January 2010 as its base month, recorded a reading of 136 for September. This is a decrease from the previous month and supports the view that while overall activity in the industry remains solid, the speed of growth is slowing. The readings for private housing were down over the month, and commercial offices were also down from last month's level, at 109. Commercial retail increased this month, and the reading for industrial factories was significantly higher in September.
Projects by region
The West Midlands was the leading region for contracts awarded by value in September, with 35% of the total. This was followed by London, with 28% and the East Midlands with 15%. The remaining regions accounted for between 1% and 4% each of contracts awarded by value.
The highest-value contract in each of the leading regions all related to HS2 (see infrastructure spotlight, overleaf). Other notable contracts in these regions include the £300m redevelopment of the Old War Office building in Whitehall into a 125-bed hotel and 88 flats; the £65m Arena Central commercial office development in Birmingham, and the £50m Project Medius in Leicester to provide 252 hotel bedrooms, 4,019m2 of office space and redevelopment of the former railway station.
Types of project
The award of several higher-value HS2 contracts in September made infrastructure dominant, with a 67% value share of contracts awarded, followed by residential with 14%, industrial with 6% and commercial and retail with 5%. The highest-value non-HS2 infrastructure project was the £36m M1-A1 link road at Wetherby, followed by the £30m, 40,725m2 multi-storey car park at Central Milton Keynes.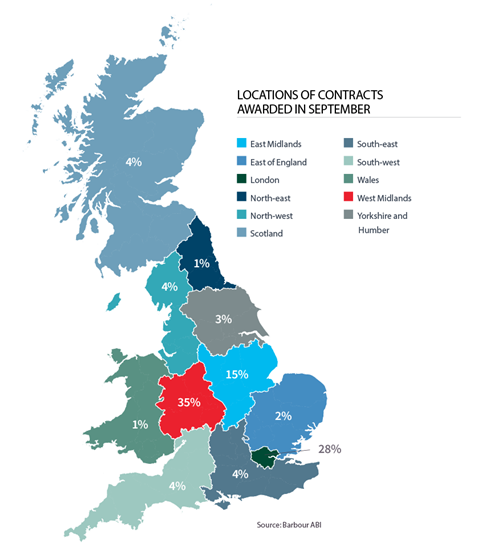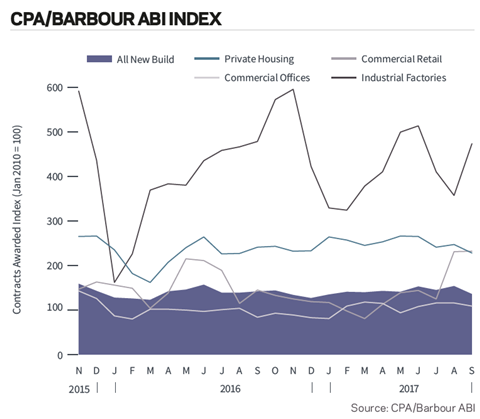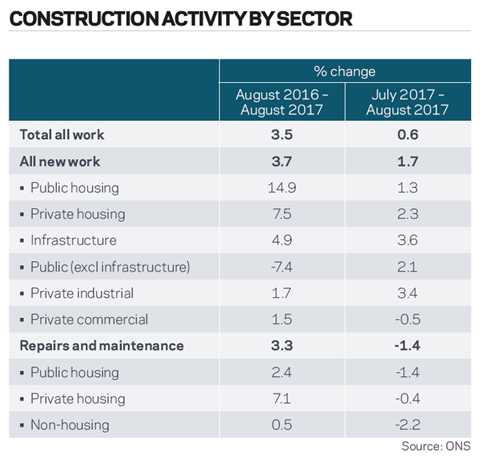 Construction performance by sector: spotlight on infrastructure
The total value of contracts awarded in the sector in September was £2.9bn on a rolling three-month average, boosted by HS2 contracts. September value was 315.3% higher than August and 83.9% higher than a year earlier. In the three months to September, the total value of contracts awarded was £4.4bn based on a rolling three-month average. This is 10.6% higher than the previous three months but 0.9% lower than a year earlier.
Projects by region
The West Midlands was the main location for infrastructure projects in September, with 49.1% of value of contracts awarded, up from 2.5% in September 2016. There were three major contracts for HS2, with a combined value of £3.1bn: Birmingham Spur, Long Itchington Wood Tunnel and Delta Junction.
London was the next most active region with 29.5% of awards, up from 5.3% in September 2016. The largest contract was another HS2 project, the Chiltern Tunnels and Colne Valley viaduct. The £1.3bn project went to Align Joint Venture, comprising Sir Robert McAlpine, Bouygues UK and VolkerFitzpatrick. The £900m Euston Tunnels and Approaches contract, also part of HS2, was awarded to the SCS Consortium (Skanska Construction UK, Costain and StrabagUK).
The East Midlands took a 17.6% share of contracts, led by another HS2 contract, the £1.3bn North Portal of the Chiltern tunnels, awarded to the CEK Consortium (Carillion Construction, Eiffage Genie Civil and Kier Infrastructure).
Non-HS2 infrastructure contracts awarded include the £18m A90/A96 Haudagain Improvement Project in Aberdeen awarded to Environtec.
Type of projects
Boosted by the number of HS2 contracts awarded in September, civil engineering had a 97% share of contract values awarded. This is 71% up on September 2016. The only other subsectors to feature were transport with 2% and civic and public with 1% of values awarded.