Its second consecutive quarter of falling output puts the construction sector technically into recession – while the rest of the economy is growing slowly. New contract awards, however, are 18% up on a year ago. Michael Dall presents the highlights of Barbour ABI's monthly Economic & Construction Market Review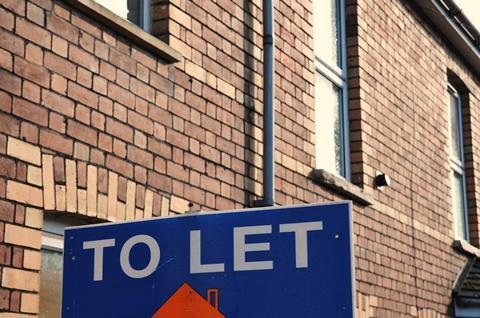 Economic context
The latest economic output data from the Office for National Statistics shows that in Q3 growth increased to 0.4%, up from 0.3% in Q2. Over the past 12 months the UK economy has grown by 1.5%, which is below the average rate of 1.9% since 2010. Since the start of 2014 the average growth rate has been 2.2%, so the latest statistics clearly show a slowing rate of economic growth during 2017. The economy is now 9.7% larger than the peak before the 2008 financial crash, demonstrating the recovery since then.
The services sector continues to drive growth, accounting for 79.3% of output in the latest statistics. However, its rate of growth slowed to 0.4% in Q3, down from 0.5% between Q3 2009 and Q2 2014. The production sector (which is predominantly manufacturing) accounted for 14% of output, with growth accelerating to 1% as currency weakness boosts exports. Construction accounted for 6.1% of output, but was the one sector that shrank in Q3, declining by 0.7%.
The labour market is still proving robust, with unemployment remaining at 4.3% in the three months to September. This is the lowest rate of unemployment since March to May 1975. Inflation was unchanged at 3% in October, as measured by the Consumer Price Index, and the Consumer Price Index including Housing (CPIH) was 2.8%, also unchanged. This is the highest level of inflation in five years. The main driver of inflation in October was food prices, which grew at the fastest rate since October 2013.
Taken together this data shows a UK economy generally coping well with the headwinds facing it, but with signs that the rising level of inflation is affecting consumer spending and therefore the level of economic growth is now below long-term averages – and the two consecutive quarterly declines in construction output are potentially a portent of a slowing investment climate. As the Brexit negotiations continue, more certainty will help businesses with their investment decision process. However, given the lack of progress thus far it is difficult to assess its full impact on UK economic growth in the future.
Other news on the UK economy includes:
RICS results for October show 20% more of its members reporting a fall in new buyer enquiries.
The Bank of England predicts pay growth will increase from 2-3% this year to 2.5-3.5% next year
UK retail sales fell in October with the like-for-like figure 1% below that in October 2016, according to the British Retail Consortium
A Society of Motor Manufacturers and Traders survey showed new car sales were 12.2% lower in October than in the same month last year.
The construction sector
New construction contracts awarded reached the £7bn threshold in October 2017, showing marginal increase on September and an 18% increase on October 2016. The latest figures from the ONS indicate the construction sector in the UK declined by 0.9% between Q2 and Q3 2017. This followed a decline of 0.5% between Q1 and Q2. Two consecutive quarters of decline is defined as a technical recession, and it is the first time this has happened since Q3 2012. In September alone construction output declined by 1.6% compared with August.
The main reason for the quarterly decrease in output are falls in housing repair and maintenance as well as private commercial work. Private housing repair and maintenance declined by 1.7% in the quarter, while the corresponding public housing figure showed a decline of 3.9%. New work in the private commercial sector declined by 3.1% between Q2 and Q3. Over the same period output in the infrastructure sector fell by 2.1%. Traditionally the commercial, infrastructure and housing sectors account for the majority of construction output so the falls are notable.
However, output in both the public and private housing sectors increased in Q3. Public housing output was 4.9% higher than Q2 and private housing was 1.8% higher, indicating a solid platform for growth for the entire industry. However, the challenge will be whether continued growth in housing can offset the declines in the other large sectors.
The CPA/Barbour ABI Index, which measures construction activity using January 2010 as its base month, recorded a reading of 134 for October. This is a decrease from the previous month and lower than this time last year. The readings for private housing were slightly down over the month, and commercial offices continued to fall, again dipping below 100, which signifies declines in activity. Commercial retail recorded a marginal decrease in October and industrial factories showed a significant rise.
According to Barbour ABI data on all contract activity, October continued the recent trend of increasing contract awards, with the value of new contracts awarded at £7.1bn, based on a three-month rolling average (and principally as a result of HS2 contract awards in September). This is a 2% increase on September and is 18.1% higher than October 2016. The number of construction projects in the UK in October increased by 2%, but was 9.5% lower than October 2016.
London was the leading region for contracts awarded by value in October at 25% of the UK total. This was followed by the North-west and the South-east, both with 14% of value awarded. Scotland and the East of England also had significant share at 11% and 9% respectively. The highest-value contract was the £500m Peninsula Hotel London at 1-5 Grosvenor Place, providing a 190-bed hotel as well as 28 high-end apartments.
Types of project
In contrast to September 2017, when HS2 contracts dominated, residential projects accounted for the highest share of contract awards values in October with a 37% share, followed by hotel, leisure and sport with 20% and education at 14%.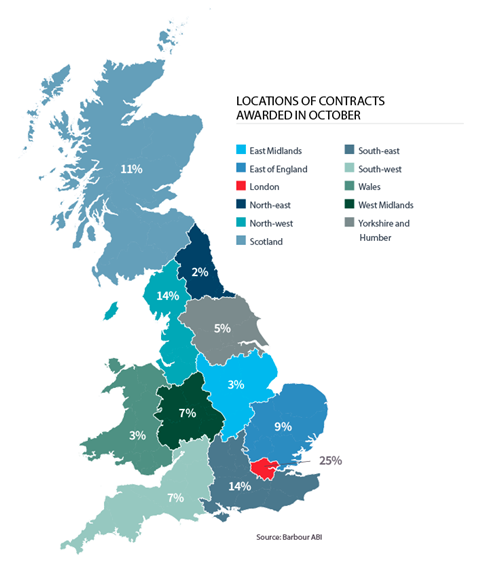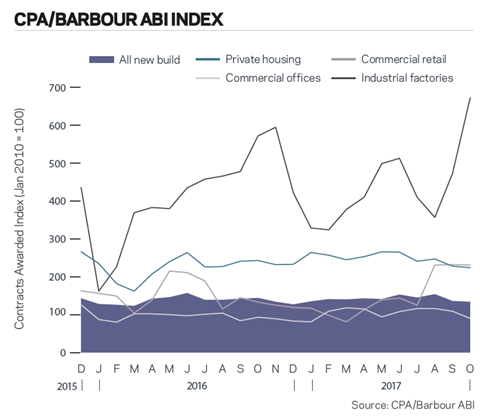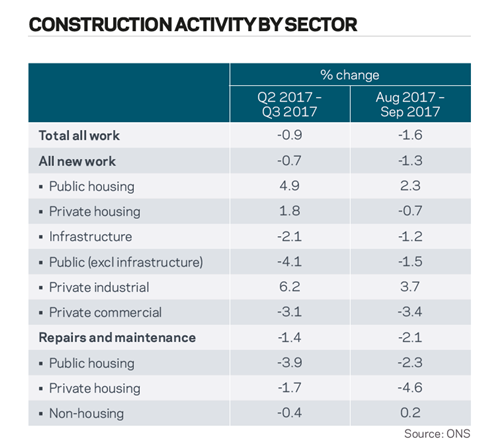 Construction performance by sector: spotlight on residential
Contract activity continued to decline in October, providing significant contrast to the summer months. The value of contracts awarded fell to £1.7bn based on a three-month rolling average. This is 4% lower than September and 25.4% lower than the same month in 2016. October also witnessed an 8.7% decline in unit numbers on a three-month rolling average. Comparisons with unit numbers in October 2016 also indicate an 8.7% decline. This underlines a downward trend for residential developments for both value and unit numbers in September and October, following the positive trend from June to August.
House prices
The latest house price indices for October from Halifax show 0.3% growth on September but with a 4.5% increase on October 2016. In addition, the Nationwide reported annual house price rises of 2.5% for October, up from a revised 2.3% for September, with the UK average house price now at £211,085.
Projects by region
The North-west accounted for the largest share of residential contract awards in October at 19.4%, an increase of 4.3% on October 2016. The highest-value contract for the region was the £150m redevelopment of the Portugal Street East (phase one) in Manchester. The scheme, run by Aecom and Olympian Homes, will provide 340 flats, commercial units and a gym. The next-largest region for residential contract awards in October was the West Midlands at 12.8%, up 5.7% on October 2016. The £47.5m Deanslade Park Project at Lichfield in Staffordshire by Taylor Wimpey was the largest residential contract award in the region.
Type of projects
Residential contract awards in October were dominated by private housing, which accounted for 78% of the value of contracts awarded, an increase of 6% on October 2016. The next-largest sector was housing associations, with 9% of total value, down 6% on the corresponding month in 2016.