With all the talk about offsite construction and the savings it can offer, how in practice does a project team actually realise these benefits? Gavin White and Andrew Mather of Ramboll look at the data
01 / Why offsite?
The construction industry is undergoing some dramatic changes and is in the spotlight more than ever before. Numerous reports and news articles have highlighted poor productivity, low quality standards, lack of co-ordination, and dependency on an ever-shrinking and fragile talent base.
The industry is in the cross hairs for improvement by end users on one end of the spectrum and under scrutiny by governments, lenders and regulators on the other. Standards everywhere are rightly increasing – whether health and safety, quality, construction time or customisable standardisation – while the pressure for cost reduction is ever-present.
Offsite construction and digital design methods have proved to be the main response to these pressures. They have the potential to not only meet all the expected standards, but also to create other opportunities, as innovative mainstream suppliers as well as new disruptors are proving.
One current example is the world's tallest volumetric steel modular development, the 44-storey and 38-storey towers of HTA-designed 101 George Street, in Croydon, set to be built in record time. Another is the new volumetric cross-laminated timber (CLT) offering pioneered by Swan Homes in Basildon and Laindon in Essex, and Watts Grove in east London.
02 / The potential of offsite
There are major advantages for those that can capitalise on offsite construction and digital design. In conjunction with Gardiner & Theobald, we estimate that a well programmed and developed offsite construction solution in the residential market has the potential to have a 20% shorter programme than traditional methods, with fully fitted-out modular volumetric construction times as much as 40% less.
Less time spent on the on-site stage of the programme, which is a tremendously costly part of the process, should in turn have a significant impact on cost and cashflow if the solution is put to work correctly.
Furthermore, offsite construction adds more value through significantly improved quality, shorter programmes, more accurate programmes (often needed now with construction funding models), reduced number of site operatives, quieter and safer construction methods, and greater detail early in the design process.
The examples below show data from real projects with estimated comparisons with more traditional techniques.
Dalston Works, London
Comparison of 10-storey, mixed-use CLT frame, completed in 2017, with traditional concrete and steel frame:
CLT
Concrete
Steel

Average site team

5

15+

10+

Material volume

4,030m3

2,630m3

1,550m3 concrete,
64m3 steel

Weight of superstructure (frame only)

1,900 tonnes

6,600 tonnes

4,400 tonnes

Number of units

121 (+ 20 future extension)

106

121

Embodied carbon

850 tCO2e

2,200 tCO2e

1,400 tCO2e

Carbon sink for sequestration

-2,500 tCO2e

0 tCO2e

0 tCO2e

Estimated programme

29 weeks

35 weeks

32 weeks
Crescent Point, Plymouth
Comparison of 13-storey residential student accommodation modular frame, completed in 2017, with traditional concrete frame
Modular
Concrete

Average site team

9

15+

Material volume

360 modules

2,210m3

Weight of superstructure
(frame only)

3,200 tonnes

5,300 tonnes

Number of units

349

349

Embodied carbon

1,200 tCO2e

1,800 tCO2e

Carbon sink for sequestration

0 tCO2e

0 tCO2e

Estimated programme

9 weeks + 9 weeks core construction

29 weeks
03 / The challenge with offsite
The term "offsite" can encompass anything from CLT panels to unitised facade systems, from fully finished "bed made" volumetric steel modules to MEP riser units.
There are a huge variation and range of techniques in offsite construction, and understanding the benefits for a particular project can be challenging. Indeed the benefits are normally only realised through a carefully co-ordinated and detailed holistic view.
Costing:
Pricing offsite construction methods needs a different and more iterative approach than traditional build methods. Typically there is no easily accessible data on the rates for an offsite approach for early stage cost plans. If you do have rates from a few suppliers, they are often not directly comparable due to the different offerings of each manufacturer.
More importantly, the cost benefits of offsite methods are not about material costs alone. Savings also come from shorter construction times and reduced follow-on trades, therefore requiring a detailed knowledge of the impact of each offsite method on the overall programme.
This means that cost plans need to iterate much more often and quickly, with close collaboration from the rest of the project team. If not, then there is a risk of misleading information or missed opportunities.
Design and procurement:
The design process for offsite construction is also very different to a traditional build process. If a client was to tender on RIBA Stage 4 information with little input from an offsite consultant or contractor, it would almost certainly have locked in design decisions, which make offsite construction methods more costly and less efficient.
Consequently, offsite suppliers often get involved early in the design process, with the RIBA Plan of Work 2013: Designing for Manufacture and Assembly being a helpful guide. This ensures the design is in accordance with the manufacturing criteria and helps develop the cost plan in more detail. However, there is a risk of involving a single offsite supplier too early since a client could lock in its construction method and miss out on potential value from alternatives.
A detailed knowledge of both the breadth of offsite suppliers and their capabilities is required to correctly advise clients on the right technical details as well as the right procurement route. This is typically in short supply since suppliers are focused on their product alone, and consultants often lack the required breadth and depth of knowledge.
04 / How to develop an offsite approach
Offsite approaches have been developing in the industry for a number of years, and have led to important lessons being learned about how best to ensure a successful offsite approach. Three such points are:
1. A constraints-led design approach
Understanding constraints must lead the design approach, if offsite construction is to deliver value. These constraints could be of manufacture, handling, transportation, lifting or installation, as well as project site-specific criteria such as geotechnical conditions. Each part is important and should not be overlooked so avoid expensive bespoke solutions late in the project can be avoided.
The architect in particular must understand these constraints and develop the concept within them. This is not to stifle creativity or elegant form, but to ensure that a project does not get locked into design decisions that are fundamental to the brief but at odds with the offsite constraints and so result in expensive solutions.
In line with these aims, we have developed a suite of digital design tools. These extract data from an offsite technical database, which contains different manufacturers' constraints based on detailed knowledge of the offsite construction market. This helps understanding of what the impacts or red lines are at the start of the design process.
An example is given overleaf for the relative cost of cross-laminated timber panel widths, with acknowledgement to B&K Structures. It can be seen that minor adjustments to panel widths can lower costs by 10-20%.
2. A combined discipline approach
Linked with the point above, since the constraints of offsite lead the design, they must be considered in a holistic way by all disciplines. Fire, acoustics, daylight assessments, energy performance, sustainability criteria and facade details, among other factors, must be developed in close combination with the architectural, structural and mechanical, electrical and plumbing designs from a very early stage.
This is driven both by the need for a fully co-ordinated construction model prior to manufacture, which may be months before construction begins, but also by what is possible with the offsite system or systems selected for the project. The costing and planning of the project must also be integrated into the design process and not a separate work flow.
In our experience, projects that maximise BIM and incorporate all disciplines in the process see the most value from offsite construction. Offsite construction requires co-ordination, but thrives with data-rich collaboration. There is a huge opportunity for enabling this combined discipline approach through digital design approaches at the start of the project, and inversely a large risk from not doing so.
Furthermore, the tendering and procurement processes need to be closely co-ordinated with the offsite approach and specific systems involved. The supply chain and contractors are very likely to be involved in early design stages, but the wording of tender specifications and contracts must be carefully considered with no one-size-fits-all. Clients can easily find themselves locked into a limited supplier base if tendered too early, but also, if contracts are left too late then the costs can be dramatically higher since the design hasn't been carried out for the correct constraints.
3. Understanding where the biggest value really is and how to maximise it
What are the main drivers for the client? Is it all about cost, or is it quality as well? Is the life-cycle cost or is the capital offset at the start more important? Are there any limitations on the funding source? How many units/ft2 make the scheme viable? Will sustainability have the extra benefit of helping to attract end users? Each client will answer these questions differently depending on their business model and values.
What level of standardisation is best for the project? This is probably one of the most important questions. Aiming for a 100% standardised solution (in whatever component or product) is wishful thinking. Understanding the value sensitivity between 60-80% standardisation is far more worthwhile, since this is where the design team can optimise without changing the initial project brief.
Once a client's drivers and value map have been determined, it is time to prioritise development of those areas. This typically means a shift away from a cost-effective design to a cost-effective construction, since far more of the costs of offsite products are in the manufacture and construction. However, it also means a step change from traditional design methods to new products developed to analyse large data sources, look for standardisation opportunities, and optimise both at a macro- and micro-scale.
05 / Case study: offsite review for the Victoria Quarter
An example of an "offsite review" can be found for The Victoria Quarter in Ashford, Kent. It is a large residential site being developed by Neighbour, which consists of seven buildings of around six to seven storeys. Taking into account the client's aims for the site and key drivers, the offsite technical database and digital toolkit was used to undertake rapid option assessments of the building forms for the site – both offsite and traditional.
First, the hundreds of building masses were assessed and then, using a generative algorithm, optimum structural forms for the offsite systems were suggested that best aligned with the client drivers. Then, the tool assessed the concept stage floorplans for each offsite system, scoring them on a number of technical metrics and suggesting amendments to improve the value gained by offsite construction.
Alongside this technical analysis, the overall client and project approach to offsite construction were also assessed, including procurement process, BIM process, and design collaboration extent, to highlight opportunities for further value.
The results of this assessment were then weighted in line with the client's drivers for the project and combined with the score from the technical metrics to produce a score for how offsite-ready the project was. This score was presented with benchmarks to the industry and further details for how to maximise value in relation to the client's drivers.
06 / Comparison of offsite options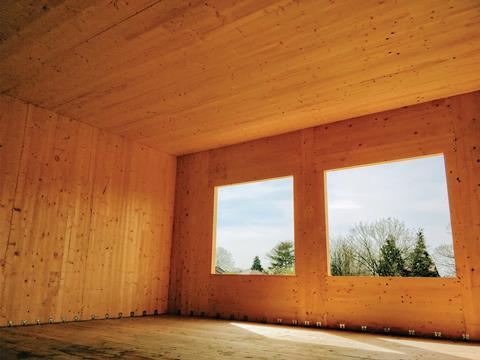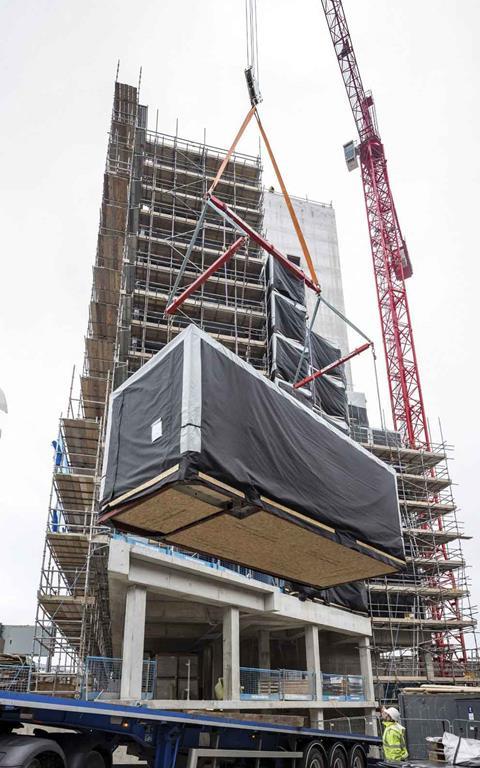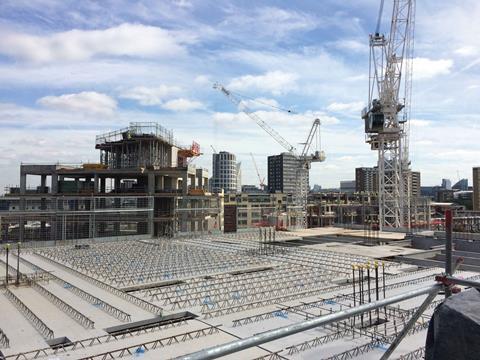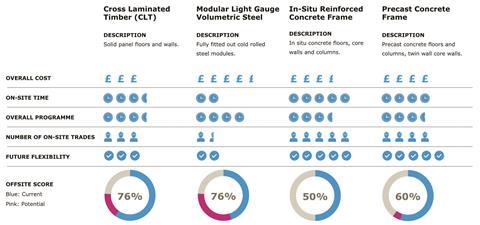 07 / Conclusion
Offsite construction and digital design are well placed to provide improvements in delivery time, value and quality, with leading developers and new disruptors alike targeting this market.
However, the number and variety of offsite systems available can be overwhelming, with each one having different technical and procurement considerations.
Offsite reviews have been helping clients to ensure they maximise value and see the benefits of offsite construction on their project.
These holistic reviews use the capabilities of modern data-driven design techniques in conjunction with years of experience for developing effective offsite strategies.
Postscript
Ramboll has put together a free interactive online tool for you to assess if your company and/or project are "Offsite Ready" and gain insight into harnessing more of the value.