Two consulting teams - one in London, UK, and one in Melbourne, Australia, compare the residential construction markets in their two cities
01/ Introduction
Cities will always be endowed with their own distinct characteristics. Yet increasingly they are beset by common challenges, as globalisation and the movement of money across borders support new phases of real estate development, against a backdrop of population growth and urbanisation.
Residential markets face particular challenges as foreign investment in luxury apartment towers and trophy assets raises concerns about affordability and social cohesion.
On opposite sides of the Earth, London and Melbourne provide an interesting example of shared predicaments but also of different, localised responses in their attempts to create efficient and attractive environments for future generations to live, work and play.
Here we compare and contrast the residential markets in the two cities, examining factors including ownership vehicles, procurement models, programme and productivity, design parameters and construction costs.
02/ How do the cities compare?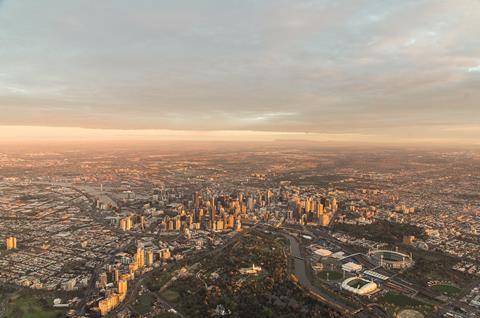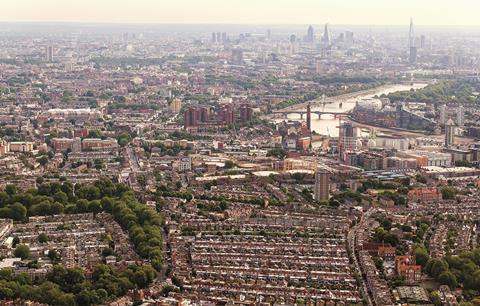 Melbourne (top) has a lower population density than London (above), but a higher proportion of residential development in its centre. Both cities are experiencing a boom in residential tower construction, for different reasons

Source: S hutterstock / Matt Orford alinea
This research focuses on the core of each city, comparing central London (zones 1-4) with inner Melbourne.
London has a much higher density, at 5,595 people per km2 versus Melbourne's 3,637. London has become a culturally diverse city over recent years as its population has grown significantly on the back of a strategic plan to densify and improve the capital's infrastructure, in response to a period of depopulation that culminated in a low-point of 6.7 million in the mid-1980s. While the impact of Brexit is yet to play out, growth will only continue in the long term if the residential sector, supported by physical and social infrastructure, can address the challenge of accommodating people at sensible and sustainable price levels. London is an expensive city in which to eat and drink, although not off the chart by global standards. However, it is the most expensive city in Europe for rental accommodation.
Melbourne is seeing record levels of population growth: it is the fastest-growing city in Australia and is growing faster than both London and New York. Most newcomers are migrants from overseas, although there are high levels of interstate immigration and organic growth. Analysts predict that by 2036 the city could overtake Sydney as Australia's most populated destination.
While London's bias remains towards being a business hub, Melbourne's asset classes and uses are more evenly distributed and it is less geared to being a global financial centre.

Each city is growing in a different way. The increasing density of London is encouraging a cycle of high-rise development, and the number of tall buildings (20-plus storeys) planned over the next decade has topped a staggering 500 (according to New London Architecture's recent study), of which some 90% are intended to be residential. While not all of these planned schemes will be built, it is a reminder that tall buildings have moved from engineering challenges to become social challenges. Savills estimates 58% of demand in London is for homes priced below £450/ft2, but only 20-25% of homes are built at this price and within central London (zones 1-4) the number is zero. A typical central London tall building would command a sales value of £1,500-1,800/ft2, but could be up to a staggering £7,000/ft2 in certain locations.
In Melbourne, a historic lack of affordable housing and a need for rental accommodation have fuelled an apartment tower construction boom for the last 18 years. These apartments have generally been purchased off-plan by investors looking to rent out their property, obtain capital growth and take advantage of negative gearing taxation. Despite the apartment construction boom, according to the Real Estate Institute of Victoria, the vacancy rate for residential properties is just 2.1%.
One of the most obvious influences on residential development that London and Melbourne share is the influx of significant investment from overseas. Foreign investment, in terms of expenditure on both development and sales, is simpler in the UK than in Australia. Primary foreign investment in the residential sector in the UK often comes from the Middle East and Asia and has shown no signs yet of slowing down in relation to Brexit. In Melbourne, foreign investment, particularly from South-east Asia and China, has underpinned the apartment market for a sustained period. However, Australian banks have tightened their lending policies in recent years, and the Victorian state government has removed stamp duty tax savings for off-plan purchases. According to the Property Council of Australia, sales to foreign purchasers dropped from 24% in September 2016 to 16% in March 2018.
03/ Ownership vehicles
London and Melbourne between them feature a myriad of ownership vehicles, although these are commonly split into three key areas: affordable housing; private rental sector; and private ownership.
Affordable housing
In London, house prices have soared over the past decade which raises the question: what really is "affordable" in a city where the average property price is about £600,000? The London Plan describes affordable housing in terms of social rented, affordable rented and intermediate, to cater for a range of people.
In Melbourne, and indeed across Australia, housing affordability is a major challenge particularly for first-time buyers. Apartments are owned by private investors or leased to not-for-profit housing agencies with the Australian federal government subsidising the rent by up to 20%. Some of Melbourne's local councils are exercising their power over zoning and planning permissions to push developers into offering more affordable housing.
Private rental sector
The challenge for many Londoners is to earn and save for a deposit. With the average inner London wage at £35,000, the possibility of owning a home is becoming further out of reach. Purpose-built rental homes offer an alternative to home ownership, providing the tenant with a long-term renting opportunity, well-being amenities and professionally managed landlord entities (typically long-term investment companies) that remove the difficulties associated with private independent landlords.
The build-to-rent model also aims to bridge the gap in the London housing crisis, where the shortage of new homes being built is not meeting the demand of the growing population. This model is still in its infancy in the UK, with many developers looking at the US model and trying to work out how it can be tailored to the UK market.
Meanwhile, Melbourne has been looking with great interest at how this model operates in the UK and in the US. Currently, there is only one significant development in Melbourne aimed at build-to-rent, but this is still in the planning phase. Housing industry experts expect this model to gain traction over time. However, while developers grapple with the underpinning financial model and government assesses the necessary compromises on incentives, it remains to be seen whether this is the medicine required to solve the housing shortages and affordability.
Private ownership
In the UK, private home ownership is still the most common form, with more than 60% of households owner-occupied. However, this is the lowest rate in some 30 years. The decline is particularly noticeable in London, where the number of homeowners has dropped 50% in the last 25 years for those aged 25-30, as London prices are now so high that even with help, first-time buyers find private ownership unaffordable. This generation of people have been forced out of the inner London market by UK and overseas investors.
Similarly, Melbourne home ownership stands at 66%, with 36% being owned with a mortgage and 30% owned outright. These figures have shown a steady decline since 1991, as housing has become increasingly unaffordable. The number of "stressed" mortgages (where debt is greater than 30% of the monthly household income) continues to rise. Only 45% of young people aged 25-34 own their own home, a drop of more than 30% since the early eighties.
04/ Locations and sales values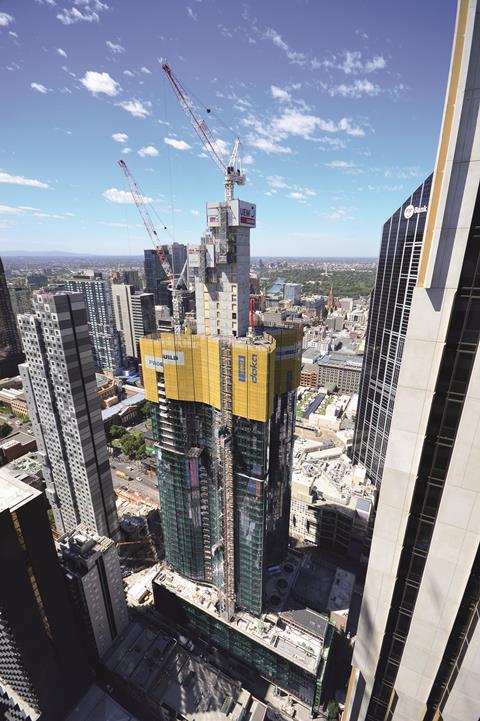 Construction of Aurora Melbourne Central
Source: Probuild
Like most cities, both London and Melbourne offer a variety of sales values driven by location, which in turn offer a variety of residential products and specifications. While location is the primary driving factor for sales values in both cities, what this means in practical terms differs.
On average, someone living in the UK will have a journey to work that is greater in distance than people in Melbourne, but quicker in time due to a better public transport network. This has caused many in Melbourne to want to live in the city centre, and tower development has enabled this to occur. It does, however, come at a cost to the occupier as sales values have been driven upward through this demand. While population densities point to a significant amount of additional space per person in Melbourne, places of residence need to be as close to the city centre as possible.
London is made up of many boroughs, and local planning policy is a big influence on building typology. Obtaining planning consent can take many months or years, as developers battle with planners and the many other interested parties such as English Heritage, the Museum of London Archaeology, the mayor's office and – in relation to tall buildings – City airport. The diversity in policy across boroughs means inner London enjoys bigger schemes (in terms of both mass and height) built around transport hubs than does outer London. With zones 1-2 generally remaining a business district, the relatively modest level of residential use has resulted in high sales values, ranging from £2,000/ft2 to over £4,500/ft2.
Inner Melbourne, by contrast, is more balanced in its building class distribution and there is a tighter range for sales values across the city, generally ranging from £450/ft2 to £950/ft2 depending on location and whether the development is aimed at investors or owner-occupiers. CBRE Residential believe that the market is maturing from an average of £500-£600/ft2 a few years ago to £600-£800/ft2 currently. With a tightening on lending and declining foreign purchases, achieving a critical volume of sales is becoming increasingly difficult.
05/ Design Parameters
While we can compare both cities in a wider context, how we design and build residential towers is also important, as it affects many things from architectural statement to the way we live and make these residential towers our homes.
In order to achieve the highest quality for occupiers, there are guidelines available aimed at supplementing the local planning policies to create a set of standards for housing within the respective cities. Although they are not seen as a planning requirement, they do help set out principles such as daylight, noise and minimum space standards.
Beyond a certain price point in London, developers tend to provide apartments larger than guideline standards. However, this has a limit at the higher price point because oversized apartments can tend to dilute per ft2 sales values. The table below compares the cities in terms of key design parameters and metrics, for a typical inner city 40-storey tower development.
Melbourne does not have mandated minimum apartment sizes yet. However, in response to an increasing number of apartment projects seeking to shrink apartment sizes and reduce amenity spaces, the Victorian state government issued apartment design guidelines in 2017. The guidelines focus on standards for building setbacks, communal open space, landscaping, noise impacts, energy efficiency, room layouts, natural light, natural ventilation, among other factors. As the state government looks to improve the quality of design and support greater consistency in the planning process, the development community has absorbed these standards with relatively little fuss.
The difference in unit mix split across the two cities is interesting, supporting a view that perhaps London has more of a focus on wealthy individuals rather than a bias towards multiple occupancy.
Figure 2: Unit sizes compared
Design guides versus typical 40-storey tower
*London Housing Design Guide
London guide*
London typical
Melbourne guide
Melbourne typical

Min (ft2)

Av (ft2)

Mix

Min (ft2)

Av (ft2)

Mix

One-bed

538

580

40%

n/a

550

30%

Two-bed

753

950

50%

n/a

800

62%

Three-bed

1,023

1,500

10%

n/a

1,100

8%

Av size/unit based on typical 250-unit scheme

694

857

750
Figure 3: Design metrics

| | London | Melbourne |
| --- | --- | --- |
| Net/gross | 70-75% | 72-77% |
| Wall/floor | 0.50-0.60 | 0.45-0.55 |
| Floor to ceiling height | 2,600-2,800mm | 2,650-2,700mm |
| Shared amenity | Pool/spa/gym | Pool/spa/gym/private dining/library/media room |
| Shared amenity | 2-5% of GIA | 2-5% of GIA |
| Private amenity (balconies) | 6-9% of NIA | 8-10% of NIA |
06/ Construction Costs
The table below shows typical construction costs for a 40-storey residential tower in each city, prompting the following key observations on the differences and the forces in each city.
Superstructure: A deeper dive into spot rates for concrete, reinforcement and formwork show these costs to be comparable between London and Melbourne. However, as a percentage of overall build cost, Melbourne's structural costs stand much higher at 17% as opposed to 12% in London. This is a consequence of lower spend on other elements in Melbourne, thereby increasing the superstructure percentage of the whole.
MEP: The approach to mechanical and electrical services in each city does vary quite significantly. London generally sees its heat source located in the basement with central cooling also located in the basement or on the roof. These serve the apartments through LTHW and CHW circuits from the main plant. All of these costs are attributable to MEP shell and core works. In Melbourne, apartments are typically cooled and heated using "split system" units where the outlet is typically installed in the living space and in the master bedroom, with the condenser unit being located either on the balcony or centrally in a condenser farm elsewhere within the building.
Apartment fit-out: In London, a far greater percentage of overall build cost is allocated to the apartment fit-out. This would be amplified further if there was a more even distribution of MEP costs across shell and core and fit-out (in Melbourne the majority of MEP costs fall within the apartment fit-out). In reviewing comparable apartments of similar relative sales value, the specification in London is far more luxurious than that in Melbourne. London apartments would see veneered timber doors, hardwood floors, high-end kitchen appliances, marble worktops, marble vanity units to bathrooms and high-end joinery for wardrobes. In Melbourne, the specification is more restrained and typically includes painted timber doors, engineered timber floors, entry-level appliances, reconstituted stone worktops to kitchens and bathroom vanity units and mirrored sliding wardrobe doors with basic shelves and hanging rails. The difference in spend is also exacerbated by Melbourne's ability to access suppliers from South-east Asia and China, which offer a lower cost base.
Figure 4: Elemental cost model (£1 = $1.8)
London
Sales £1,500-1,800/ft2
Melbourne
Sales £600-800/ft2

Element

£/ft2

%

£/ft2

%

Substructure – piling only
12
3%
4
2%
Substructure
12
3%
4
2%
Frame, upper floors, stairs, roof
55
12%
30
17%
External walls, doors, balconies
60
13%
23
13%
Internal walls, doors, finishes and fittings
14
3%
12
7%
Superstructure
129
29%
65
36%
M&E and builders' work in conn'n with services
47
10%
7
4%
Lift installation
6
1%
4
2%
Services
53
12%
11
6%
Subtotal to shell
194
43%
80
44%
Preliminaries, OH&P, contractor's risk, contingency
66
15%
32
18%
Main contractor items
66
15%
32
18%
Total to shell
260
58%
112
62%
Apartment fit-out: private
180
40%
59
33%
Communal fit-out: incl amenity spaces
10
2%
8
5%
Total private residential shell and fit-out
450
100%
179
100%
Figure 5: Elemental cost model – percentage spend of overall cost

07/ Procurement models
The overarching procurement models for the two cities across the residential sector are generally similar in nature, be that design and build in London or design and construct in Melbourne. There are, however, more variants and hybrid methods adopted in London, perhaps understandably given the scale and maturity of the market.
In the current London market, the most frequently selected model would be a two-stage design and build approach, utilising stage 4 design information. This two-stage approach is heavily influenced by contractor appetite, with the supply-side market to a large extent dictating the nature of such arrangements. While Melbourne adopts a similar design and build approach, the current preference is for a single stage action using 50%-80% detailed design information. Unlike London, contractors have not managed to influence greater take-up of a two-stage approach. However, in recent times developers have engaged contractors at an earlier stage to give buildability and programme advice, the results of which have been variable.
The other significant difference between the two cities relates to the procurement of the fit-out, which is influenced by the appointment of designers for these elements. In London, the shell and core and fit-out are usually designed by different consultants. By contrast, Melbourne will generally have one design team for the entire building. As a result, the interior design in Melbourne generally develops in step with the shell and core works. In London, it often follows behind, allowing the developer to make some decisions relating to fit-out much later in the design process. It is not uncommon for the fit-out of high-end apartments to be procured as a single package in London, opening up the market around choice of contractors. In Melbourne, as the fit-out design progresses in line with the shell and core and the market is smaller, the contractors best suited to undertake the shell and core works are the ones also most appropriate for fit-out.
While the supply chain in Melbourne is smaller, it is supplemented through access to extensive suppliers and trades in South-east Asia and China. It is now common for facade panels, joinery, finishes, sanitaryware, light fittings and other components to be manufactured in Asia, shipped to Melbourne and installed locally. By contrast, the London market still favours trade contractors and suppliers from Europe, which offer high quality standards and are within much closer reach. There has been marginal take-up for key components from Asia to date, with quality control and deliverability being the main concerns.
08/ Programme and productivity
It is not straightforward to make like-for-like comparisons, as no two residential buildings and site environments are the same. However, our analysis and data suggest that it is quicker to build residential towers in Melbourne, for a number of reasons.
Many factors influence speed of construction. Starting in the ground, London buildings are generally built on clay and sand and require deep pile foundations to overcome soil conditions. This amount of time in the ground can often be exacerbated by having to deal with archaeological interest. In contrast, a typical Melbourne tower will be founded on more favourable ground, meaning a much simpler and quicker foundation solution, where neither water table level nor archaeology represent an obstacle. If ground conditions do pose a challenge in Melbourne, it is not uncommon for basement space to be sacrificed for equivalent space being constructed above ground, in order to house car parking and plant space, in a podium level.
The next significant factor affecting speed and efficiency is city logistics. London has become a real challenge for access and vehicle movements, with traffic often coming to a standstill. Road closures, security management, the extent of business deliveries, buses, taxis, bikes, pedestrians and infrastructure works do not make it easy to service London construction sites. While Melbourne has similar challenges, they are on a much smaller scale.
Another contributing factor to the difference in speed is the product itself. As mentioned, the specification of the London residential tower is far higher than that of its Melbourne counterpart. Practical and less expensive choices of materials and design detailing lend themselves to a greater degree of time efficiency and Melbourne wins in this regard, as the focus is on functional and repetitive interior choices rather than London's more opulent and time-consuming design details.
In addition to what is being built and how, one cannot overlook the impact of climate. London's weather represents programme hurdles in terms of crane winding-off and keeping a workforce both motivated and productive during the cold, winter months.
The final point relates to project culture, and the attitude of the respective construction industries in each city. Melbourne leads more by example, displaying a can-do attitude to getting things done, and fewer distractions around contractual entitlements and claims. Also, the extent of materials and components that come from China in a speedy manner for projects in Melbourne is significant. This compares with a slightly different pace associated with European trade contractors and suppliers servicing the London construction market.
Overall, these differences result in a considered view that speed of construction for tall residential buildings in Melbourne is some 10% faster.
09/ Summary
London and Melbourne offer an intriguing counterpoint in their contrasting residential markets and products, in the face of some common global trends.
The backing and leadership of government have, over the past two decades, provided London with a strategic plan to densify its real estate and improve its infrastructure – as evidenced by an eye-watering pipeline of towers and transport projects such as Crossrail, Crossrail 2 and extensions to the underground network.
This builds upon the capital's standing as a global financial centre, helped by its inherent benefits in terms of time zone, language, law and ease of business (notwithstanding Brexit-induced uncertainties), which have all helped encourage unprecedented levels of foreign investment.
The downsides are perhaps most acutely felt by the residential sector. The focus on the luxury market, underpinned by international buyers, is ratcheting up concerns about affordability and social cohesion (due to absent owners). Against the backdrop of a chronic housing shortage, it is prompting the question: "Who is London actually for?", while at the same time the UK's property industry is grateful for the kindness of strangers.
In contrast, Melbourne has made great strides over the past 20 years to develop in a balanced way. While it still sits in the shadow of Sydney as a business destination, it has taken the Economist's Most Liveable City award for the past seven years. Since 2000, Melbourne has completed 65 residential towers over 100m high, compared with just 21 in London, perhaps evidence that it has made significant efforts to attract people at more affordable price levels to a city that offers a more even balance of business, sport, arts and culture.
Compared with London, Melbourne represents value and relative affordability (aided by a more conservative residential product). The average apartment price in inner Melbourne is 12 times a worker's average annual salary, compared with a staggering 30 times in London – but its challenges are felt to be just as serious.
The reality is both cities could learn from one another: cross-fertilising ideas is critical in addressing global challenges, despite (or perhaps because of) growing protectionist rhetoric.