How can developers get the most from modular construction while effectively managing its risks? Dimitris Tsompanidis of Currie & Brown explains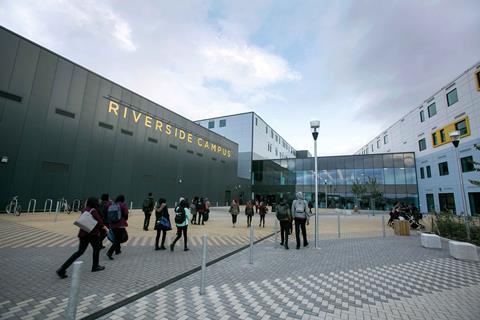 01 / Introduction
The pressure to provide new housing is relentless. New homes are needed – and quickly – to help solve the current crisis and to cater for growing demand in sectors such as student accommodation and build to rent.
It's a challenging landscape, and imaginative responses will be required. The construction sector can be conservative, and change can be slow. But one clear sea change is the move towards a modular approach to construction, where structures are built using prefabricated parts manufactured offsite. This approach offers several advantages over traditional building methods: significant time savings on site, for instance, along with robust quality control and potential cost benefits.
02 / Programme considerations
When comparing a modular project against traditional construction, it is essential to carry out a like-for-like comparison. As well as the procurement and lead-in periods, the overall design timeline should also be considered.
One difference with modular construction is that, by its very nature, it follows a distinct sequence from design through to procurement and construction. A traditional build may well be more fluid, with these different elements overlapping each other.
At Currie & Brown, we carried out a study examining the two different methods, using a typical 100-bedroom budget hotel as the reference (see figures 1, 2 and 3). Works were procured on a design and build basis, with the main contractor substantially responsible for the design.
Our analysis assumed 109 weeks for traditional construction methods. This included 23 weeks at design stage and 58 weeks for building. The design process overlapped the procurement and construction stages. Each package's design was finalised and then procured while the design of more advanced options was still being completed.
The modular construction study included 16 weeks of design, 34 weeks' lead-in for the modular units and 27 weeks of construction. The overall development duration time was 77 weeks in total.
When using the modular approach, design cannot be an ongoing process. Consequently, the design duration must be brought forward – and the reduced flexibility in the programme does not allow any changes to this. Decisions on all design aspects of a project need to be made at the outset, with the module manufacturers brought in at an early stage. The lead-in time for the modules is the most influential factor in the whole project, although certainty over delivery scheduling is also important, especially where space on site is tight.
Effective project management is crucial during design development, and it is essential to have a design freeze and overall synchronisation of all design interfaces before placing the order for the modules. The minimal flexibility that modular construction provides does not allow for any design changes later.
There is no doubt, then, that the modular approach has challenges. But it allows significant programme savings to be achieved – in the case of this sample hotel project, of between 20% and 30%.
There is an increase in lead-in time of 24% using modular techniques, but programme savings at design stage amount to 31% and those made during the construction phase are calculated at 54%.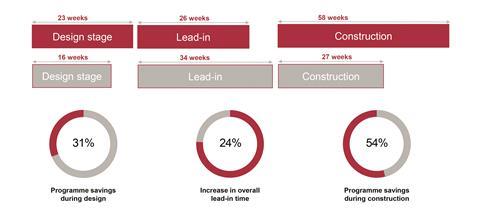 03 / Manufacturing factors
In one of the main property growth areas, build to rent, modular construction offers the benefit of repetitive design leading to advantages in terms of scale. This can also deliver cost efficiencies and increase the productivity of the modular manufacturer, which could introduce further time savings.
The technology for producing quality modular units has improved, reducing defects and snagging time. Moreover, the increased use of modular techniques is disrupting the process by which construction works are quantified. In effect, construction works are now products rather than operations on site. This will not only revolutionise the way works are priced and subsequently valued but also will impact on how defective works are dealt with. There is an argument that an insurance-backed product guarantee will be more important in the future than the rectification period as defined in a JCT contract.
Such guarantees should clearly define the trigger mechanisms and include fit-for-purpose clauses in conjunction with quality definitions. Product liability and professional indemnity provisions should also be included. Insurers are becoming increasingly familiar with modular products and hence are more comfortable offering cover, subject to a clear project structure being in place.
As far as regulation is concerned, there is still room for improvement in terms of providing a uniform quality control, certification and compliance platform. Such a platform will boost confidence in modular construction and provide comfort to all stakeholders. It will also introduce commonalities between different manufacturers' modular systems, making it easier to change suppliers and contractors.
There is no simple solution to these problems, but the introduction of digital design guidelines and platforms for commonalities will assist. If the government were to support and introduce a common and uniform set of accreditations, that would further boost confidence in modular construction.
04 / Sustainability
Another advantage of the modular approach is that it offers significant benefits when it comes to sustainability. Less waste is produced on site with modular than with traditional construction methods, and the controlled environment in which the modules are developed and manufactured means that the thermal and acoustic insulation of the building can be vastly improved.
The downside at present of the modular approach is the environmental impact of the transportation required for module supply to the site. However, this will reduce as more and more factories producing them are built throughout the UK.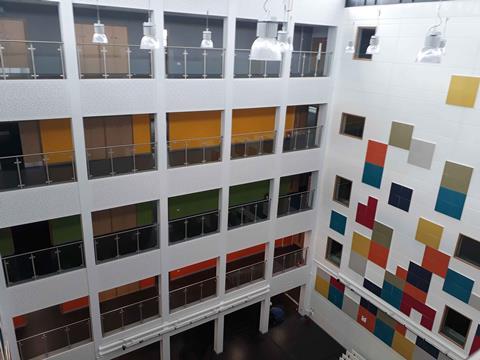 05 / Procurement and contractual considerations
With its innovative and disruptive effect on the sector, modular construction is challenging conventional procurement models and contractual provisions.
From a contract perspective, the main area to consider is the transfer of design liability – it is important to establish where responsibility sits, as the module manufacturer will have had an input into the design.
One potential solution to the issues of design liability is for one party to assume single and complete responsibility. Modular manufacturers are increasingly acting as main contractors, taking responsibility for the delivery of the entire scheme. Although this simplifies matters, employers are taking a risk by relying on one modular manufacturer to deliver the project in its entirety – so establishing experience and track record is vital.
Other elements of the terms and conditions of a manufacturing contract with the modular supplier also typically differ from those of a standard building contract. If the supplier is not the main contractor, the manufacturing contract terms and conditions should be aligned with those of the building contract.
From experience, it is recommended that the manufacturing contract is amended to include provisions relating to payment schedules, design liability and insurances with the supplier taking the shipping risk. The issues described above can be mitigated through early engagement of both the main contractor and the modular supplier. Moreover, the familiarity and record of collaboration between the parties is also key, so if possible they should be selected together.
Early engagement of module suppliers can help in the sharing of defects and design liability between the modular supplier and the project team. If possible, the integration of design responsibilities into the module supplier's subcontract is preferable since it can simplify the chain of contracts and subsequent legal issues that might arise.
06 / Conclusion
Modular construction has much to recommend it and can play an important role in providing an efficient solution to the country's housing shortage. However, a proactive approach to design development is needed, as design changes attract considerable time and cost penalties.
The early involvement of the modular supplier facilitates ensuring the feasibility of design proposals as well as potentially pre-empting legal issues in relation to design liability and the subsequent chain of contracts.
The module-based approach allows income to be generated more quickly. That means a cash flow boost for developers and investors as well as providing better security for funders.
Reuse of design and specification can also lead to economies of scale, creating shorter design stages for future modular projects and so cutting timescales from planning to occupation.
The regulatory and compliance landscape remains unclear, with the industry still lacking the clear testing, certification and accreditation platform that is badly needed in order to provide much-needed clarity and comfort to all the stakeholders involved.
In the right circumstances, modular construction is becoming increasingly appealing. One thing is for certain: the module is now part of the landscape, and very much here to stay.