For all the turmoil surrounding consultant Mouchel over the past fortnight, the City has dumped its share price just a touch above where it was before it heard that Deloitte had been called in to conduct a "limited business review" on 2 December
News of approaches by potential bidders on 6 December restored the price to its original levels but little further. "That tells you something," says one analyst. "It implies that the market doesn't believe that the company is going to be bought."
Far more likely, they think, is a partial sell-off of bits of the company rather than a complete disposal."No one can think of anyone who would want the whole lot," they say. "If they could get £60m for the water business, they would be very happy."
Identifying the sharks in the water is tricky because, unlike when VT Group made an unsuccessful move on Mouchel earlier this year, the share price is now so low that any number of bidders could be in the frame. Private equity firm 3i has been mentioned more than once, as has outsourcing giant Capita, which is understood to be looking at parts of the business. Sources say Carillion has ruled itself out, however, while Interserve and May Gurney are not thought to be in the race either.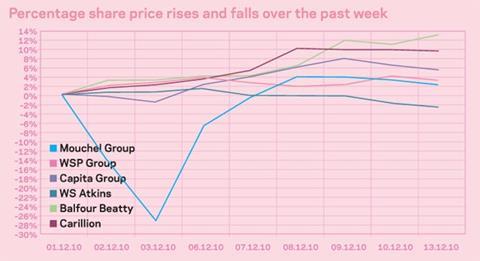 It's also clear, says another analyst, that any approaches to Mouchel have not had long to ferment. "If you see the text of the announcement, you can see the approaches had been made recently, so they are preliminary in nature. I wouldn't read too much into them."
So, with the industry winding down for the holidays, the odds are against a deal this side of the new year. One analyst predicts a limited slimming down in 2011: "Parts will be sold off; you'll see the chief executive [Richard Cuthbert] step down, and then they will refinance." With a new man at the top and some parts sacrificed, the theory goes, banks will be far more willing to lend more cash to Mouchel. Not exactly a welcome Christmas present for Cuthbert, but better than a pair of socks for Mouchel's staff.