The project team working on the £100m modernisation of the British Antarctic Survey's flagship research station is racing against the clock to finish the cladding on a huge new facility before the winter sets in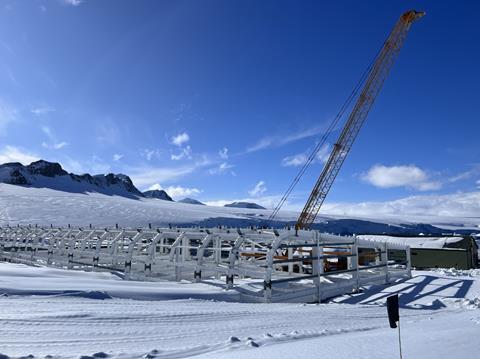 "I've always done a little bit of sailing, but coming to the Southern Ocean has been quite a different experience," says Elen Jones. The British Antarctic Survey (BAS) programme director is on the RRS Sir David Attenborough on her way back home from her first trip to Antarctica. The £200m research vessel has just passed South Georgia, a remote archipelago in the middle of some of the world's roughest seas.
Speaking to Building over a surprisingly clear phone line, she reports that the conditions are "quite bumpy" but nothing the ship cannot sail through. On her trip south, it had faced 140km/h winds, enough to cause "extreme destruction" according to the Beaufort wind force scale. "That was… yeah, interesting," she says.
Jones has been overseeing the £100m modernisation of the BAS' Rothera research station, where a huge 4,500m2 operations and science facility – the Discovery Building – is currently being built. Due to the severity of the Antarctic winter, which starts in May, work can only be carried out during a five-month window each year. Now in its fifth season, the project has already seen the erection of the two-storey building's steel frame and the construction of a wharf.
Working in the most extreme continent possible just added to the appeal of coming to do it

Elen Jones, BAS programme director
This year, in which the building should be made weather-tight, has been described by BAS as the most challenging yet. It is an experience which Jones has clearly relished.
"Infrastructure project delivery is my passion," she says. "I've done infrastructure work for a long time, and this is another step on that. But working in the most extreme continent possible, I think, just added to the appeal of coming to do it."
>> Also read: Building at the bottom of the world: British Antarctic Survey's Rothera Research Station
Another appeal has been the sense of being part of something bigger, she says, by supporting the BAS' internationally significant polar research into climate change and net zero. Everyone on the project shares the same drive – "to be able to take real pride in what you've delivered. To say, 'look at what I've done'. You're gonna have something really tangible. And we all want to have pride in what we do."
The project team working with BAS includes main contractor BAM with their team, design consultants Sweco and Hugh Broughton Architects providing delivery design. Ramboll is acting as BAS' technical advisors with architects NORR providing concept design and Turner & Townsend providing cost management.
They arrived on site in late November. Some had travelled by boat, others on commercial flights to the southern tip of Chile via Madrid and Sao Paulo before catching a BAS-owned turboprop to Rothera on the Antarctic peninsula.
Their first task on arrival was to clear the massive piles of snow which had accumulated during the winter, a task which took around four weeks. This was followed by the installation of the Discovery Building's first floor slab.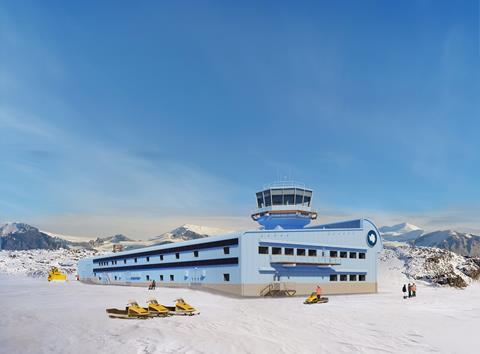 The 50-strong team are now racing against the clock to install cladding on the building's frame before the colder weather sets in. If the envelope is left partially finished at the end of the season, high winds could get into the interior of the building over the winter and rip off the panels.
What would happen if the team runs out of time? "We try not to think about that," says Jones.
One failsafe, which has been built into the construction plan, is the option of not cutting out the window sections from the cladding panels and leaving that until next season.
There have already been setbacks. For three weeks in January tools were downed as the team battled with rough weather. This happened during what is usually the summer's sweet spot, when the weather is mildest. But people there have learnt to be flexible and "make hay while the sun shines," says Bam site agent Robert Kerr, who speaks to Building over a crackly phone line from Rothera.
"We have a really good bunch of guys out here who have a good understanding of how to get the job built, who would probably work through anything if you asked them to," he says. But there are still days when they can't work at all.
When this happens, the working week, usually Monday to Saturday, is changed so the day off can be taken when the weather is bad.
This year has a lot of challenges which we haven't dealt with in previous seasons

Robert Kerr, Bam site agent
This is Kerr's second season at Rothera. He came back because "once you start, it can be hard to leave".
He adds that "it's an incredible place to work, a really good team and extremely enjoyable", although he admits that the weather can occasionally be "brutal".
By all accounts the workload has stepped up this season. "Without a doubt this year has a lot of challenges which we haven't dealt with in previous seasons," Kerr says. One of these is the sheer size of the Discovery Building and the quantity of cladding that needs to be finished within the limited time.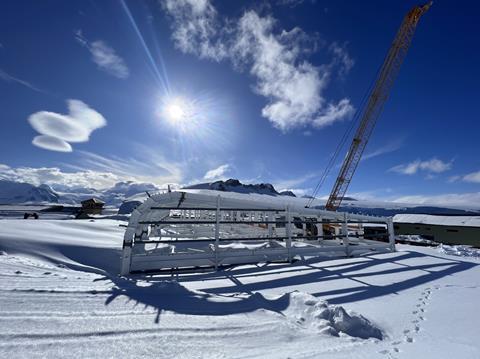 This has been a lesson learnt for future designs, admits Ramboll project manager Bruce Wulff. Two buildings would be less risky to build within the small construction window as one could be made fully weathertight with the fit-out started if there is time left over.
Another challenge, familiar to veterans of the project, is the abundance of wildlife. There are so many penguins milling around Rothera that "sometimes you're just tripping over them", Wulff says. They are also extremely curious, often "walking right up to you and standing at your feet, looking up at you."
This unusual site hazard is one which teams are briefed on before they travel down. Although they rarely venture into the construction area, there is also clearly a risk to the penguins themselves.
While staff have sometimes needed to "relocate them", says Jones, "it's more being aware that they are in the vicinity – and we have to recognise we are in their environment".
A more serious problem is the elephant seals. The males, at up to 6m long and almost four tonnes – double the weight of the average walrus – can be aggressive and highly territorial. But the main issue at Rothera seems to be their habit of falling asleep on construction materials which have been left outside.
"They're fond of surfaces like timber," Kerr says. "You need to watch how you handle materials and make sure you don't leave things out, because it will soon be used as a deck chair." Earlier in the season one site worker left the lid of a timber box on the site, only to return later to find a sea lion parked on it.
The tried and tested solution to this is employing a stick known as a "bodger", which can be used to prod them out of the way. It is also handy for warding off the more belligerent specimens which can be found on other BAS stations, like Bird Island in South Georgia.
"If you're walking around on Bird Island, then you're advised to take a stick with you," Wulff says.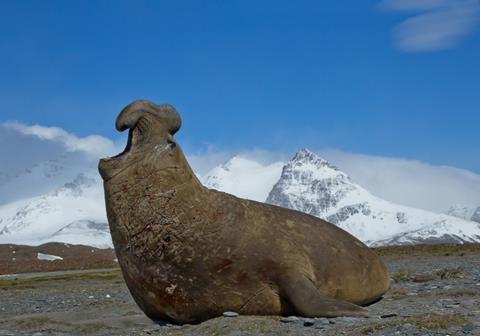 Dealing with seals and penguins is priced in for most people who make the trip to Rothera. What they might not expect is how comfortable it is to live there.
"The first time I went, I didn't really know what to expect – and I was half hoping to be living in small timber huts," says Wulff, who is also back for his second season. "But it's very far from that. It's almost like an office building you would have in the UK."
A surprisingly wide range of extracurricular activities is on offer for the team, including a music room, a climbing wall, a library and a room filled with various types of skis for tackling different terrains. There is also an established room dedicated to fancy dress, where costumes accumulated over decades are carefully alphabetised.
"It's probably the most ordered room on the site," Wulff says. "It's something that's happened over time – where people dress up for Christmas and people bring down a dinosaur outfit or something and then just leave it there for the generations to come."
Fancy dress has become so frequent at Rothera that "you can just be having a nice drink in the bar and, before you know it, someone goes away and comes back dressed as a Rubik's cube," says Wulff. When he visited the station for his first season in 2016, and interviewed BAS staff on the changes they wanted, removing the fancy dress room was firmly off the cards.
It does have a serious purpose, which is keeping up the morale of those who live there for up to 18 months at a time, including through the winter months of 24-hour darkness when the station is reduced to a skeleton crew.
You're going to one of the most isolated places in the world, but it actually feels quite intense and it's hard to get time on your own

Bruce Wulff, Ramboll project manager
After completing a training course on how to survive in the wild, team members are free in the evenings and on days off to pick up a pair of skis and head into the mountains. Surprisingly for such a remote location, this is among the best ways to get time to yourself, says Wulff.
"You're going to one of the most isolated places in the world, but it actually feels quite intense and it's hard to get time on your own because you are just living in this small compound. You can't get away from people, you're eating breakfast and lunch and dinner with everybody, you're sleeping in a room of two or four people, so actually having time on your own isn't that easy."
The atmosphere at the station during the summer is almost like a ski season. It is a relatively young crowd who often want to try something different. The sense of shared adventure is also key to the collaborative spirit of the modernisation project.
"In terms of friendships, relationships that we've developed, you can't compare it to any other contract that I've ever worked on," says Kerr. "We organise weekends away, camping in the Scottish islands. You just generally don't do that on other contracts."
That collaboration extends to the team structure. Between Ramboll, Sweco, Bam and BAS, the best person is chosen for the role – regardless of where they come from. "We're not precious about who that person is," says Wulff.
"A lot of big projects talk about being collaborative and partnering, but we definitely are walking the walk here."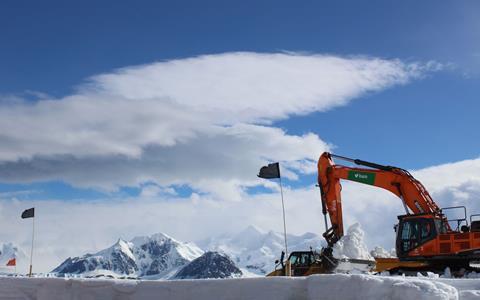 The Antarctic infrastructure modernisation programme (AIMP)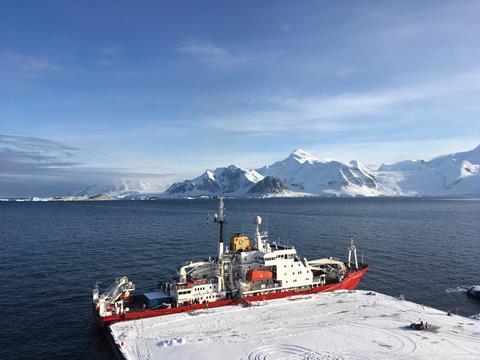 2018/19 Important storage facilities were upgraded at Bird Island Research Station and works got underway to prepare for the Rothera Research Station wharf expansion, built to accommodate the new ship RRS Sir David Attenborough
2019/20 New Rothera Wharf completed and new wharf at King Edward Point Research Station constructed. Works starts on Discovery Building.
2020/21 Early services works and the foundations for the Discovery Building
2021/22 Superstructure of the Discovery Building is completed and further services installed
2022/23 Discovery Building to be made watertight, services and MEP installation. Phase 1 of the Rothera runway resurfacing gets underway, including lighting renewal
2023/24 Discovery Building fit-out and initial commissioning and phase 2 of the Rothera runway resurfacing
2024/25 Discovery Building final commissioning, handover